Much Ado About Nothing, Old Vic |

reviews, news & interviews
Much Ado About Nothing, Old Vic
Much Ado About Nothing, Old Vic
A transatlantic reworking of Shakespeare's wordy comedy gets lost in translation
Friday, 20 September 2013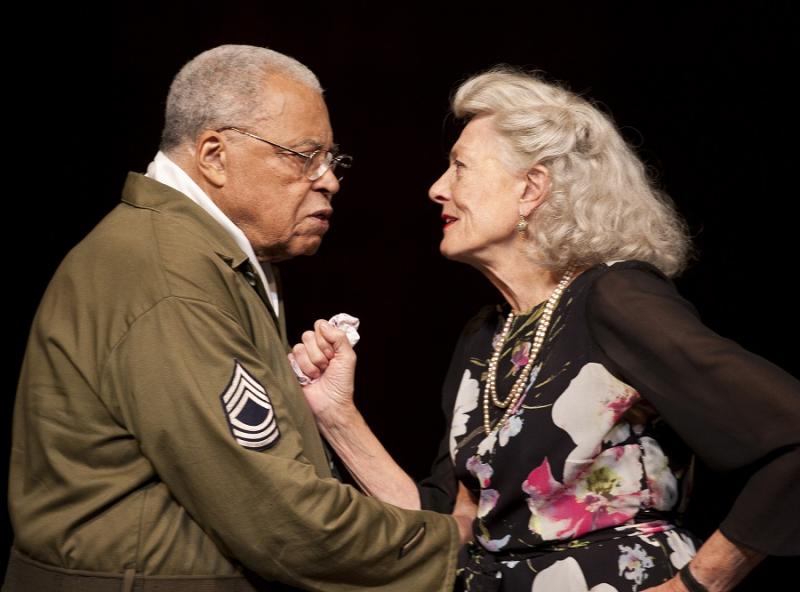 Keep the home fires burning: James Earl Jones and Vanessa Redgrave in a Much Ado set on the Home Front Much Ado
"What, my dear Lady Disdain! Are you yet living?" Surely never before has Benedick's opening quip cut so close to the literal, nor drawn such a laugh from its audience. With a combined age of 158, the romantic leads in Mark Rylance's Much Ado About Nothing take the current trend for an older pair of lovers to the extreme.
James Earl Jones and Vanessa Redgrave turn Shakespeare's text on its head. Here nieces are older than their uncles, elderly men challenge duels and declare youthful passions. It's a reading that goes against the grain, but one that brings a certain friction to a comedy of contradictions.
In an effort to showcase his stars at their most natural, Rylance relocates the action to 1940s England. Don Pedro's troops become a khaki-clad bunch of American GIs and Leonato's household the motley retainers of a country house, lacking only the Labradors to complete the tale of their cable-knit pullovers, corduroy and wellies.
James Earl Jones is still not master of his lines, sending verbal shot after shot into the net
Redgrave's Beatrice enters with a brace of dead rabbits, tossing them casually over the back of a chair like a handbag. Later she comes to summon Benedick to dinner brandishing a bloody carving knife, smearing the gore across her white apron. Sadly these are the only hints of the violence that lies so near to the sunny surface of a comedy in which virgins become whores and weddings funerals in an instant. Beatrice's touchstone of a line – "Kill Claudio" – was met with an uncomplicated laugh, something that could never happen if the text were given its full emotional range. As it is, Danny Lee Wynter's Don John (despite his pronounced disfigurement) hasn't a hope of real menace, coming straight as he does from panto playbook or perhaps Carry On Sneering.
Diction in Ultz's stylised wooden interior (at baffling odds to the rest of the production) is a serious issue. American accents thicken an already booming acoustic and it's a struggle to catch the details of this nimblest of verbal displays. Although greatly improved by all accounts from the previews, James Earl Jones is still not master of his lines, sending verbal shot after shot into the net, unbalancing the elegant symmetry of Benedick's constructions and leaving us tense until his safe arrival at each final full-stop. Even Redgrave worries (pictured above right with Beth Cooke as Hero), punctuating her dialogue so oddly as to lose the sense at times, and is only carried through a gently unfocused performance by her still-potent charisma.
The real joy is in the supporting roles. Although wayward in shaping the play's larger arcs, Rylance's direction finds unexpected tenderness in moments – Alan David's Antonio, shuffling gamely forward to defend his niece's honour, creates an intensity and stillness missing elsewhere, a glorious jazz-spiritual of a "Sigh No More, Ladies" – while the substitution of a troupe of Scouts for the watchmen turns a laboured episode into an unexpected joy. James Garnon is reliably strong as Don Pedro, creating something human of this stuffed-shirt of a prince, and veterans Peter Wight (Dogberry/Friar Francis) and Michael Elwyn (Leonato) anchor proceedings in the familiar.
Perhaps it's in the crooning depths of Jones's voice, perhaps in the arthritic swagger of Redgrave's stride, but there is something here of love and affection that isn't accounted for by the nuts and bolts of production and performance. Much Ado is a comedy of words – dialogue is not only exposition but also theme and argument too. Words create reality, create love where none was, turn an innocent into a whore. Take these away and you are left with something fragile and neutered. Energy sways where words fail here, and in the midst of a chaotic production something contradictory is salvaged. It's testimony to Shakespeare rather than Rylance though – even without the words, he still manages to find something to say.
Wayward in shaping the play's larger arcs, Rylance's direction finds unexpected tenderness in moments
rating
Share this article