Mr Foote's Other Leg, Hampstead Theatre |

reviews, news & interviews
Mr Foote's Other Leg, Hampstead Theatre
Mr Foote's Other Leg, Hampstead Theatre
Simon Russell Beale shines as an 18th-century comic, but the play is clumsy and too long
Tuesday, 22 September 2015
Three in a bed: Joseph Millson, Dervla Kirwan and Simon Russell Beale in 'Mr Foote's Other Leg'
The actor and historian Ian Kelly is fascinated by the way that performers use the theatre to understand not only themselves, but also the world. In this new play, he looks at the life and career of Samuel Foote, one of the larger-than-life figures in the age of Garrick who has, alas, been forgotten by time.
Kelly, who has also written a book about Foote, has certainly been blessed by a warm-hearted production, which stars national treasure Simon Russell Beale – as well as the author himself.
Foote's life was pretty amazing. Born in 1720 in Cornwall, he made a name for himself as a mimic in Oxford, but high-living and extravagant spending in London meant that he ended up in a debtor's prison before friends persuaded him to take to the stage. After some success as an actor, in 1746 he became the manager of the Little Theatre in Haymarket. There followed decades of mixed fortunes, with Foote becoming a metropolitan celebrity for his wild comedies and satirical reviews, often performing in drag. In 1766, while riding with Prince Edward – younger brother of King George III – he was thrown from his horse and had his left leg amputated.
The keynote of this comedy is the subversive joy of laughter
Mr Foote's Other Leg is Kelly's simplified take on these extraordinary events, and he condenses a cast of hundreds into a handful. It begins with a scene in which the naturalistic older actor Charles Macklin gives an elocution lesson to some new arrivals to London: Foote, David Garrick (destined to become the best actor of his generation), Irish actress Peg Woffington (who specialises in breeches parts), surgeon John Hunter, and the silent Miss Chudleigh, whose ability to entertain involves taking clothes off rather than perfect articulation. But it is Simon Russell Beale's Foote who instantly draws the attention, a man born to make lesser mortals laugh.
Having introduced these characters, Kelly also brings on the hilariously bustling stage manager Mrs Garner, and then Frank Barber, a freed slave who becomes Foote's footman, as well as sundry royals, including Prince (then king) George (a nice cameo played by Kelly himself, pictured below, left). With most of the scenes set backstage at the Little Theatre, there's a lot of raucous laughter to be had from the transvestite Foote's stage appearances, and from Woffington's acidic tongue and Garrick's more cultivated views on tragedy. The contrast between royal patronage and the exigencies of popular entertainment, and between raw clowning and the more inflated art of Handel's operas and oratorios, not to mention Garrick's deification of the bard, results in much good-natured hilarity.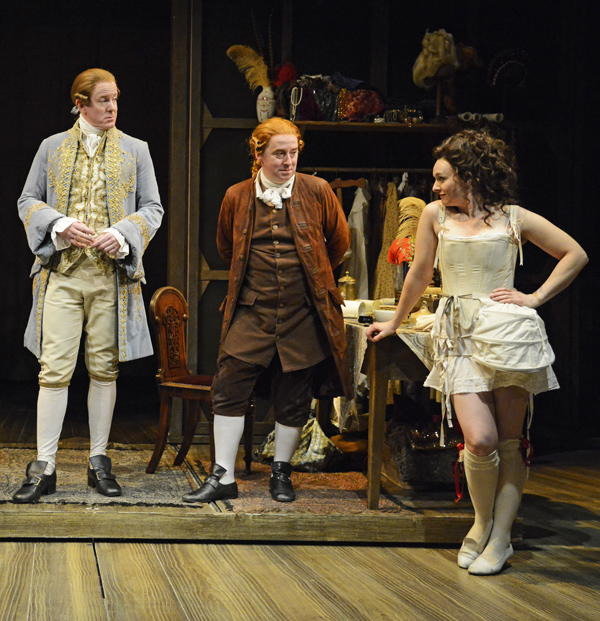 The keynote of this comedy is the subversive joy of laughter, and Kelly's Foote is a populist who thumbs his nose at authority, especially at the grimly censorious Lord Chamberlain. His almost demonic energy, well captured by Simon Russell Beale from the start, suggests that humour is both a way of attacking the powerful and of surviving the pains of life. SRB's Foote is a masterclass in comic timing, a delicious portrait of a freewheeling chancer, for ever ducking and diving, keeping afloat on the choppy seas of 18th-century theatre. He rolls onto the stage; he rolls his vowels; he rolls his eyes. With every sally he exudes the lovable comedy of the cheery joker.
Until the accident that costs Foote his leg. After a horrific and excruciating amputation scene, the second half of the play sees SRB's rolling and rollicking turn to gravel, and although he continues to jest obsessively about his missing leg, some iron has entered his soul. When he gets a wooden leg, its heavy weight seems to slow down all his muscles. His character changes; he becomes easily maddened, perhaps even mad. His jests turn dangerous and his life is threatened. Laughs turn to tragedy. Falstaff turns into Lear.
Although very interesting, Kelly's play is a bit too long-winded, mainly because he adds too many short scenes – like one in which the thespians take a bow in front of a cheering audience, or several in which the American Benjamin Franklin compares the theatre to the mind – which don't advance the main story. They are full of intellectually stimulating material, but they slow down the pace of the plot. The story becomes increasing dark, and increasingly moving, but the excess of detail blunts its impact. So while Richard Eyre's masterly production gets entertaining and intelligent performances not only from SRB, but also from Dervla Kirwan (Woffington), Joseph Millson (Garrick), Micah Balfour (Barber) and Jenny Galloway (Garner), the playwriting is not of the best. But who cares? SRB is the draw, and the audience's main reward.
Simon Russell Beale rolls onto the stage; he rolls his vowels; he rolls his eyes
rating
Explore topics
Share this article