Nell Gwynn, Shakespeare's Globe |

reviews, news & interviews
Nell Gwynn, Shakespeare's Globe
Nell Gwynn, Shakespeare's Globe
Nell's story is reclaimed, but sold short, in this merry romp
Friday, 25 September 2015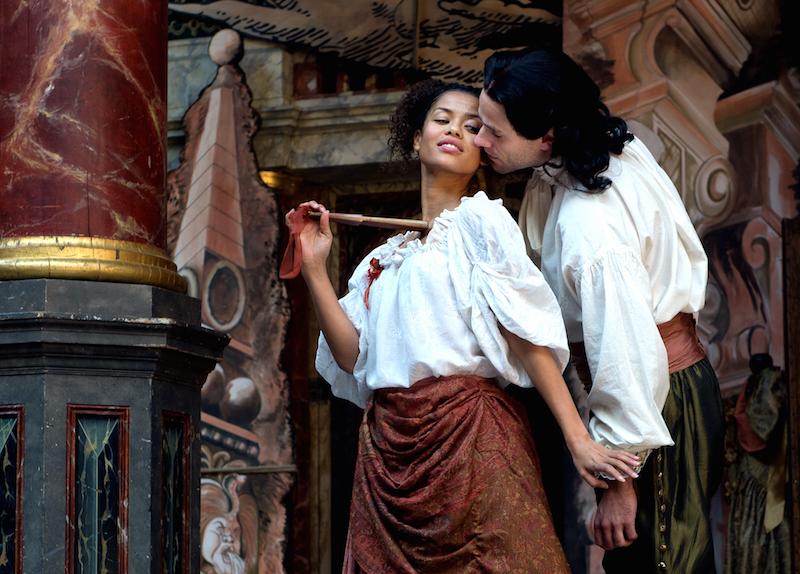 'Pretty, witty Nell' (Gugu Mbatha-Raw) entices leading man Charles Hart (Jay Taylor)
"Comedy, love and a bit with a dog," counselled Henslowe in Stoppard's Shakespeare in Love, and his populist advice is taken to heart in this broad, bawdy, big-hearted farce untroubled by nuanced characterisation or context. Jessica Swale's modern-language Restoration romp ensures a lively end to the Globe's season, but playing to the galleries does a disservice to her trailblazing heroine.
Cinderella-like Nell Gwynn (a luminous Gugu Mbatha-Raw) made the astonishing journey from illiterate Cheapside commoner to Charles II's bedchamber, via a celebrated stint as one of England's first stage actresses. Swale skips the insalubrious origins, opening with orange-seller Nell's big break: winning the attention of leading man Charles Hart (Jay Taylor) by marching onto the stage to outwit a heckler. It's opportune timing, with his company forced to seek a female player when their rivals draw crowds with Moll Davis, whose appeal is summed up in one word: "Tits."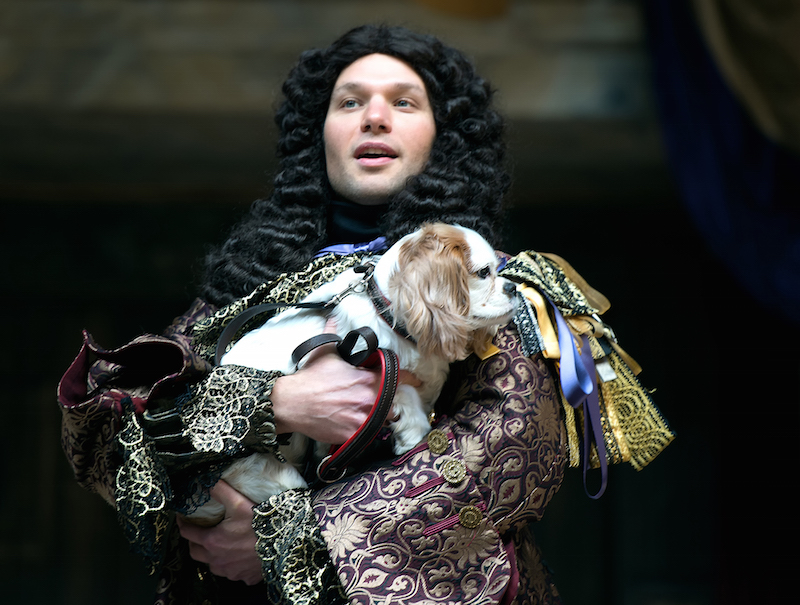 The roles of actress and prostitute were conflated, with spectators paying to spy on undressing performers, but this reductive voyeurism, like most of Nell's obstacles, is presented as a jolly jape. The play's emphasis on her sunny, protofeminist empowerment leaves little opportunity for Mbatha-Raw to explore the inner workings of this fascinating chameleon. Neither the precariousness of her position, subject to the King's (David Sturzaker pictured above right) whims, nor threats made against her register as serious problems, undermining a late swerve into weightier dramatic territory.
Most enjoyable is the winking backstage comedy, with Swale – who gets in a "Down with austerity" jibe – and director Christopher Luscombe communicating wry affection for the theatre. There's the nervous neophyte (Angus Imrie) reading lines off his hand; harassed director (Richard Katz) bellowing through a megaphone; frantically terrible actress (Amanda Lawrence, milking every last drop out of her showstopping set piece); and insecure writer Dryden (Graham Butler), who can't meet a deadline.
Gender-bending actor Edward Kynaston (Greg Haiste), famed for his Desdemona, is aghast at the change from artificial theatre with complex fan language and set "attitudes" (Burbage lists 21 "varieties of grief as expressed by the left eyebrow") to naturalistic, with Nell offering Dryden a vital female perspective. Unfortunately, her radically genuine performance is repetitively lauded rather than shown, leaving no comparison for the wonderfully florid Haiste.
The shift from Puritan interregnum to shakily restored monarchy is also relayed in expositional bursts, but David Sturzaker fleshes out the oversexed King, pondering his legacy between trysts, and David Rintoul his hardnosed advisor. Sasha Waddell offers a deliciously devilish pair of mistresses, and Sarah Woodward also does double duty as the neglected Queen and Nell's brothel madam mother, the latter vividly accusing Nell of abandoning her roots before downing a pint nicked from a groundling.
Nigel Hess provides jaunty, naughty ditties and Hugh Durrant sumptuous design, including a floor showing the intersection of court and theatre and a hat the size of a paddling pool (pictured above). Pertinent, passionate argument for valuing female voices and stories, but, in this Horrible Histories-esque telling, Nell remains more people's princess symbol than full-blooded woman.
The roles of actress and prostitute were conflated, with spectators paying to spy on undressing performers
rating
Explore topics
Share this article