Matilda the Musical, Cambridge Theatre |

reviews, news & interviews
Matilda the Musical, Cambridge Theatre
Matilda the Musical, Cambridge Theatre
The RSC's production of Dahl's classic is a feast for eyes, ears - and heart
Kerry Ingram as Matilda: 'a phenomenon in her own right, a brave, slightly scary, glassy-eyed heroine'
WC Fields once famously cautioned against working with children or animals. He might very well have gone crazy had he been involved with the RSC's hit musical production Matilda, which started out in Stratford-upon-Avon last November, garnering fistfuls of rave reviews, and has just won this year's Evening Standard and Theatrical Management Association awards for Best Musical.
The animals are otherwise engaged, but this is a show where the kids absolutely rule the roost. At Wednesday night's West End press performance they were led by a tiny sprat of a thing, Kerry Ingram (pictured below left), who if she continues in this vein has all the makings of a gold-plated star. Loads more teenies are waiting in the wings – three more Matildas, and trios of Lavenders, Bruces, Nigels and Amandas, fellow sufferers at the Dickensian institution that is Crunchem Hall Primary School. You can only marvel at the aplomb and assurance with which these prepubescents don't merely hold the stage but glory in its demands and its rigours. For make no mistake, choreographer Peter Darling has tasked them with some jaw-dropping routines. Matilda is choreographed down to the last tip of its tumbling, whizzing, laser-shooting shoes.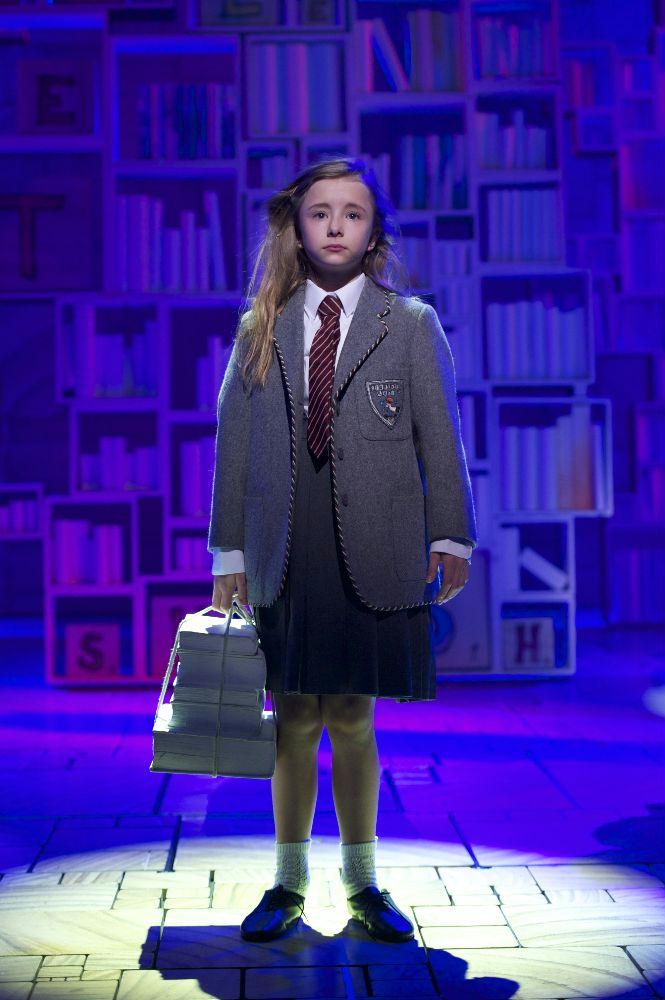 Roald Dahl's tale of a cruelly unloved, abused little girl who harbours extra and kinetic powers is a typically dark one. The RSC have embraced this aspect in their inspired choice of creators: Dennis Kelly (book) has previously displayed a decidedly Gothic tendency with plays such as Love and Money and Taking Care of Baby; Australian comic and musician Tim Minchin (music and lyrics) is similarly inclined. Together they've had the gall and chutzpah to heed Dahl's advice to "exaggerate and go overboard, be daring with everything and when you have done that, take it further and be even more daring and bizarre". His words have been taken to heart in Matthew Warchus's brilliant, OTT (if over-amped) production.
From the moment the partying youngsters sing, "I'm a miracle, my mum thinks I'm a little angel", it's clear this staging is happy to plant its tongue firmly in its cheek. But that's only the half of it. The other side of Matilda is Grimm and grotesque, particularly the extraordinary Miss Trunchbull. Bertie Carvel (pictured below with victim) plays the sadistic headmistress of Crunchem Primary as though Alastair Sim's St Trinian's head had been reincarnated for the 21st century, only 10 times more terrifying.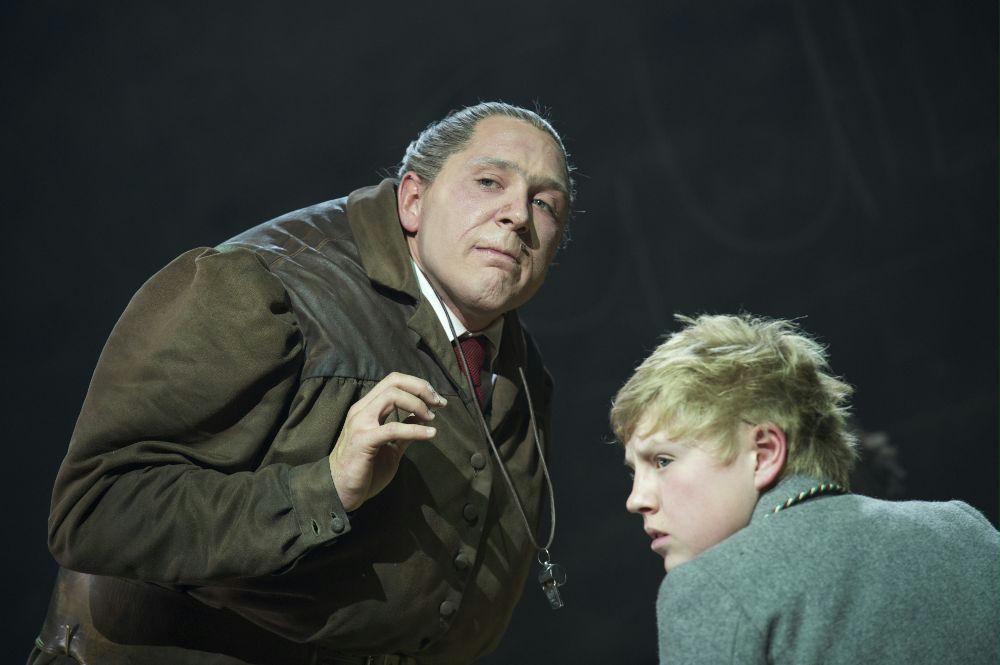 A former national hammer-throwing champion, and boasting a bosom that would launch a thousand battleships, Miss Trunchbull – trunch by inclination, bull by nature – is both cruel parody and camp, comic masterpiece, a symbolic sadistic stepmother figure who regards the Wicked Witch of the North as a role model. Miss Trunchbull's apotheosis – flying through the air as a climax to the children's tinglingly synchronised gym horse acrobatic display – is one of many showstopping moments that ultimately bring the audience thundering to its feet.
This Matilda is a cunning combination of gross cartoon, pitch-perfect professionalism and endearing feel-good factor, wrapped in a profoundly positive message for this digitalised, quick-fix age: books are the gateway to life. Imagination and stories embolden. Through storytelling Matilda escapes her disgusting parents (pictured right: Paul Kaye and Josie Walker as The Wormwoods), although not before the pair are given one of the funniest, most cutting lyrics: "The less you have to say, the louder you say it". Precocious beyond her years, she's read Brontë, Jane Austen, Lord of the Rings and many more classics by the time she arrives in the class of the sympathetic Miss Honey at Crunchem.
Kelly has further embellished Dahl's original by bringing together Matilda's talent for making up tales – about an acrobat and escapologist who long for a child but whose ambition is thwarted when the acrobat is killed in a performing accident – and Miss Honey's own real-life story. And although she finally comes to rest in a loving home, the girl's struggles to get there pull on the heart-strings and will touch the child within any adult spectator.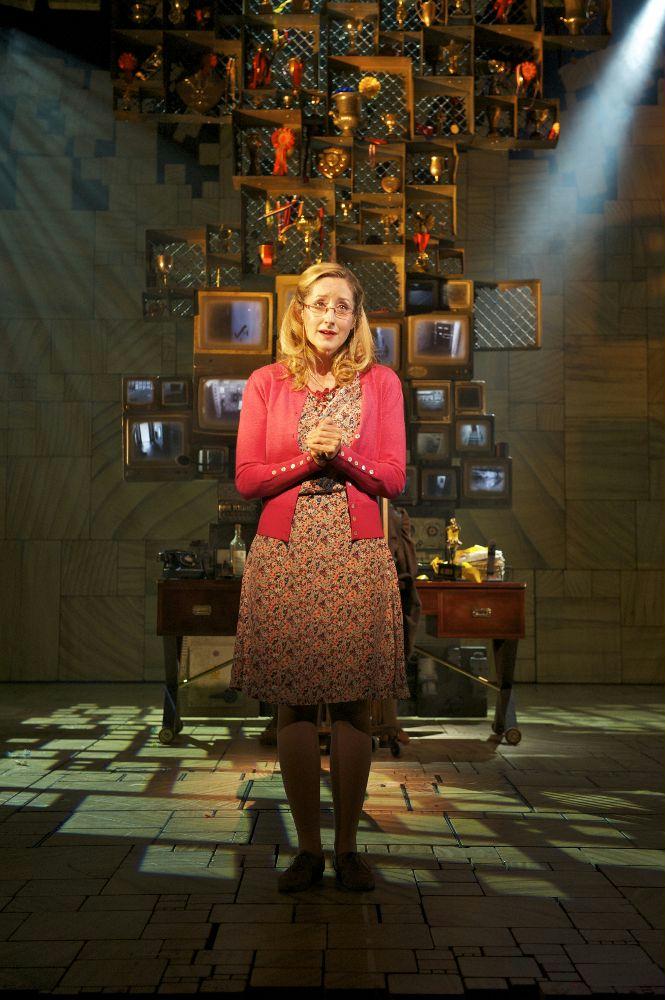 The show is a feast for ears and eyes. Rob Howell's bookcase library design (see main photo) and Crunchem study are towering gems, while Minchin's music and lyrics, often faster than the speed of light, are sharp, funny and unexpected, avoiding the usual musical traps of sentimental cliché.
It's hard to pick out individuals from such a genuinely ensemble production. Carvel's monstrous Miss Trunchbull is horribly memorable, whilst Lauren Ward's touchingly vulnerable Miss Honey (pictured left) brings a refreshing natural focus to a production that at times threatens to tip into hyperactive automata mode. And Kerry Ingram's Matilda richly deserved her standing ovation; she's a phenomenon in her own right, a brave, slightly scary, glassy-eyed heroine who, under different circumstances, in a real school, might have found herself bullied for her precocity. Here, instead, she is raised up as a beacon of resistance.
How they get such performances from such youngsters is the RSC's own miracle. Mind you, they've got form on their side: Les Misérables anyone? Matilda might just have similar legs.
theartsdesk recommends the best musicals in London