Macbeth, Trafalgar Studios |

reviews, news & interviews
Macbeth, Trafalgar Studios
Macbeth, Trafalgar Studios
James McAvoy is a revelation in Jamie Lloyd's thrilling production
Saturday, 23 February 2013
James McAvoy convinces as a muscular and brutal killing machine
The last time James McAvoy played the Scottish king, it was in a scintillating reworking of the play written in the modern idiom by Peter Moffat, for the BBC's ShakespeaRe-Told season in 2005. McAvoy was Joe Macbeth, a Glasgow chef passionate about his work, the restaurant kitchen where he worked a fitting place for the play's blood and gore.
Jamie Lloyd's production is equally thrilling and radical, and is set 50 years hence in a (possibly) post-independence Scotland, brutalised by war and, we may assume from the programme notes, ravaged by the effects of climate change. Soutra Gilmour's striking industrial design sets the dystopian scene – all harsh metals, broken windows and a drab colour palette for both set and the heavily soiled costumes, save for frequent splashes of claret; this is certainly the bloodiest Macbeth I've seen, and at one point it was raining blood.
The final confrontation between Macduff and Macbeth is a brilliant coup de théâtre
Macbeth is the first play in Trafalgar Transformed, a co-production between Lloyd and producer Howard Panter, a season in which they will stage classics and new works in the remodelled theatre. Its reconfigured stage means the audience is very close to the action and its raised height allows actors to enter the action from below, a direction used to great effect in a thrillingly energetic first act, with lots of entrances and exits through trapdoors. The energy is underlined by vibrant sound and lighting design by Alex Baranowski and Adam Silverman respectively.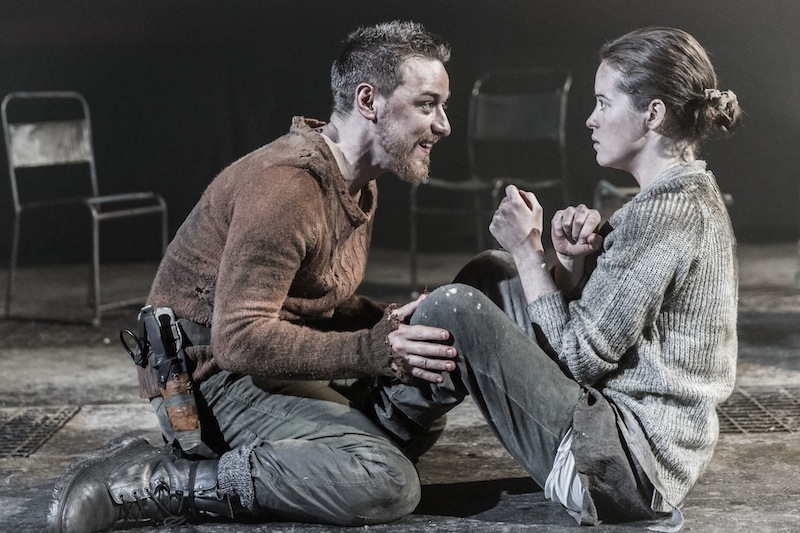 McAvoy appears, tooled up with axe and machete, as a muscular and brutal killing machine. He's very much a leader, charismatic and a man of action, but he conveys Macbeth's inner turmoil with great subtlety. There is an exquisite, heartstopping moment in Macduff's castle where, after he has sadistically watched his henchmen strangle Lady Macduff, Macbeth hesitates at the door after hearing her child's cry before going back to despatch him too. Was that a moment of conscience, or merely a calculation as to which weapon to use?
In a production full of ballsiness and with a closely argued themes, it's perhaps inevitable that some strands of the play might suffer, and for me it was in the relationship between the Thane and Lady Macbeth (Claire Foy, pictured above with McAvoy). Their marriage, with the suggestion of a lost child haunting them both and, like a weird form of replacement therapy, locking them into murderous ambition seems neither amorous nor complicit enough.
Things calm down noticeably after the interval, with much less of the crash, bang, wallop sound and lighting effects. Jamie Ballard's Macduff makes particular impact as the bereaved husband finding murderous intent of his own, even if Mark Quartley's Malcolm feels a little underpowered in their long exchanges. Both McAvoy and Foy convince in their "mad" scenes, while solid support comes from Hugh Ross as the Doctor and Allison McKenzie's Lady Macduff is spirited and touching. The final confrontation between Macduff and Macbeth in Birnam Wood is a brilliant coup de théâtre, again using the stage's reconfiguration to great effect.
McAvoy is a revelation, even if I wasn't entirely convinced by his rapid conversion from brave soldier to murderous tyrant. But this is an electric evening in the theatre, and augurs well for the rest of the Trafalgar Transformed season.
CLAIRE FOY'S CV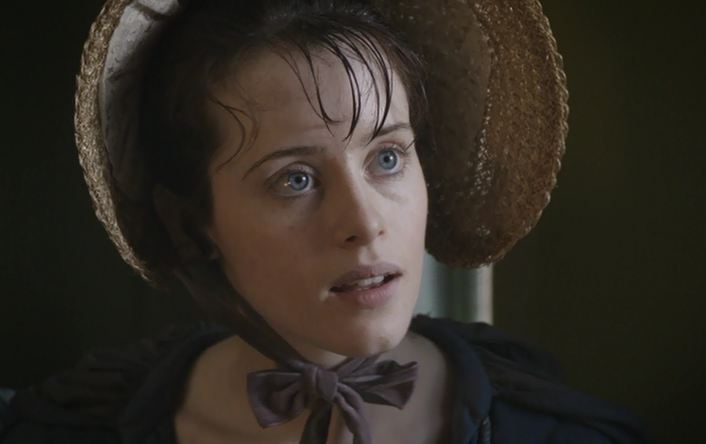 Little Dorrit (2008). "Dickens did just see her as homely, angelic and giving. I looked on her as a sort of a carer whose parent or child is ill. That made her believable in my head."
Upstairs Downstairs (2010-12). Lady Persephone, posh little brown shirt based on the Hitler-obsessed Unity Mitford, tops herself in a dramatic exit from the second series.
The Night Watch (2011). Foy plays a troubled lesbian toy girl in an adaptation of Sarah Waters' novel about heartache in the Blitz (pictured below with Anna Maxwell Martin)
Wreckers (2011). Foy is wife to Benedict Cumberbatch in fraught low-budget Fenland drama
The Promise (2011). In Peter Kosminsky's epic historical drama, Foy plays Erin Matthews, an 18-year-old obsessed with investigating the story of the British soldiers serving in Palestine in the years before our ignominious exit. "I just recognised quite a lot of things about me when I was her age."
White Heat (2012). Foy is a feminist child of the Sixties who grows up to become Juliet Stevenson.
Hacks (2012). Guy Jenkin comedy inspired by the hacking scandal, in which Foy's feral tabloid editor Kate Loy is not remotely based on to Rebekah Brooks. A rare comic outing for an actress with natural funny bones.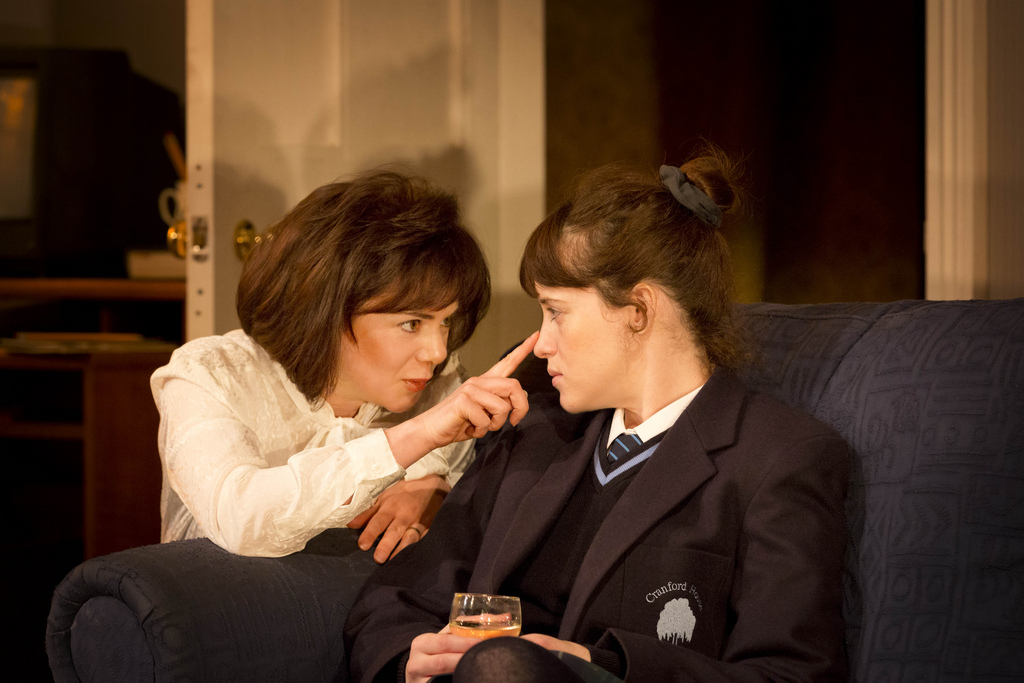 Love, Love, Love (2012). In Mike Barlett's played Foy played a child of a hippie baby boomer. "It's the Philip Larkin thing: she really does believe her parents did fuck her up. I hope I'm not like she is when she's 37." (Pictured, Foy with Victoria Hamilton)
Macbeth (2013). "Why does everyone think she's so evil? My approach to every character is you essentially want to understand. They always have something they are fighting against. They have lost a baby and that's the catalyst for everything."
Wolf Hall (2015). Foy's Anne Boleyn goes toe to toe with Mark Rylance and Damian Lewis.
The Crown (2016). Queen of all she surveys. Bring on series two.
McAvoy appears tooled up with axe and machete, but he conveys Macbeth's inner turmoil with great subtlety
rating
Explore topics
Share this article