The Light Princess, National Theatre |

reviews, news & interviews
The Light Princess, National Theatre
The Light Princess, National Theatre
Will this take off? A fairytale musical rustled up by fêted songwriter Tori Amos and playwright Samuel Adamson
Thursday, 10 October 2013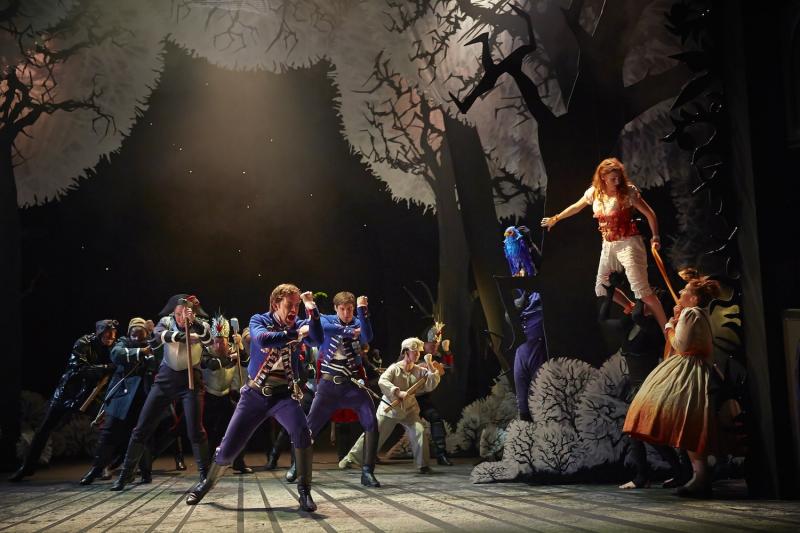 It's magic. Girls can fly, as Rosalie Craig's Althea demonstrates, leaving the boys just hopping mad
Once upon a time, there were two cultures, and they were at odds. A forested wilderness stretches between the kingdoms of Sealand and Lagobel, as we glean from the childishly-drawn, giant map that serves as a front cloth for the NT's new musical spectacular – directed by Marianne Elliot and opening in the Lyttelton last night. The map shows, on one side of the wilderness, Sealand's coastal realm with winding rivers and a chateau bristling with turrets, all in shades of blue.
On the other side, inland, is Lagobel's walled city of Arabian-style domes where everything is orange or yellow-gold.
Co-written by Tori Amos (on music and lyrics) and the playwright Samuel Adamson (book and lyrics), The Light Princess is loosely based on the Victorian story of the same name penned by George MacDonald. The titular heroine, Rosalie Craig's Althea, is the adolescent daughter of Lagobel's King Darius. Her mother died when she was little, at which she remained dry-eyed, determined to rise above grief. Also, her father (played by Clive Rowe) has long ignored her, prizing only his male heir. As a result, she has taken to surreally bobbing around in mid-air like a balloon, insisting on levity.
This pantomime-influenced production is trying to appeal to everyone across different classes and age groups
Holed up in a chamber lined with storybooks, Craig's reclusive Althea floats aloft. It's a delightful trompe l'oeil as she appears to waft around weightlessly, in her bloomers, with languid limbs and auburn tresses. She is, in fact, being kept in suspension by a clutch of strongmen who are hooked on to the bookshelves halfway up and dressed in black, so they're virtually invisible. This is a novel kind of hand-held, human puppetry presented by Elliott who previously, of course, co-directed War Horse.
Later, Althea flees her father's regime. She meets Nick Hendrix's Digby, the Prince of Sealand, in the forest, where he's on the march with an invading army. Meant to be gravity personified, he is heavy-hearted due to his mother's death. Yet Althea makes him smile. The scene where they fall for each other – or rather rise and fall for each other – exquisitely uses aerial acrobatics to express amorousness (with movement direction by Steven Hoggett). Craig is hovering overhead, now wire-flying but tethered to Hendrix by a silk ribbon. Whilst intending to keep her distance, she keeps being softly drawn down to him in a kind of courtship dance that, in turn, lifts him off the ground.
Alas, other elements of this production fall disappointingly flat. Overall, there's more stylized choreography than real sexual chemistry or characterization. As for Amos' contribution, her track record as a Grammy-nominated singer/songwriter – particularly her folk-influenced hit single "A Sorta Fairytale" – inspired high hopes.
However, the songs punctuating The Light Princess (orchestrated by Amos and Martin Lowe in conjunction with John Philip Shenale) sound plodding, schmaltzy and sub-Lloyd Webber in the main. They're not strikingly original, only occasionally rousing.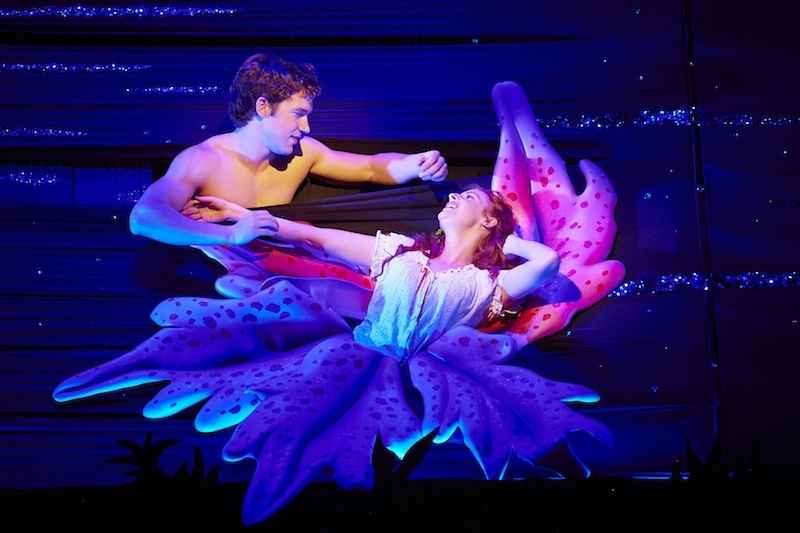 Rosalie Craig's Althea reclines on a water lilly, in the swim with Nick Hendrix's Digby
The lyrics surely aren't going to be winning any awards, rhyming "See my tears flow" with "H20" when Althea learns to feel deeply. The storyline is scrambled too, even after premiere-delaying rewrites. What Althea's floating represents is interestingly complex (mirthfulness, political irresponsibility, spirited independence). Nonetheless, an attempt to embrace other readings (including drugs and anorexia) is clumsily managed.
Visually, Elliott's multimedia team of designers are also hit and miss. I suspect this pantomime-influenced production is trying to appeal to everyone, across different classes and age groups. The set and costumes veer none too winningly, though, between the classy and the tacky. The forest is spookily beautiful, with moonlit trees like jagged coral, except the lake into which Althea and Digby plunge could hail from a Las Vegas cabaret devised by Barbie. It's covered with cheap glitter and lurid pink water lilies – or were they splashes of exotic vomit?
I suppose my aesthetic complaints might be countered by the story's final message: a plea for cultural divisions to be surmounted. However, the ecological credo that's attached to that conclusion – saying we must protect the natural environment – might have carried more weight if that pond had been prettier.
Follow Kate Bassett on Twitter
Overleaf: watch Tori Amos's video for "A Sorta Fairytale"
It's a delightful trompe l'oeil as she appears to waft around weightlessly, in her bloomers,
rating
Explore topics
Share this article