The Life of Stuff, Theatre503 |

reviews, news & interviews
The Life of Stuff, Theatre503
The Life of Stuff, Theatre503
This revival of Simon Donald's 1990s In-Yer-Face drama offers a snake's eye view of Edinburgh's underbelly
Snort it up: Gregory Finnegan hits the Charlie hard as Dobie
A severed toe, a shotgun, copious blood, vomit and snot, and a live snake. Sprinkle them liberally with Shake'n'Vac masquerading as cocaine, douse in booze, piss and petrol, set the whole lot alight and you have something of the loud, lurid volatility of this drama by the Scots writer Simon Donald.
First seen at Edinburgh's Traverse Theatre, it transferred to the Donmar Warehouse in 1993 in a production by Matthew Warchus, garnering its author that year's Evening Standard award for Most Promising Playwright. A forerunner of what came to be known as the In-Yer-Face wave of drama, it was later made into a little-remarked film. Now Battersea's consistently stimulating Theatre 503 revives the play as part of its Second Look season. In a vivid, kaleidoscopic staging by Paul Robinson, the drama is as jagged and glittering as shattered glass.
It offers a tart and timely twist on the Thatcherite enthusiasm for entrepreneurial zeal
Dobie's flying high. Along with an empire of flats rented out to "dolies", who pay his extortionate rates in state benefits and squalid little favours, he's got a lucrative sideline in narcotics. Now he's acquired a new warehouse that he plans to turn into a club – and he's about to throw a pilled-up party to celebrate. Arbogast, a tattoed hardman with a taste for Frank Sinatra, contributes muscle, menace and warped philosophy to Dobie's operation, while eczema-afflicted gopher Leonard is gorily handy with DIY tools. Holly and Evelyn, a pair of drug-hungry girls, have been summoned to help with party preparations and stroke Dobie's ego.
Meanwhile, down the in cellar, young Frazer, a trembling boy in just his underpants, awaits the reward of two tickets to Ibiza that he was promised for getting involved in one of Dobie's rackets – until wrecked, wild-eyed Janice, another of Dobie's tenant stooges and currently on the mother of all comedowns, stumbles in with the unwelcome news that what Frazer thought was an insurance scam was something much more serious. Dobie's vicious underworld rival Sneddon (Ben Adams, pictured below) was, she says, unconscious in the boot of the van that Frazer was told to torch. So now Edinburgh's nastiest villain is dead – or is he?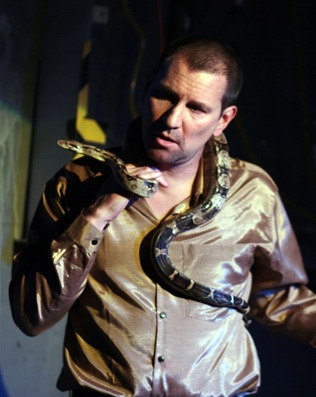 Robinson's traverse production boasts excellent ensemble playing, and the design by James Perkins cleverly combines tacky leopardskin, graffiti-streaked steel and concrete and neon to conjure a setting of gritty urban sleaze, underscored by a nostalgic Acid House soundtrack. The play doesn't deliver the punch of raw, galvanising originality that it must have packed back in the early Nineties, before its aesthetic of violent lyricism had become the motif of a whole decade of drama. And Donald's plotting can be garbled and frustratingly episodic. But, with its cast of chancers led by Gregory Finnegan's doltish Dobie in his yuppie suit, it offers a tart and timely twist on the Thatcherite enthusiasm for entrepreneurial zeal, and the dialogue is stuffed with salty nuggets of surprising (and often stomach-turning) flavour. Crazed and chaotic, it's not an enduring classic; but it's still quite a trip.
Edinburgh's nastiest underworld villain was unconscious in the boot of a van that was torched. So now he's dead. Or is he?
rating
Share this article