Late Company, Trafalgar Studios review - visceral production of Jordan Tannahill's lean, pained drama |

reviews, news & interviews
Late Company, Trafalgar Studios review - visceral production of Jordan Tannahill's lean, pained drama
Late Company, Trafalgar Studios review - visceral production of Jordan Tannahill's lean, pained drama
Family trauma stripped back to the barest bones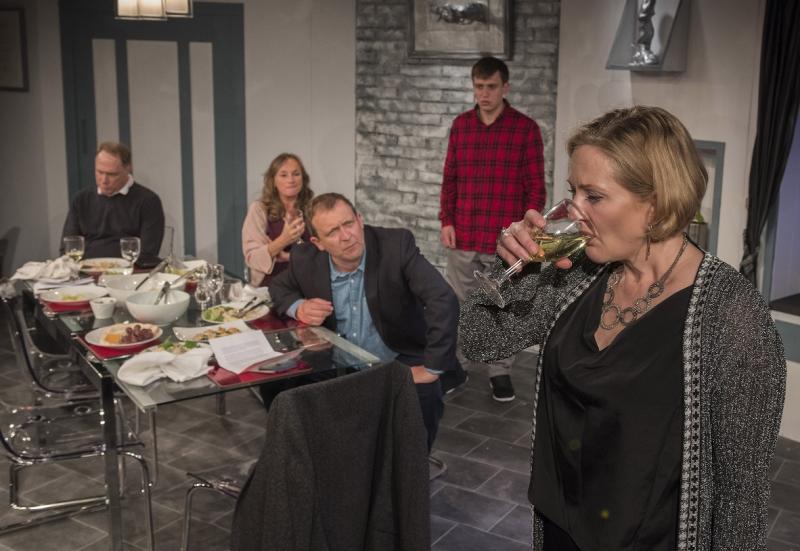 Treading on glass: Lucy Robinson as Debora
Canadian playwright Jordan Tannahill wrote Late Company when he was only 23. It would be an impressive achievement at any age, but it seems all the more remarkable that so stark a dissection of the consequences of a tragedy should have come from so young a writer. Written in 2013, it was his fifth play.
Tannahill has said that its inspiration came from a real-life incident in his hometown, Ottawa, and that he had originally meant to write it more for himself, and perhaps a group of friends – as a kind of internal reckoning. But he has gone far beyond that: the skill and tightness of the writing – Late Company lasts a bare 75 minutes – makes for an impressive emotional intensity.
This won't be any ordinary evening of entertaining
Tannahill leads us into the story conventionally, as a couple prepare for dinner guests. Debora (Lucy Robinson) and Michael (Todd Boyce) are from an upper-crust Toronto world: she's an artist, her metal sculptures adorning the walls of the apartment, while he is a successful Conservative politician. But it quickly becomes clear this won't be any ordinary evening of entertaining of the sort they are clearly accustomed to. It's a year on from the suicide of their teenage son, Joel, and the guests tonight are the parents of one of the boys whose bullying contributed to Joel's death, Bill (Alex Lowe) and Tamara (Lisa Stevenson). They are coming with their son, Curtis (David Leopold), a high school contemporary of the dead boy, who been one of those adding cruel comments to Joel's social media pages. They had picked on Joel for his being gay, and the flamboyance of his behaviour.
An empty place at the table is set for Joel, whom we assume is the "late company" of the title. Tannahill charts the development of the two couple's developing interaction unforgivingly, how the desperate niceties of arrival and small talk give way, as they sit down to dinner, to a full release of feelings. It's not exactly what we know as restorative justice, more an attempt at some sort of catharsis, perhaps to give the grieving parents something like a first step towards closure. Rather quickly it becomes clear that any such expectations are not going to be fulfilled. (Lucy Robinson, David Leopold, pictured below)
Confrontation in an enclosed space is an elemental feature of theatre, of course. It's stoked here by the fact that part of the agenda for the night involves reading letters written by Debora and by Curtis. They leave the assembled company, and the audience, in agonised silence, the emotional power of Debora's missive simply spellbinding. But in the process Tannahill makes it clear than though a sharing of grief may be nominally on the agenda, Debora is not ready for anything like forgiveness: she remains trapped in a dark place, intent on cementing the blame all over again.
She may channel accusatory anger, but at the same time she's forced to confront the realisation of just how little she had known about her son. She had never taken on board many small details of his life (and death), even some known to her husband. "How much I never knew," she laments late on, and the gaps in that knowledge will be filled in painfully.
Tannahill also conveys a sense that, for all the self-knowledge they are acquiring, Debora and Michael also suffer from a considerable degree of self-satisfaction. They had surely planned the evening, expecting to control its result. We come to appreciate the nuances of social difference between the two couples, and the "simplicity" of the visitors makes them rather more sympathetic when set against the studied self-confidence of the hosts.
This production is a transfer from the Finborough Theatre where it played in the Spring, and the Trafalgar Studios' confined second space suits it wonderfully. The cast is excellent, Lucy Robinson as Debora outstanding as we come to appreciate the chasm between her social niceties and her aching grief as a mother. David Leopold as Curtis is remarkable too, his ungainly physical presence and lack of fluency of expression speaking more powerfully than any words could. We're sure to be hearing more of Tannahill's name: what a powerful piece of drama this is, its pained leanness immaculately caught in Michael Yale's production.
It's not exactly what we know as restorative justice, more an attempt at some sort of catharsis
rating
Explore topics
Share this article