Lampedusa, Soho Theatre |

reviews, news & interviews
Lampedusa, Soho Theatre
Lampedusa, Soho Theatre
Ongoing tragedy of migrant deaths at sea examined in stirring new play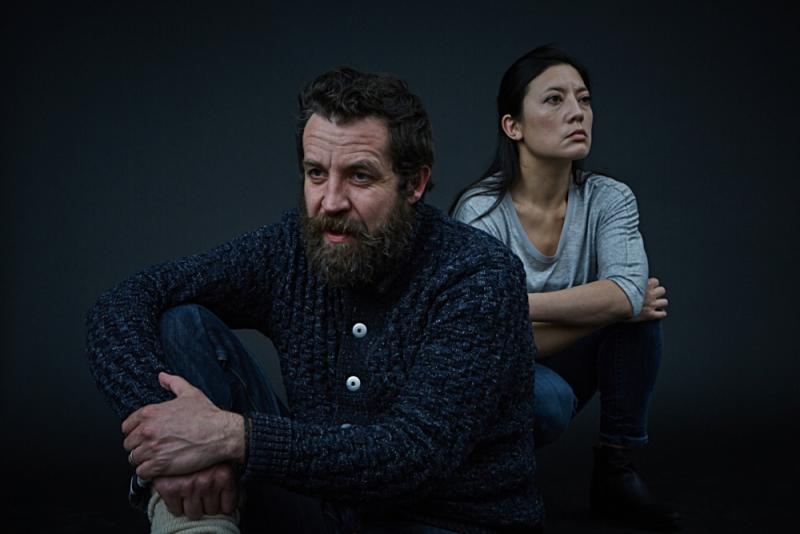 Ferdy Roberts as Stefano and Louise Mai Newberry as Denise in 'Lampedusa'
You might think you know what you're in for with a play by Anders Lustgarten, winner of the inaugural Harold Pinter Playwright's Award and current go-to political activist for the Royal Court and the National. Listed alongside the plays on his CV is the boast that he's been "arrested in four continents".
But if Lampedusa was merely an angry rant, you'd switch off before it had run its course, short as it is at 65 minutes. It's hard enough being eyeballed by the two actors, each of whom starts out sitting inconspicuously among the audience on benches in the round, and subsequently monologues us at close range, picking out random individuals for attention. It's harder still to absorb the incontrovertible facts: that in 2014 alone more than 4,000 desperate African migrants, mostly young, many of them children, drowned in the Mediterranean attempting to reach Europe by boat. Yet despite his grim base material, this writer knows how to keep us listening, rationing out nuggets of poetry and humour like sweets.
Both keep the grim reality of what they do at arm's length by keeping it abstract
Ferdy Roberts, bearded and burly in a fisherman's sweater, is Stefano, who once caught fish for a living off the Italian island of Lampedusa, 70 miles off the coast of Tunisia, but now harvests human corpses. Barely has Stefano introduced himself before he's describing the horrors he sees from his boat on an almost daily basis – the blackening, bloating forms, eye sockets hollowed out by nibbling fish. The bodies "fall apart in your hands, if they've been in the drink a while… slide apart and fall to pieces."
Just as you feel you can hear no more, Roberts sits back on his bench and the spotlight turns on Denise, a half-Chinese mature student at Leeds University. To fund her politics degree, she collects debts for a pay-day loan company. She, too, sees a lot of misery. But she laughs at the excuses people give her on the doorstep: "I can't deal with this now, me python's just eaten me dog." Louise May Newberry (pictured below) plays Denise as thick-skinned, lippy, harsh: "The bottom line is, if you can't afford to pay it back, don't take out a loan."
At first it's hard to see the point of this restlessly alternating focus. Stefano's story is the one we want to hear, Denise's merely a more humdrum take on what appears to be Lustgarten's theme: poverty and desperation. Yet at the play's halfway point it emerges that it's the two characters and their perceptions that interest him more. Both keep the grim reality of what they do at arm's length by keeping it abstract. Once it gets personal, they cannot do their jobs.
Both characters, too, are ultimately saved by the kindness of strangers. Stefano, crumbling mentally and beginning to hallucinate dead bodies, is befriended by a mechanic from Mali eagerly awaiting the arrival (on one of those boats: cue the play's stirring dramatic centrepiece) of his wife. In her own crisis, Denise finds a lifeline in the friendship offered by a debt-ridden single mother. Yes, our political systems have callously abandoned those at the bottom of the heap. The only effective counter to that systemic indifference, Lustgarten is saying, is individual acts of kindness. That way lies our hope.
Steven Atkinson's production, presented in conjunction with the HighTide Festival and Unity Theatre, Liverpool, rightly allows words to take precedence over action on Lucy Osborne's bare stage. And, given its intimacy, it felt only right that Roberts should be munching an orange as he sat among us, and that a tempest should be conjured (with lessons learnt from The Rime of the Ancient Mariner) from mere words, a storm lantern and a tiny toy boat swinging from a chain. There are minor problems of discomfort in the round on an unraked stage. Lights shine in your eyes throughout, it's unavoidable. But that's a small price to pay to witness strong performances and writing as measured and stimulating as this. Hectoring it isn't. Challenging, and profoundly moving, it is.
He's describing the horrors he sees from his boat on an almost daily basis – the blackening, bloating corpses, eye sockets hollowed out by nibbling fish
rating
Explore topics
Share this article