Lady Windermere's Fan, Royal Exchange, Manchester |

reviews, news & interviews
Lady Windermere's Fan, Royal Exchange, Manchester
Lady Windermere's Fan, Royal Exchange, Manchester
Revival of Oscar Wilde's elegant whodunnit is stylish but disappointing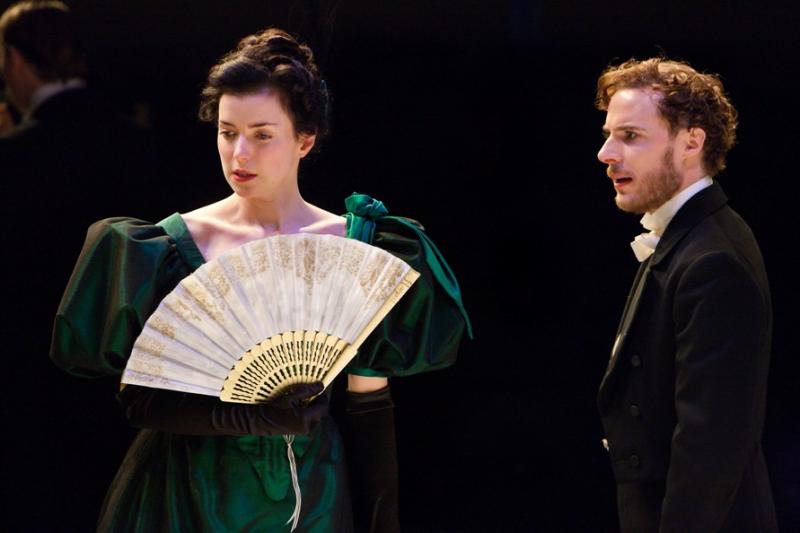 Named after places in the north: Laura Rees as Lady Windermere and Samuel Collings as Lord Darlington
It's ironic that Oscar Wilde should escape to the Lake District in 1891 to write a play satirising London society, his first success in the theatre. He took such a shine to the region's place names that he used them for some of the characters – Berwick, Carlisle, Darlington, Jedburgh. They do seem to lend themselves to titles - we could have had Lady Coniston or Lord Buttermere or Countess Rydal Water.
But we got Lady Windermere, which has become part of the language, with that fan, a present from her husband on her 21
st
birthday, when the play opens.
The four-act play is like a Carlton House Terrace-style parlour game, a sort of genteel whodunnit. Is Lord Windermere cheating on his wife as he visits another woman and gives her money? Is the other woman a goody or a baddy? Can Lord Darlington be trusted with Lady W? Is her ladyship capable of being a wife, a mother and a woman of the world? And who did leave the giveaway fan in Lord Darlington's rooms? In the time between 3 pm on a Tuesday and 1.30pm the following day, Wilde leads us on – and answers those questions, as well as the critical one: who is "the Good Woman" he refers to in the play's subtitle?
The men somehow lack the style and presence of aristocrats
These toffs live in a world of their own. When they say of a scandal that "all London is talking about it", they mean it's the gossip in their circle. They are cynical about politicians: "He thinks like a Tory, but talks like a Radical. This is so important these days." They are dismissive of "trade". When the young Australian Hopper comes on the scene, the Duchess of Berwick says, "His father made a great fortune by selling some kind of food in circular tins."
All part of the satire, of course. They have little to do but gossip and drink (tea or whisky), have a party at home or retire to the club until they get kicked out, leave the ladies to arrange flowers while the gentlemen puff cigars. It could be a forerunner to Made in Chelsea, except that this lot have some wit, courtesy of Wilde.
Wilde is very particular about stage directions and settings, which count for nothing in-the-round. This robs the production of the necessary upper-crust atmosphere. A few sparse pieces of elegant furniture (four chairs, a desk and a chaise longue), albeit on a brilliantly painted floral floor reminiscent of Georgia O'Keeffe, have to do. No windows leading onto the terrace, illuminated for the birthday party. But the ladies are beautifully begowned in rich fabrics and glowing colours. The men need smartening up, especially Lord Darlington (Samuel Collings). In his baggy trousers, he looks like Charlie Chaplin.
As far as the performances go, the women carry the day. Bernice Stegers is larger than life as the Duchess of Berwick, and beside her, as her put-upon daughter, Lady Agatha, Eliza Collings manages an amusing cameo with few words. In the key role of Mrs Erlynne, focus of the secret round which the play revolves, Lysette Anthony (pictured above right) ranges from the seductive to the sensitive - and she manages to find plenty of passion, which is more than can be said for others on stage. In the title role, Laura Rees matures nicely from vulnerability to authority. The men somehow lack the style and presence of aristocrats. At times, for instance when the fan is discovered in Lord Darlington's rooms, they turn drama into farce. They need a touch of class.
Looking at the cast list for the first performance on 22 February 1892 at St James's Theatre, London, it is interesting to see that Sir George Alexander, lessee and manager of the theatre, cast himself in the role of Lord W. Fortunately, Greg Hersov, the Royal Exchange's long-serving Artistic Director, with more than 50 production to his credit, didn't follow suit for this stylish, but overall disappointing, revival.
Lady Windermere's Fan at the Royal Exchange until 23 June
It could be a forerunner to Made in Chelsea, except that this lot have some wit, courtesy of Wilde
rating
Explore topics
Share this article