Kiss Me Kate, Old Vic Theatre |

reviews, news & interviews
Kiss Me Kate, Old Vic Theatre
Kiss Me Kate, Old Vic Theatre
Sparks never quite fly in this meta-theatrical battle of the sexes
Wednesday, 28 November 2012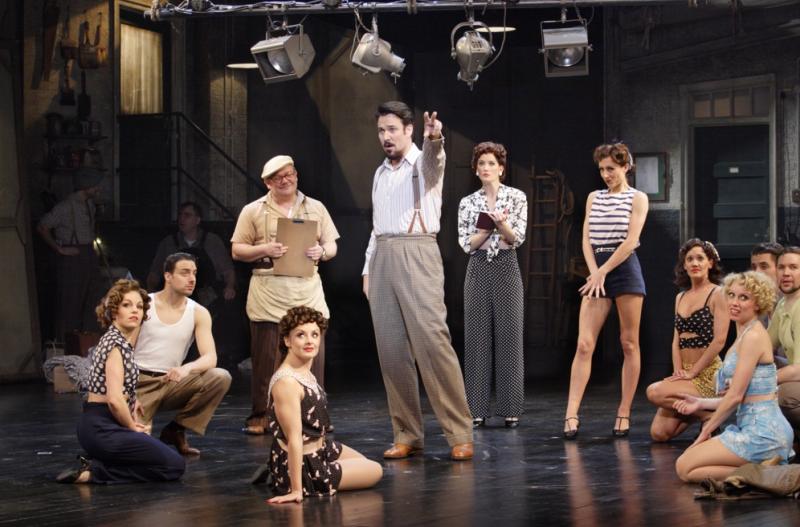 Stage creatures: Alex Bourne as Fred Graham, with the company
Cole Porter's musical spin on Shakespeare demands the fluidity, fizz and acidity of champagne. In Trevor Nunn's revival, which transfers to London after a successful run in Chichester, it's more like gelato. It has sweetness, and a rich abundance of detail, but it's also thick, cloying, and somewhat bland. There's plenty of stagey pizzazz on display, but it too often feels strained and soulless.
The production lingers when it should zing, and despite some fine song and dance, it never conjures either the sexual heat or the showbiz buzz that should set it sparkling.
The show takes place on and offstage at a Baltimore theatre in 1948, where a musical based on The Taming of the Shrew is being performed. Elegant, temperamental leading lady Lilli Vanessi (Hannah Waddingham) just happens to be the ex-wife of director and leading man Fred Graham (Alex Bourne). In portraying Shakespeare's warring couple, the pair are propelled back into one another's arms.
Sam and Bella Spewack's book does little to address the troubling sexual politics of Shakespeare's Shrew - and Nunn scarcely more. While Lilli/Katharine is a termagant who must be tamed, the Bard's Bianca is played by the gold-digging bimbo Lois Lane – a role Holly Dale Spencer goofily inhabits here, all cow eyes, curls and lipstick. Hannah Waddingham has a cool glamour as Lilli, making her first, diva-ish entrance in furs and wreathed in cigarette smoke, and ending the show with a rather dispiritingly unequivocal capitulation to the man she left but can't stop loving. Yet she lacks sensuality and warmth, and there's a lack of chemistry between her and Bourne's raffish Fred that leaves us largely indifferen to the fate of their romantic relationship.
Technically, though, there's little to fault. Robert Jones's plush designs neatly nestle a proscenium inside the Old Vic's own and feature an abundance of billowing silk, velvet and blazing lights. The band, under Gareth Valentine, sounds brassily lush, and Stephen Mear's choreography lavishly alternates staccato and swirl. Waddingham sings like a dream, swooping, soaring and occasionally indulging in extraordinary vocal acrobatics to some comic effect. Bourne, too, has a golden voice and manages to make witty work, in particular, of "Where is the Life that Late I Led?", a roll call of dalliances that rhymes "doin's" with "ruins", "pizza" with "streets-a" and recalls one "Lisa" who "gave new meaning to the Leaning Tower of Pisa". Spencer twirls and chirps appealingly through "Always True to You in My Fashion", partnered by Adam Garcia's affable, nimble-footed Bill Calhoun.
But it all seems a little too mechanical. There's no adrenaline rush, no whoosh of sheer elevating joy, even in the big Act Two opener "Too Darn Hot", led by an irresistible, hip-swivelling Jason Pennycooke. "Brush Up Your Shakespeare", the comic duet performed by Clive Rowe and David Burt as a pair of pinstriped heavies hired to recoup Calhoun's gambling debts, is almost interminably sluggish. This is a show with a broad, bright, toothy grin on its meticulously made-up face; it's highly competent, nice to look at, and some might find even find that smile infectious. But it doesn't feel sincere.
There's a lack of chemistry that leaves us largely indifferent to the fate of the show's central romantic relationship
rating
Share this article