King Lear, Donmar Warehouse |

reviews, news & interviews
King Lear, Donmar Warehouse
King Lear, Donmar Warehouse
A thrilling chamber version, though even at 72 Derek Jacobi still seems too spry
Wednesday, 08 December 2010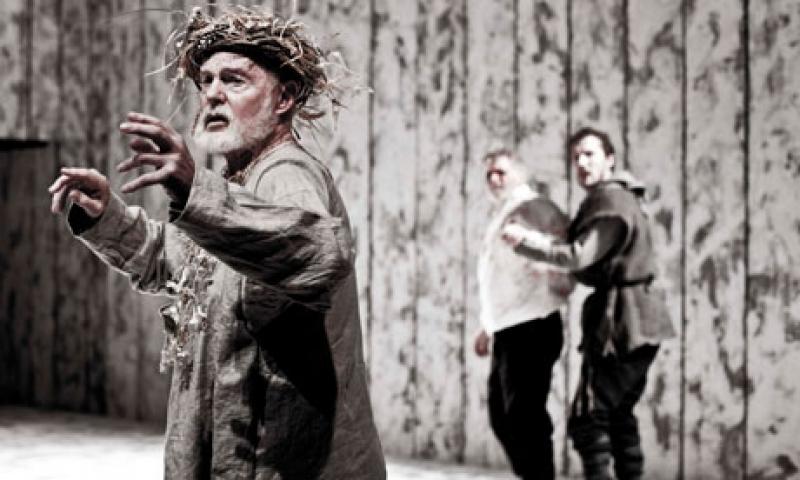 Derek Jacobi's Lear: 'We're forced into relentless intimacy with something genuinely horrific'
It's the right season for a frosty Lear. With people being frozen on the open road by temperatures rarely visited upon the land, we're reminded that nature can be our greatest adversary, that we're placed in the universe as much to fight its innate physical savagery as we are to fight each other.
With the exception of
The Winter's Tale
and
As You Like It
, with which
King Lear
keeps close thematic company, Shakespeare's plays don't really address the wild outdoors. Uniquely, his most searing tragedy combines feral human feuding with the unkindest forces nature can unleash. The mix can make
Lear
an ordeal and Michael Grandage's new Donmar staging is certainly that.
In the best way, I should add. The rigid, super-tense audience silence in the Donmar during an unbearable death scene, right at the end, was accompanied by an exhaustion among us which had, perhaps, already set in during one of the most beautiful reconciliation scenes, shortly before, between Lear and Cordelia I've ever witnessed. The principal virtue of Grandage's production is its blinding focus. In the modest dimensions of the Donmar, and with virtually no set, we're forced into relentless intimacy with something genuinely horrific: an old man mindlessly cursing his daughters, two of whom dispossess him; another old man (Gloucester) being destroyed by a son without a conscience; a daughter reunited with the father who rejected her being murdered at the very moment the play proposes redemption.
Christopher Oram's set actually suggests brightness, benevolence. The stage and walls are primed with daubs of white paint, as if the action is going to be provisionally worked out in a rehearsal studio. That's it. The lights are rarely dimmed. When Kent, Gloucester and Edmund make a breezy entrance at the start, the audience has hardly settled and this Lear seems set on a course of leisurely chattiness, taking place in a world at ease with itself. Not a bit of it: the production's spareness, its complete lack of tricks - there are few props - allow us to see, in close-up, how much havoc a half-witted king causes in a very short space of time. This becomes razor-sharp, ice-shard tragedy, without fuss.
It can't be managed, of course, without the finest acting. How wonderful to see one of the world's greatest plays returned to performers: it's another huge commendation of Grandage's work here that you barely notice that it's been "directed". This is Lear undiluted, built on its extraordinary words, which is as it should be - again, rare are the stagings which aren't tempted to fiddle about with it in some way (because it's thought to be so difficult to get right). Derek Jacobi as the King is of course a major draw and he is riveting throughout.
Perhaps too much so - so let me mention what's less right about this production. Derek Jacobi can't do old. He's white-haired, with a tremendous, if nicely groomed, beard; but he's also spry, elegant, charismatic for sure, but struck, in spite of his (it's seems astonishing to have to put these two digits together) 72 years, with the curse of Cyrano, Benedick-like youth. Naming those two ebullient theatrical creatures prompts another concern: isn't Jacobi too brilliant a comic actor to bring off tragedy's most senile shouter?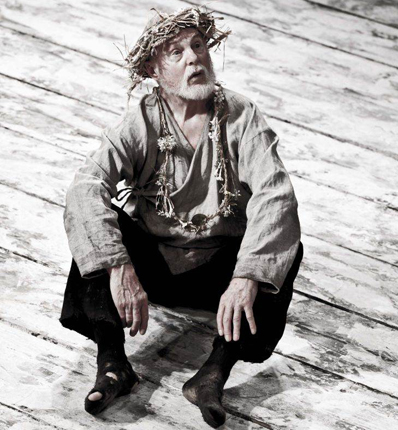 Reservations stated, there's nothing not to be thrilled by here. Jacobi lets his Lear be genial at the start, playing kissy jokes with Goneril (Gina McKee) and Regan (Justine Mitchell), turning simply poisonous after a confident, convinced "Nothing" from Cordelia (Pippa Bennett-Warner). Utterly out of sympathy with him as he later rails sarcastically at Goneril and Regan's remonstrations over his foul behaviour, we're kept on side by a fabulously lucid Kent (Michael Hadley) and given the right critical distance from Lear by a cheeky, unmannered Fool (Ron Cook).
In a remarkable departure from the conventionally boomed "Blow, winds, and crack your cheeks!", Jacobi whispers this scene, with an unobtrusive echo effect, which makes us listen properly. It underlines further the chamber nature of this Lear. Alec Newman as Edmund, meanwhile, is twitchy and brittle, not as worldly as many have played this attractive part; Gwilym Lee is smart and solid as Edgar, and, sensibly, less loony than pitiable as Poor Tom.
The infamous gouging-out of their father's eyes is performed rear stage, leaving Paul Jesson's white smock striated with red and reminding us that even if this one is apparently low-key, gentle almost, in design, no Lear is less than hugely violent. The ensuing meeting of the blind and mad fathers is carried off with piercing exactitude in a production that does everything to prove that Lear is, maybe surprisingly, Shakespeare's most performable tragedy.
10 GREAT KING LEARS
Greg Hicks, RSC. Hicks occupies the part with brisk and inventive intensity.
Glenda Jackson, Old Vic. Jackson returns to the stage as an authoritative Lear, gender irrelevant
Grigori Kozintsev, 1971 Russian film version. Truly apocalyptic masterpiece, stunningly performed
Tatsuya Nakadai, Kurosawa's Ran. Lear-inspired epic of the futility of war
Jonathan Pryce, Almeida Theatre. Pryce heads a disturbingly dysfunctional family in a compelling production of Shakespeare's tragedy
Simon Russell Beale, National Theatre. Russell Beale's Lear budges up to make room for Mendes's vision
Barrie Rutter, Northern Broadsides. Jonathan Miller's vivid production puts Lear in a Yorkshire accent
Antony Sher, RSC. Sher runs the full delivery gamut in Gregory Doran's distinguished production
John Shrapnel, Tobacco Factory. A traditional Lear triumphs in the heat of Bristol's alchemical vessel
Aleh Sidorchik, Shakespeare's Globe. Belarus Free Theatre stages Lear as post-Soviet Oedipal X-Factor extravaganza
How wonderful to see one of the world's greatest plays returned to performers: it's another huge commendation of Grandage's work here that you barely notice that it's been directed
Explore topics
Share this article