John Leguizamo: Ghetto Klown, Charing Cross Theatre
John Leguizamo: Ghetto Klown, Charing Cross Theatre
Bogota-born actor's autobiography is based on a true story
Leguizamo says his show is 'an act of self-hate and self-adulation'
At Murry Bergtraum high school in Queens, New York, John Leguizamo was voted the "Most Talkative" student by his classmates. Not much has changed. As this one-man show demonstrates, Leguizamo talks like a Gatling gun on speed, switching almost unconsciously between English and Spanish, and likes to rattle through a gallery of impersonations with scurrilous, hyped-up intensity.
The Bogota-born performer is hardly a household name in Britain, but as Ghetto Klown jitters edgily down its autobiographical path, Leguizamo's accomplishments begin to assume reasonably impressive proportions. From a bit-part appearance in Miami Vice in 1984, he hit the bright lights of Hollywood in Carlito's Way, playing "Benny Blanco from the Bronx" opposite Pacino in his pomp, played Tybalt in Baz Luhrmann's Romeo + Juliet, and got to take an intense dislike to Steven Seagal in Executive Decision (Leguizamo reels in the years, pictured below).
TV stardom also beckoned beguilingly for a while, and he recently popped up as a hustling bail bondsman in The Lincoln Lawyer. But Leguizamo started out as a stand-up comic in New York, and with Ghetto Klown now joining Mambo Mouth, Spic-O-Rama and Sexoholix on his stage CV, the confessional solo show seems to have become his métier.
It tells a version of his life story, but it's no great surprise that its author admits to some events having been "re-created for clarity". He adds that "it's many contradictory elements combined to create an illusion of normalcy". Well, normal for him maybe. As he tells it, while bopping and jiving around the stage in a fizz of nervous energy, his mama was a high-stepping diva, his father a stern authoritarian (pop even tried to sue his son for misrepresenting him on stage), and his grandfather an ancient, wheezing oracle doling out gems of lifestyle philosophy in between fighting an imaginary revolutionary people's war. All of these are recreated with agile vocal skills peppered with a few too many Spanish interludes, as well as some effective mime, like the pair of imaginary crutches which evoke his father's physical decline. Some simple technical enhancements pay big dividends, especially the slick sound effects which animate routine actions like opening doors or taking the needle off a record.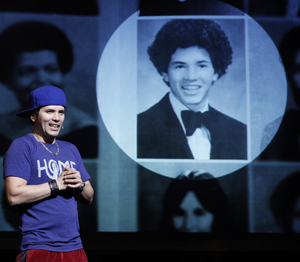 Acting was in Leguizamo's blood, though it took his Katharine Hepburn-like drama coach to help bring it out (she called him "my latino Laurence Olivier", and he impersonates her in haughty Boston Brahmin Thespian). An assortment of exotic women adorn Leguizamo's yellow brick road, from the languid and statuesque Kat whom he met at Lee Strasberg's school and with whom he formed the comedy duo The Long and the Short, to a flamboyant latina poetess and feminist revolutionary conjured by Leguizamo like a magic-realist hallucination.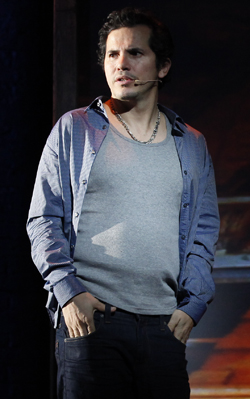 Much as he adores his female characters (I think we can count a caustic take on Patrick Swayze, sashaying like a Tiller Girl as drag queen Vida from To Wong Foo), he also goes to town on some of Hollywood's loftiest grandees. He paints director Brian De Palma as an old-world potentate, his elaborate bonhomie masking unscrupulous guile, while his Al Pacino is a huge zeppelin of bellowing superstar bluster. As for Steven Seagal, with whom he seems to be conducting an extended feud, Leguizamo is comically appalled by his "no-talent big-ass body" and the way he "runs like a girl".
There's sort of a happy ending, with our hero emerging from Tinseltown's reality-distortion field and acquiring a wife and kids, while the rockier career patches are placed in a long perspective (he quit partying when he realised that "coke and booze are gateway drugs to Christianity"). Creatively, it seems, Leguizamo has also reached a satisfying place. It might be a whole different story in his next show, though.
Ghetto Klown is at the Charing Cross Theatre until 12 November
He hit the bright lights of Hollywood in 'Carlito's Way', and got to take an intense dislike to Steven Seagal in 'Executive Decision'
rating
Explore topics
Share this article