Celebrity Autobiography, Leicester Square Theatre |

reviews, news & interviews
Celebrity Autobiography, Leicester Square Theatre
Celebrity Autobiography, Leicester Square Theatre
Wit, wisdom and narcissism of the modestly talented are hilariously laid bare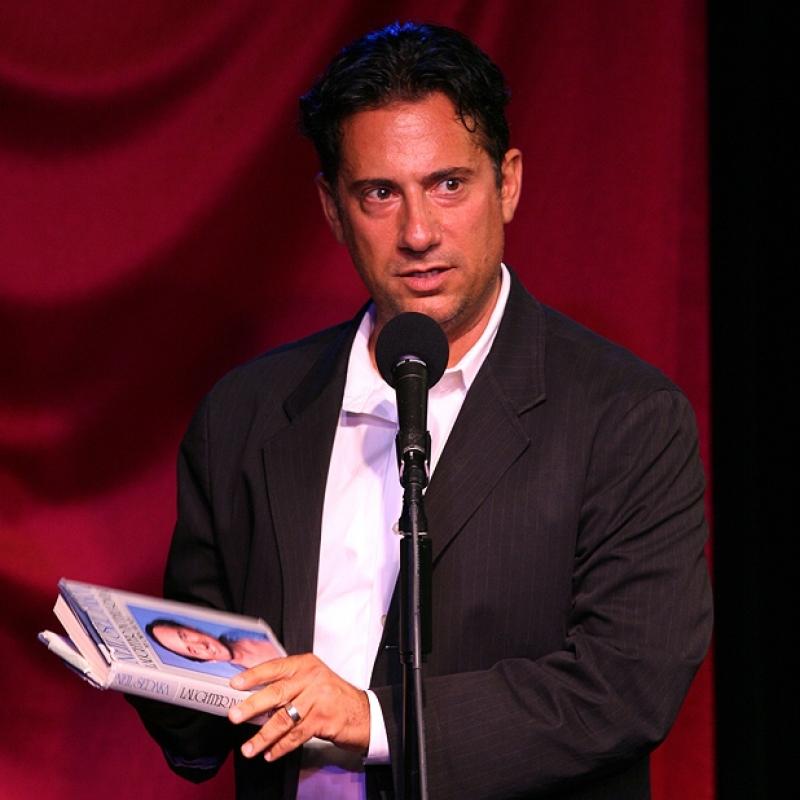 Eugene Pack: Creator of 'Celebrity Autobiography' draws out every laugh available
Celebrity Autobiography, like most of the world's best ideas, is simple yet inspired. Eugene Pack's creation, developed with Dayle Reyfel, was first seen in Los Angeles three years ago, then in New York and other American cities, and was a sellout hit at this year's Edinburgh Fringe. Both creators, along with a bunch of actors and comics, appeared last night to read from various celebrities' autobiographies. That's all it is, folks.
Except, of course, it isn't. For Pack, Reyfel and co, reading verbatim from works by, among others, Britney Spears, Eminem, Diana Ross, David Cassidy and Tommy Lee, impart so much in tone, pace and emphasis to underline celebrities' wit, wisdom and blatant narcissism, while the odd raised eyebrow or grimace can act as a sly commentary. Not that we really need a commentary, of course; even without sight of the, er, original material we can assume that Spears's Crossroads Diary (her journal about the filming of Crossroads, her 2002 film, although for one delicious moment I thought she had written about the comically dire British television soap that inspired Victoria Wood's Acorn Antiques), was written with exclamation marks a-gogo.
Likewise, Pack's rendition of How I Play Golf by Tiger Woods, with its plentiful mentions of holes, balls, shafts, putting and angles, is so chock-full of double entendres that he needed to do nothing more than simply mouth the words, which included the priceless, "I've never seen a putt I didn't like." But Pack, reading slowly and with deliberate over-emphasis, drew out every laugh available that this gift of a book offers. As with everything else the performers read, it is unaltered, while a few excerpts are truncated for greater comedic effect.
Each of the readers - the others last night were actors Doon MacKichan, Sally Phillips, James Lance and Michael Urie (from Ugly Betty), and comic Rufus Hound - had a solo spot. Phillips, reading from Sex by Madonna, delighted with her wonderfully straightfaced rendition of Madge's sex with a teenager, while Urie (reading from Don't Hassle the Hoff, by David Hasselhoff) expertly evoked the hilariously wrong-headed self-regard of the modestly talented. Describing his lead role in the short-lived Broadway run of Jekyll and Hyde: The Musical, the Hoff gravely tells us he was "playing not one character, but two" and that acting in Baywatch was no picnic: "the sand was hotter than hell". We feel his pain.
Another delight was an interleaved reading by Lance and Phillips of All About Us by Peter Andre and Standing Out by Katie Price, aka Jordan, in which Andre's naive and romantic assessment of his marriage to the surgically enhanced model - "our toes would touch on the sofa" - contrasted crashingly with her crude and explicit descriptions of her daily depilatory routine: "Who wants a mouthful of hair?"
The highlight, though, was a massed reading of three intercut autobiographies of Liz Taylor, Debbie Reynolds and Eddie Fisher, in which each person's version of the same events (the end of Fisher and Reynolds's marriage, when he left her for Taylor, who in turn left him for Richard Burton) was recited. The other participants played various bit-part roles of other partners, telephone operators and narrators, Lance was brilliant as the libidinous Welshman and MacKichan wonderfully self-obsessed as the man-eating Taylor, while Reyfel managed to be both funny and touching as the naive Reynolds.
The biographies featured change at each performance, as does the cast; among others booked for the London run are comics Bridget Christie and Dom Joly.
Celebrity Autobiography at Leicester Square Theatre, London WC1 until 9 October, then every second Monday of the month until 10 January, 2011
'Urie (reading from Don't Hassle the Hoff, by David Hasselhoff) expertly evoked the hilariously wrong-headed self-regard of the modestly talented'
Explore topics
Share this article