theartsdesk Q&A: Victoria Wood, Part 2 (Acorns) |

reviews, news & interviews
theartsdesk Q&A: Victoria Wood, Part 2 (Acorns)
theartsdesk Q&A: Victoria Wood, Part 2 (Acorns)
The second part of a major biographical interview with the comedy star
Saturday, 26 December 2009
Victoria Wood won two BAFTAs for 'Housewife, 49'
In Dinnerladies (1998) she wrote and acted in her own sitcom, set in the canteen of a northern firm. A longer second series followed in 2000. After completing what she insists is her last tour as a stand-up, she then set about writing the words and music for Acorn Antiques The Musical! The show was directed by Trevor Nunn, but when it was revived (and slimmed down) for a national tour in 2007, Wood made her debut as a director. Most recently, in Housewife, 49, she adapted the wartime diaries of Nella Last, an unhappily married northern woman who sent letters detailing her misery to the Mass Observation Unit. There was barely a trace of comedy in it, but Wood won both BAFTAs for both her performance and her script, and eventually fetched up at the Emmys.
DINNERLADIES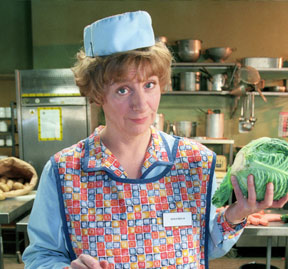 How did you go about plotting 10 episodes of the second series of Dinnerladies?
I did it all on a magnetic wall chart. That was the best bit. I enjoyed that hugely. It's not so much that 10 is so many, but when you rewrite 10 that's 20 and then 30 and 40. I've done at least 60 or 70 half-hour scripts. When you alter one you have to alter the rest of them.
And how long does it take to do an episode?
When I'm working at speed, 12 hours. That's when I totally know what I'm doing. You can rush through the first drafts to get the story down, and then I just go on tweaking right to the last day.
In the cast there are several of the usual faces but also some actors who are less associated with your work.
I was writing for Thelma [Barlow] and Anne Reid, even though they weren't cast. It's nice to have somebody in mind even if they never do it in the end. I hadn't worked with Anne Reid for a long time and the fact that she had been in the Street was really neither here nor there. But I knew because Anne was a friend of Thelma that Thelma was thinking of leaving the Street. I was thinking, this would be great for my programme, and probably nice for her to do something different. I kept my ear to the ground and as soon as she was out I was in there. I've always thought Thelma was very good at comedy. She's so pretty but she does wonderful things with her face. You can give her tiny things to do and she gets a lot out of them. Shobna [Golati] is so gorgeous-looking. She just says one thing and it seems funny when on the page it wasn't terribly funny. Asian actresses are fairly thin on the ground. We put the call out and they all turned up from aged 55 downwards. She got it very well
How long before recording each episode do you hand the script in?
In a normal week they get it the week before. If they've got any sense they don't bother to learn it. We read it through on the Monday morning and then we start blocking and then I try and do any changes that night. The ideal scenario is they're all done. Some of them have been pretty much untouched. But you can't be sure how long they'll run until you do them. I know how many pages it is to a minute, but that doesn't take account of laughter and business. When you're in a canteen you write, "She comes down with the custard powder," but that could take seven seconds.
How is it writing on your own?
I'm getting a bit fed up with it. I felt it was too much for me to think about all on my own. About halfway through I just wish I had one other person that knew everything I was doing that I could talk to about it. I wish I had somebody like Woody Allen when he walks through the streets of New York saying, "What about this, what about that?" I can't imagine sharing the writing. Just the sharing of the burden of the thinking it through. I do get very lonely and I nearly jacked it in. I thought it was very bad and I couldn't write comedy any more. I dithered so long about whether to jack it in that I left it past the point where I could jack it in. I couldn't do that to everybody, so I pushed on. People are looking forward to it. I was looking forward to it, and I thought I can't write it now. It's a horrible situation to be in. I think I'd done five. Sad.
How did the second series end up longer than the first?
The first one was six, which is a very short amount, especially these days. I'm not doing any more at all. I thought 10 could take the story to a conclusion. I had so many plot ideas it took 10 to get them all in. The first six were like an experiment. You don't know what you've done till you've had it out on the television. "Now I can go back and write this series. Now I understand what people have taken from it, what I need to change it, how I can improve it and deepen it and extend it." I wouldn't have been fair just to do six. I don't normally do anything twice. But I felt for this to give it its best benefit I had to do more. But I've done it now. I'll have done it for two and a quarter years by the time I've finished this, and that's working on my own.
What about the punters?
That's too bad. There are other things I want to do.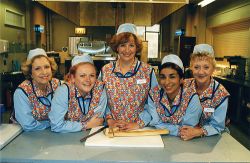 What do you go through when you present it to the actors?
You just listen to everybody read it. I'll go through all the hoops of fire when I'm working on it myself. Nobody could put me through what I put myself through doing it. By the time I've got them to that stage I'm so pleased to see everybody, it's a nice do. It's really useful to hear them read. Sometimes you think something's funny and it's not. You think something else wasn't very funny and it is. You can't really be sure it until you hear it in front of an audience, but it gives me a much better idea when I hear the actors do it.
How does yours compare with the American method?
I'm a Luddite as far as that goes. Sitting in a room with a pen, not ever a computer.
Doesn't the laughter of a live audience mess up the rhythm of what you've rehearsed?
The laughter doesn't screw anything up. Sometimes you really have to hang about when you don't expect it. It's a very particular skill and most actors haven't got it at all: to play it for real and be aware of the camera and the audience. It's terribly hard. It would help more if you'd done a lot of sitcom. We had one guy in who hadn't been in front of audience for a long time and it totally threw him. He'd just done films. There are so few sitcoms your chances of getting handy at them… they are all shot like movies. I think the sitcom in front of the audience is dead. People will get used to that filmed single-camera look. We don't use canned laughter. People think we've got it but we haven't. We have real laughter. They sometimes laugh more than I expected. They are often quiet, which doesn't surprise me, because it's a studio. Sometimes things go incredibly well. We knew where we thought the big laughs were and a little interjection will get a huge laugh. You have to pretend to wipe counters while it dies down. That's really nice and lovely, but it's not always very useful. It might blow the timing. We can't do it without them. I've done things without them and they are just deadly. I did a whole series without them once and it was just so dull. We showed them to an audience afterwards but it was just no buzz for me at all.
Can the audiences vary?
Sometimes you get a load of screaming queens and sometimes you'll get a load of OAPs from Purley. There's no guarantee what you'll get. But what I like best is a very sensitive, pleasant, not particularly loud audience who's very tuned into the story.
When you write, how quickly do the gags flow?
I really have slowed down. I spend a lot of time staring at a bit of paper thinking, "Should she say, 'Shall I make a cup of tea?' Or 'Shall I make a cup of tea, Dolly?'" It's all very tortuous. It comes quite quick. I do really enjoy it. I found the pressure of the amount very lowering but the actual work I adore.
How have you written for your regular actors in this series?
It's nice when you give Duncan [Preston] huge explosions of temper, which I've never seen him have in real life. He does them really well. What I've been able to do this time, because I've been rewriting, I've noticed more things about people and what they can do. There's particular things that he can do and I've been able to put them in. Then you're working at a really high level of performance. Celia [Imrie] can turn on a sixpence verbally and technically. You can write her any strange sentence construction, stopping, turning, she can do it all. She's like a taxi. She's got wonderful diction, she's got a lovely face, she's got that thing that she's very beautiful but she doesn't mind not being. Same with Julie. Julie can do the same thing: very dexterous. It's like writing a symphony.
Watch a clip from Dinnerladies:
ACORN ANTIQUES THE MUSICAL, West End 2005
What are your memories of filming the original Acorn Antiques sketches?
They were the most fun to do, because everybody could jump in and the cameramen could bump into each other and all the things they try valiantly not to do most of the time they could do. It was very hilarious. I had an idea when I wrote it that it was going to be really really funny. Other people said, "I don't get it." I said, "Just wait. It's like this. They won't get it till they see it." And that's OK.
Where did the original idea come from?
I don't remember. I wrote the whole series all at the same time, As Seen on TV. I had all these filing cards on my carpet and I knew that Susie Blake was going to go three times each programme. Then I thought, wouldn't it be funny if the television station she worked for had a soap on it. I suppose it's based on Waggoner's Walk and Crossroads all together. We did one bit a week. We pre-recorded it without an audience because we knew we would never get through it. They would be laughing and it had to be done as a soap would be done in the daytime in a cold studio.
Did you ever think it would come to this?
I didn't think in those terms. To me it's all the same job really. I get an idea in my head and I think that can only be expressed in a song. I just get these ideas and they arrive in a package and I just have to follow that road.
I love musicals. I love the form. In fact I'm disappointed now if I see a play and they don't dance or sing. I think, "Oh come on, do something"
Was it a Eureka moment when you decided to do Acorn Antiques as a musical?
It sort of was. It's not that I wanted to retread old ground, because I didn't, because I don't do that. I wanted to do a musical and I just thought on and off, "How could it be, how could I do it?" And then suddenly, I must have walked past a poster for Mamma Mia! and just thought, "Acorn Antiques, is that my Mamma Mia!?" It's my thing. And it's very dear to my heart. Also it lends itself to being exploited in different ways. It was a way of making it very user-friendly. I just thought it would look so nice on the posters. You know when something clicks and really makes sense. I'm taking it almost as if it was a real programme and making a proper musical with those characters. But it's two musicals in one. It's a rep musical and then it's a West End musical. There's a musical where it goes wrong and a musical where it goes right. So in a sense it's a musical set in a proper antique shop and it doesn't depend on your having seen it on the television at all. It just seemed to make sense. It's really close to me and it gives me an opportunity to write comedy and write comedy songs. I felt I could use all the things that I've learnt how to do. I've spent so many years on stage learning how you entertain people an hour at a time. It's almost like an extension of that.
How did Trevor Nunn get involved?
When I first had the idea two years ago I went to see Trevor at the National and he jumped at it and said, "That would be absolutely fantastic, let's do it at the National, yes yes yes."
Was he familiar with the world?
He seemed to be. He said, "Oh, what a good idea." He seemed to have seen it. I felt that he did know it because he seems to know quite a bit about things that I've done. I know he is very very charming but I didn't think that he was completely lying to me at all. And then after a year things were a bit rocky domestically. I thought, "I can't go straight from a big tour into writing a musical because I'm overworking." I know I went to see Trevor one Christmas and said, "Can I get this on in 12 months' time?" And he said, "Yes," and then a few months later when I was on tour I had to say, "I can't do this because I'm in the terrible habit of overworking and I've just fallen into the same trap again so I just want to back off this." And then a year after that, when I felt able to work after a bad year, I went to see him again and he was just about to leave the National. I said, "I still want to do this and do you think I should do this at the National? Will you do it with me?" A bit like an opera singer he had things coming in all the time. And I said, "I'll write it anyway and if you can do it, then good" - because he's the best - and if he's not, I said, "You just have to tell me who else you think is good." When I'd written it he managed to find a little tiny gap to do the workshop and a little tiny gap to do it.
Have you always been a frequent musical goer? What did you see as a child?
I saw My Fair Lady and did I see Oliver!? My parents took me to London for a holiday and I saw a couple then. I saw Anne of Green Gables which I remember even then as being dreadful. I saw The Sound of Music with Petula Clark. I think the film of The Sound of Music I saw when I was 10 or 12. I love musicals. I love the form. In fact I'm disappointed now if I go and see a play and they don't dance or sing. I think, "Oh come on, do something." It just appeals to me. I'm quite a lowbrow person. I'm just trying to write something that I would want to go and see in the theatre. Lots of laughs, not too long, good tap-dancing, things like that.
I've seen lots of Trevor's musicals. I've not seen that many of his plays. I've seen Anything Goes, I've seen Oklahoma, I've seen South Pacific. I like the big old-fashioned ones. I like Singin' in the Rain. There's barely a musical that I've seen that I haven't liked. I cry when I hear an overture. It just vibrates in me somewhere. I just want to give that buzz, as well as giving them a lot of laughs, then we'll have delivered.
While I was writing Acorns and before, I went to see every musical I could see. Some were just so bad. Some were just marvellous. Romeo and Juliet was really really bad. It was just awful. But it was very inspirational in a way. It did provide the inspiration for one number. It was instructive just the way they'd constructed their lyrics and the pompousness of the music. I went straight back and wrote one of the numbers in the first half, which is a spoof number, because the rhyming was so abominable.
What did you make of Jerry Springer the Opera, another musical in two halves?
I thought it looked like they'd just had to make it a commercial length. It thought it was a shame. It had been expanded beyond its capabilities.
You have to give people a reason to come back for the second half.
By ending the first half by saying, "And now you will see my vision, at least people will think, what's the poor old cow going to come up with in the second half."
Is one of the attractions of Acorns that you don't have to invent the characters?
That wasn't such an attraction because I found although I have my core people you then have to put some depth into them and you have to have some sort of story that engages people and Acorn Antiques is a three-minute sketch for television. This has got to deliver more than that otherwise it'll be so shallow it won't engage people. They have to care, so you have to deepen their characters to an extent. But also I had to bring in all the other shopkeepers in that street. The plot is about Acorn Antiques being taken over by a coffee chain and whether they sell up or try and fight on or whether they become a coffee shop themselves. It's about big business taking over the high street.
Ooh, it's polemical.
I'm so politicised now.
No, you're not.
I know. I try though.
Have you ever been asked to endorse a party?
Yeah I'm sure I have. It would be Labour, I should think.
You're not strong on opinions.
I'm not strong on political opinions. I'm strong on instincts. I just felt really that was one thing that people have flung themselves under horses to get a vote and it's my privilege not to say how I vote. The thing about endorsing the Labour party which I could have done ideologically is that you can never then change your mind without a big hoo ha. And sometimes if I want to do tactical voting, which I do sometimes and vote Green, that's up to me really. I don't want the worry of having to deal with talking about that. It's hard enough talking about food and comedy. My brother is a Lib Dem. He asked me to support his campaign when he was running for the European parliament.
Did he get in?
No.
'I don't see the harm in celebrating the idiosyncrasies of our country like jammy dodgers and chips in newspapers'
So how have you expanded Acorns?
The first half is a repertory production rather in the style of Les Mis. It's rather downbeat. It's a director's concept. He's trying to make a post-modern ironic opera about day-to-day life using Acorn Antiques as a post-modern piss take. They don't realise they are being used. And Mrs Overall, who of course has got no time for the director at all and is very hard to argue with, decides it's all rather gloomy and it would be much nicer if they put in some numbers from a musical she was in in 1959 called Café Continental. So she browbeats him into putting these numbers in. So what you see in the first half is a public dress rehearsal. It's all set in Sutton Coldfield theatre. It's like a disastrous dress rehearsal, which they have to go on with because there's an audience. It's full of rows and fisticuffs and things going wrong and wobbly scenery, all the things you might think. And then for a plot twist I can't reveal it's rewritten and redirected. Mrs Overall says she would like Sir Trevor Eve to direct it, so it's redirected by Sir Trevor Eve and it goes to the West End. The second half you've got the overture, the curtains, lovely set, and it's a proper musical.
Is there a message?
It's about that balance between fear of things changing but things having to change. It's done in a very light way, but that's what it's about. I loathe antique shops, I loathe second-hand shops but I used to adore them, but I actually quite like coffee shops. I feel quite comfortable when every shop is the same as every other shop. And I think I'm quite usual in that. Mrs Overall gets fired in the middle because she doesn't suit their vision of a new modern shop. It's about people being fired because they are too old.
Do those fears represent the fears of your audience?
That's a really horrible thought. I would hope my audience just wants a laugh really. I would hate to think I have one type of audience with one type of attitude. All I'm trying to do is put lots of songs and dances in a nice story.
You write about quite traditional Britishness. You laugh at it. No one has ever written a tap routine with jammy dodgers and Skegness.
They are very British things. Without turning into a pleated-skirt lady from Chichester, I don't see the harm in celebrating the idiosyncrasies of our country. Of course if it tips over into a very fixed attitude of "we can never change, we can never take anything from any other culture" then that's really really bad. But we have got a culture and it seems ridiculous that we should be ashamed of it. We have fantastic things here like jammy dodgers and chips in newspapers. But I'm open to things being different and I think this country has changed fantastically in 20 years. One thing I hated about living in the North-West is there were no people who weren't white and I thought this is really bizarre. I much prefer to live where I live now where it's representative of the whole country and it is a great mix. But Manchesterford is white unfortunately. It just has to be because it's a fantasy place from the past.
How much do we know about the actress who plays Mrs Overall?
She is a lady of a certain age. She is called Bo Beaumont, because Mrs Overall is Boadicea Overall. She lives in a mansion flat in Paddington with her friend Wendy and her dog. The soap has been axed. We assume she has not been doing a lot. She was a chorus girl, so she can sing and dance but she's troubled with various ailments. She has varicose veins and she has haemorrhoids. So that's why the tapping is a bit difficult for her.
You don't normally write songs for others. It'll be a novelty seeing others perform them.
I've been able to use melodies and things that I've never been able to use in my own show. All this music I've been writing as I've gone along I can't use because it's romantic or sentimental, and now I've got a place for it. It's been lovely working on it in that way.
Is this your England cap?
It's not a great analogy for me. It's just wonderful. It's just like being… I never won anything as a kid. It's just like somebody giving you a big fat prize.
Watch Julie Walters perform "Macaroons" in Acorn Antiques the Musical!:


ACORN ANTIQUES THE MUSICAL, national tour 2007

The run lasted in the West End for 16 weeks. Was that run long enough for you?
It went on exactly the length of time it was supposed to be on for, which was 16 weeks. That was the time that Celia [Imrie] and Julie wanted to do. I thought it would suffer very badly if we recast it while we were in the West End. I thought if we started again with a touring production based on the West End production then hopefully we could make a good show out of it. I wanted to see if it's got a life away from its connections. And I've changed it and altered it and it's shorter and changed the story and strengthened it, so you don't have to have seen Acorn Antiques at all now hopefully to enjoy it. It seems quite robust now. But I had to make it performance-proof so that it didn't rely on the fact that Celia was Celia or Julie was Julie, that somebody could come in and play those parts as you would come in and play Hamlet or Hedda Gabler. You'd just read the words and do what it says.
And you're directing it. How did that happen?
I haven't directed anything before. Not officially. It's based on Trevor's production. It's an easy way into directing as I don't have to direct from scratch. I asked him if it was OK to do it and to change it and he said yeah, that was fine. I've not really talked to him about it. It was too long before. I couldn't bear it that it was too long.
Trevor Nunn likes length.
I like shortth. He says, "Things are the length they are." And I say, "People have got to catch buses." I really wanted to make it shorter. In the heat of the moment you bung in as many numbers as people want. When you're doing a musical from scratch you're changing everything and it's a big scramble to get it on and everybody wanted their own number. I was never quite happy with the structure or the dialogue and I was able to take it away and rewrite it in peace and quiet, give out those parts and start again. I don't have to give a song to Neil Morrissey. Everybody wanted one. Everybody thought, it's a musical, I want a number. It's nice to have cast it from scratch. I put three new numbers in. It's got 17 in now. I've taken the first half away altogether. It's the cleanest cut that you can do. It was designed to be two separate musicals with two intervals. But because of time you can't actually do that.
You don't mourn the loss of the first half.
No. I think it's going to make a very strong evening to open up in Manchesterford and stay there. There's no confusion about what you're trying to do. It's a plain simple story. I loved the first half and I think Trevor did really really clever things with it. That was that show and this is a different show. It's got the same name, same story, but a new opening number which I'm very pleased with. The tune of the opening number of the first half is still in in another form.
Did it feel like putting the gang to bed?
It felt like a great glorious conclusion to something. I don't know if they felt the same way. I was very appreciative of the fact that Celia and Duncan [Preston] and Julie were prepared to tip up eight times a week on the stage to bring this to fruition. I thought that was great of them. That was a glorious thing for me that that was on in the West End. It was a thing of itself to take Acorn Antiques from the television to the West End stage with those people. And now I take that musical which happens to be called Acorn Antiques but now really is just a musical about a shop changing from an antique shop to a coffee shop. It's about modern life, really. It's pretty much as you saw if you just think of the second half. The opening number is a bit like "All That Jazz" in Chicago where they say "Come where the gin is cold and the jazz is hot". I've got "Where the jazz is trad and the floors are clean and the table mats are melanine".


HOUSEWIFE, 49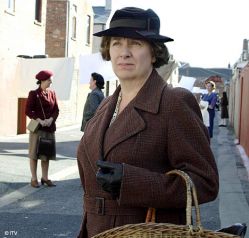 How did you end up getting interested in the Second World War?
I've always been really interested. That is a period I've always felt very devoted to. In one of my Christmas shows I did a wartime newsreel of two old ladies sitting on a blitzed house. Their husbands were underneath but they were all right. And I did a parody of Brief Encounter. My parents never talked about it. My father only ever said that he'd been in the navy and he had his teeth taken out and he did shows in the navy. A brother of mine and my sister were both born in the war. But nobody ever talked about anything in my house. My father wrote sketches and songs and played the piano and was in a band and did naval revues. It Ain't Half Hot, Mum things.
Not like South Pacific then.
I did once see something he did that was a jumble sale where men came on in army boots and tutus, so that's probably a thing that people used to do in the war and think was funny. I was brought up with it. There were a lot of old records in my house as a child, old music from 1935 onwards. I picked all the music for Housewife, 49. I chose all the tracks that you hear on the wireless. I just know a lot about that sort of music. I looked at all the copies of Radio Times to see how the wireless went during the day, what people were listening to. I didn't want to just say, "Get me some Glenn Miller and Vera Lynn." Actually Nella Last couldn't stand Vera Lynn. She couldn't stand Gracie Fields or George Formby.
How did you come across her?
I went out on the piss one night with Keith Waterhouse. This is a very vague memory. I think in 1982. I was in the West End with Geoff [Durham, her then husband]. I think Keith must have come to the show. We ended up walking up the Strand towards where the offices of the Daily Mirror used to be and ended up in the office of the editor and he took a book off the shelf and gave it to me. It was Nella Last's diaries which were published by Mass Observation. They must have given it him as a socialist paper.
'Nella was really a bit like my mother. My mother couldn't be doing with neighbours and gossip and suburban life
What took you so long?
I have hundreds of books about World War Two and lots and lots of diaries. I had another diary that I thought would make a very good drama about a middl- class housewife in Solihull whose son was in a prisoner of war camp. Her diary was really interesting as well. It just had to wait till it was the right time. I met the producers and they were asking if there was anything I could do for ITV and the things they were suggesting didn't really strike home with me. I said there is this book I've got. They saw a lot of potential. I think it was partly her age, that she was 49 and when I was thinking about it I was about 50 or 51. At first I used to read it for wartime detail like you would read a detective story. How cosy - coal fires, rationing, the bombing: it's like another world. When I started to read it again I thought it's about someone who has to deal with the fact that their children are growing up and leaving home and they've got a difficult marriage and she doesn't really have anything else in her life. She had no support network, no friends, they were obviously both depressives. He didn't go out, he didn't like her to go out. She had just had a nervous breakdown and she was worried that she was having another one. It was as if she was rescued with a war because she suddenly was able with a clear conscience to go out and work out of the house and then her husband couldn't really voice an objection because it was for the war effort. Also I felt that perhaps writing the diary gave her insight into what her mental processes were and made her less depressive. The way she describes herself, she seems very driven and busy. I can sort of identify with that. When you have depressive tendencies, adrenalin works really well. She seemed to get a whole boost of energy from dashing about and doing lots of things. People were always telling her how marvellous she was which must have given her a great boost.
Did you meet anyone who knew her?
We met a couple of people. There's a really strange bit in the diary which I couldn't put in the drama where somebody comes to the front door with a baby in a briefcase and gives her this baby for a week to look after. It's about five days old. And the doctor had sent it round for her to look after. I said to her next-door neighbour, "What about that baby?" She said, "That never happened." I thought, well, if that never happened what else never happened? So in the end I just had to pick my own story of my own version of what happened. It's not a documentary.
Who was her neighbour?
There was a girl called Margaret Atkinson. We changed her name so we didn't have to worry about what she thought. Margaret Atkinson and her sister are still alive in their 80s and they remember her really really well. Margaret Atkinson was really close to Nella and used to come round and make dolls together and knit together. She remembered her completely clearly. She said, "I adored her but other people found her really difficult, in that they thought she was a little bit grand." Nella was really a bit like my mother. My mother couldn't be doing with neighbours and gossip and suburban life. My mother was an intellectual from a working-class background. Nella is a beautiful writer. In another era she would have been a novelist. She's trapped in this rather dull life. I couldn't do anything about her writing style. There are bits but they are my bits. I've hardly quoted her much at all. In the end you're trying to keep the essence of what you felt when you read it.
'I'm not Woody Allen who despises the fact that he ever got a laugh. I love comedy. I just wanted to tell this story'

She's not grand in this.
I haven't written her as that. People were appalled when the diary was published. She never knew. She was very very frank in the diary about people and so people are really pissed off in Barrow. She was dead by the time she was published. She died in 1968.
What did people tell you about the husband?
They said he was lovely and that she browbeat him and that she nagged. I thought, I don't care, I'm just going to write my own story. I didn't want him to be a villain. I wanted him to be one of those buttoned-up people who can't behave any differently. From his point of view he's putting the dinner on the table. What more do they want? He's a provider. He's bought them this lovely new house, she's got two sons out in the world, Nella doesn't have to go out to work. I think he just doesn't understand that there's anything missing, because he's getting everything he wants from that relationship. It's what he's settled for and she suddenly starts to want more and he can't provide it. It was really nice to be able to write about a real relationship where they're apart and they come together and they're scrapping and dancing and they're OK but they're not even sleeping together. I tried to be very honest about what a relationship can be like in a world where you wouldn't think of getting divorced, where you would just find some way of making it work if you had to. Nella doesn't think there's any way out.
Were you tying a hand behind your back by not doing any laughs?
I didn't feel that at all. It was really interesting to just write in a different way. I think it's always good to give yourself a bit of a challenge and so to put yourself in another era so your language has got to be changed and your vocabulary and the way you construct sentences. You can't use your normal tricks to be entertaining.
But you're known to love making people laugh.
I know. I do, I do. I don't want people to be disappointed in it. I just want them to take it for what it is. It's just a story about a housewife. I'm not one of those people who want to play Hamlet. I'm not Woody Allen who despises the fact that he ever got a laugh. I love comedy. I just wanted to tell this story. Everything has its own resonance and you can say one thing in a joke, one thing in a sketch, one thing in a sitcom and one thing in a drama. It's not that one thing is more valid than another. It's just that sometimes if you want to say something you have to pick the form in which you say it. And if I wanted to talk about a marriage that seemed to be the ideal forum in which to do it.
'I only ever had a new book bought for me at Christmas. I'd get a new paperback. The rest of our books were second-hand and there were tons and tons of them'
Was there ever any question of not starring in it?
There was never any question in my mind. I wanted to play the part. The first thing that occurred to me about it was that it was a good part for a middle-aged woman and she was central to the story, and that's quite unusual.
Is your interest in the war about the ground-level impact?
Yes. Domestic really. Whereas my interest in the First World War is strangely more about the actual battles. I'm interested in the home front in the Second World war more really. I think I'm very interested in English life from about 1910 onwards. Before that I'm not so interested. I love buildings and prisons and museums. I like real objects. When I was a child I thought that anybody who was born in the past was different. But it's absolutely not. I used to be quite baffled as a child that Victorian novels never mentioned toilets or sex or food and used to think, well, perhaps they live in a different way.
Does it come from nowhere?
My mother was an obsessive collector of second-hand books, I lived in a house that never had anything new in it. Everything was second-hand. My mother was a believer in economy. I only ever had a new book bought for me at Christmas. I'd get a new paperback. The rest of our books were second-hand and there were tons and tons of them. And so there were lots and lots of those Boots library books that were circulating from the mid-Thirties onwards. Because I was an absolutely obsessive reader. The things I read were often from that period, often Victorian, Edwardian, 1920s onwards. I was very steeped in literature of that time. So I felt I had an understanding of it. Maybe because the only films you saw on the telly in the Sixties were films from the Forties. I don't know. It just appeals to me. The first time I saw newsreel footage in colour I couldn't compute it in my mind. I was absolutely fascinated by the Mitchell and Kenyon films. That's a period that one has never seen moving pictures of. They are wearing old hats and bustles and they are just ordinary people. People are coming out of a factory and being given flyers and reading the flyers and throwing them away just like they do now. I thought, oh they're behaving in the same way.
Watch a clip from Housewife, 49:

After Housewife, 49 had been broadcast Wood went to New York to attend the Emmys, where she had been nominated as best actress.

How did you feel about winning a Bafta for acting?
I don't think of it as my primary job. I've got "entertainer" on my passport and that's what I try and do. I've never thought I couldn't act. I've been doing that for a long time, since I was at youth theatre. But to me it's not the most interesting part of the job. All I really want ever is to have a good time. That's what I enjoy, is having a laugh and being busy.
Was it refreshing being somewhere where no one knows you are?
Yes. I can walk around much more anonymously. Not that I get hassled but you're just aware that people know who you are. There I could just go barging about gawping at people. To see Robert De Niro in the flesh struggling to read the autocue was a treat I will long remember. I thought, put your glasses on. He couldn't read it and he just kept stopping and starting. It was excruciating. He was doing a word at a time. It was like a sight test. On the red carpet they have no idea but they've been told they've got to take your photograph just in case you win so they're all shouting, "Victoria, Victoria!" Like they do here. This woman called Cognac Wetherspoon or something like that with false eyelashes – she was very very bizarre-looking – asked, "Why are you here?" I said, "I've been nominated for best actress." She said, "Oh that's marvellous. What else do you do?" I said, "I've done documentaries, I've written a musical," and she said, "That's right, you have." I said, "You don't know me. Why are you saying that?"
Sometimes you get a load of screaming queens and sometimes you'll get a load of OAPs from Purley. There's no guarantee what you'll get
Explore topics
Share this article
Subscribe to theartsdesk.com
Thank you for continuing to read our work on theartsdesk.com. For unlimited access to every article in its entirety, including our archive of more than 10,000 pieces, we're asking for £3.95 per month or £30 per year. We feel it's a very good deal, and hope you do too.
To take an annual subscription now simply click here.
And if you're looking for that extra gift for a friend or family member, why not treat them to a theartsdesk.com gift subscription?