Paul Merton's Birth of Hollywood, BBC Two |

reviews, news & interviews
Paul Merton's Birth of Hollywood, BBC Two
Paul Merton's Birth of Hollywood, BBC Two
Enjoyable opener to comic's celebration of film industry's early history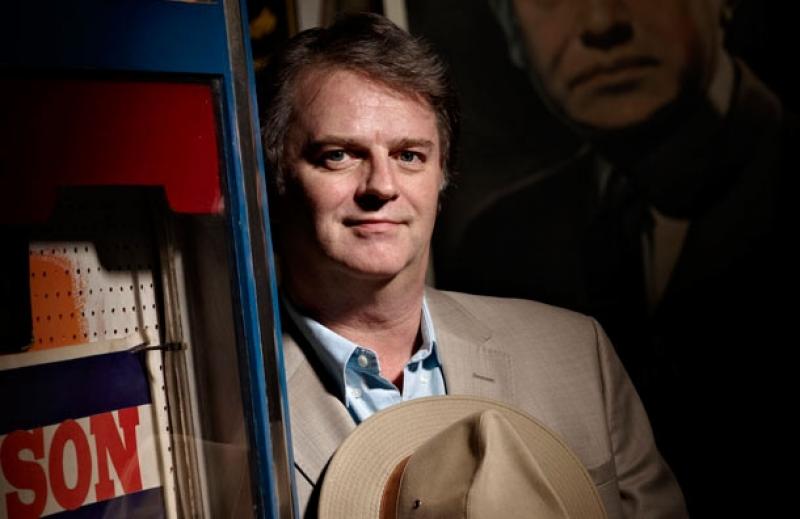 Paul Merton knows his stuff about early film and imparts it well
Paul Merton started his three-part series on the origins of the American film industry with a deliberately clichéd shot, greeting us while standing with the Hollywood sign in view. But he quickly whizzed over to New York City, the true location of the birth of movies - or American ones at least - for it was on the East Coast that Thomas Edison, after inventing the phonograph, developed the Kinetoscope, a basic viewing device for moving pictures.
The Kinetoscope was a raw instrument indeed, as the pictures could be seen through a peephole by one viewer at a time. It was the French Lumière brothers who made the crucial development of projecting a moving image onto a screen, thereby changing film-watching from a solitary what-the-butler-saw type of activity to a communal, cinema-based one. As Merton explained (and covered in a previous documentary on BBC Four), American film-makers were only too happy to follow in the wake of their European counterparts, showing a couple of almost frame-by-frame recreations of European movies by early Hollywood directors. At least studio founder Mack Sennett had the grace to admit he stole freely from French Pathé films, including the manic police chases he featured in his Keystone Kops comedies.
Most movies made in early-1900s America were shot either in Manhattan or at Fort Lee in New Jersey, which is incidentally where the word "cliffhanger" comes from. Serial adventure films were made on Fort Lee's craggy escarpments and usually ended with a character awaiting rescue the following week, and were themselves the predecessors of television soaps. Stage actors were sniffy about this new art form and thought themselves superior to performers in the "flickers", although one, Mary Pickford, became one of Hollywood's greatest stars.
When Edison tried to get a cut from every film using his reels in the early 1910s, many movie-makers moved to Hollywood, where they found acres of cheaply available orange groves and long, sunshine-filled days. New York, with its cruel winters and weaker light, was no longer a film-making hub and wouldn't be again for several decades.

Among those making the trip westward were DW Griffith and Cecil B DeMille, and Merton concentrated on them and the contribution they made to the development of feature films. He gave particular attention to Griffith's The Birth of a Nation, the story of America's Civil War told from the Southern viewpoint and full of images that even in 1915 were shockingly racist. He didn't mince his words; with its "great flourishes" the film was, directorially speaking, a landmark in Hollywood's history, but was offensive and divisive.

You may think it weird that celebrities are nowadays fronting documentaries on everything from dieting to war crimes and prove themselves risibly out of their depth (indeed, comic Stewart Lee hilariously attacks the form in his current series on BBC Two), but Merton (who wrote and directed Birth of Hollywood with his wife, Suki Webster) certainly knows his subject.

Silent Clowns, Merton's touring show of clips from very early film comedies (often with accompaniment from pianist and film historian Neil Brand) was a great success and here his comedic talents threw up some lovely observations. While showing various Kinetoscope films - of a gymnast doing tricks, fighting cats and illegal boxing matches - he compared it to a primitive YouTube: "Both inventions exhibited a taste for the brutal, the entertaining and the downright daft."

Merton, while a pleasing screen presence and an experienced presenter, is not the most polished - he's prone to a strange mix of mumbling and over-enunciation, and I suspect another director may have suggested occasional retakes - but he easily and entertainingly imparts his knowledge. And as he walked over a bridge in Los Angeles used on location by some of his comic heroes, his unembarrassed joy was a delight to see.
His comedic talents threw up some lovely observations - the early Kinetoscope, with its taste for the brutal, entertaining or daft - was a primitive YouTube
Explore topics
Share this article