How the World Began, Arcola Theatre |

reviews, news & interviews
How the World Began, Arcola Theatre
How the World Began, Arcola Theatre
New play brilliantly explores the clash between belief and science in rural Kansas
Saturday, 19 November 2011
God squad: Perry Millward and Ciaran McIntyre in 'How the World Began'
It's the God factor. Although, until very recently, most British playwrights - being a secular bunch - have shied away from tackling questions of religious belief in their work, their American counterparts have had no such inhibitions. The market leader of this trend in the new generation is Catherine Trieschmann, whose 2006 play Crooked featured a "holiness lesbian", and who now turns her sights on the clash between belief and science in rural Kansas.
The main protagonist is Susan, a pregnant but unmarried science teacher from Manhattan who relocates to a small Kansas town, Plainview, which has been recently hit by a tornado. She is feisty but inexperienced. When she makes a casual comment about creationism - involving the word "gobbledegook" - one of her pupils, Micah, takes offence and begins asking questions. He is a fascinating boy, both damaged and blessed with a sharp intelligence and relentless character, and he manages to plunge Susan into an ethical storm that is as devastating for her personally as the tornado was for the local community.
God created fossils only to test our belief in the Bible
The initial conflict between Micah, who lost his remaining parent in the tornado, and Susan intensifies when Gene, his unofficial guardian, enters the picture. This wily, ex-postmaster acts as a smalltown spokesman, articulating the issues clearly, but he is unable to mediate between Micah's desire to appease God and Susan's liberal temperament. At one point, he mentions the idea that God created fossils only to test our belief in the Bible. Unable to reach a private compromise, each of the characters is unable to prevent the conflict becoming public, drawing in other members of the community.
As the argument over the word "gobbledegook" broadens out, bigger themes appear from over the wide horizons of Plainview. The conflict between belief and scepticism not only emphasises the American separation between church and state but also some very sensitive issues of respect for other people's ideas. If we really are what we believe, as Trieschmann suggests, then it's hard to avoid the conclusion that people who believe in an absurdity are themselves absurd.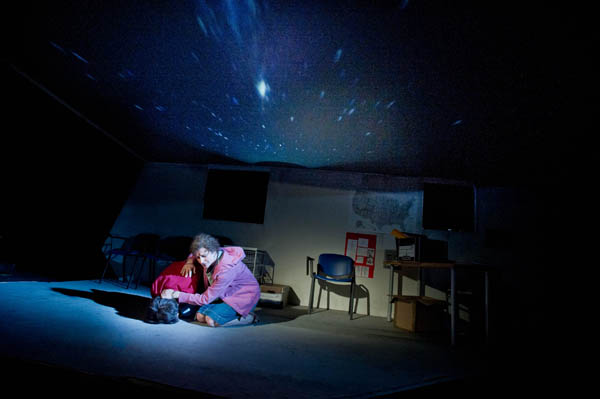 At the same time, the struggle between creationism and evolution is both a disagreement about how the world began and a metaphor for the tensions between rural and urban America. Out of this emerges a strong image of a nation divided between a fundamentally conservative countryside and two progressive metropolitan seaboards. Questions of ideology, tolerance and difference feel resonant and relevant.
Trieschmann paces the play with an acute sense of logic and the conflict unfolds with all the precision and thrill of a courtroom drama. Her attitude to all three characters, who are each loners in search of human tenderness, is unsentimental and uncondescending. Every line feels like the product of intelligent empathy and dispassionate observation. If at times the play creaks a bit, this is only the result of trying to manage a story about a community by using just three characters.
Excellently directed by Des Kennedy, winner of Out of Joint's Director Award, the action is confined to a trailer schoolroom, but a wider perspective is offered by some dramatic projections (pictured above right). The acting is utterly convincing: Anna Francolini and Perry Millward are reunited after appearing together in the British production of the New York musical Caroline, or Change. Francolini's Susan makes the journey from brash city dweller to scared fish out of water with the same flair that Millward lends to his serious and deeply chilling Micah, quietly determined in his search for truth. Ciaran McIntyre's bluff Gene subtly suggests his character's manipulative charm. A reminder of the vitality of American playwriting, Trieschmann's play deserves a wide audience. It might not tell you exactly how the world really began, but it certainly shows you what state it is in now.
The conflict unfolds with all the precision and thrill of a courtroom drama
rating
Share this article