Henry VI, Sam Wanamaker Playhouse review - a lively vortex |

reviews, news & interviews
Henry VI, Sam Wanamaker Playhouse review - a lively vortex
Henry VI, Sam Wanamaker Playhouse review - a lively vortex
Close-knit company keeps the York and Lancaster clashes as clear and lively as it can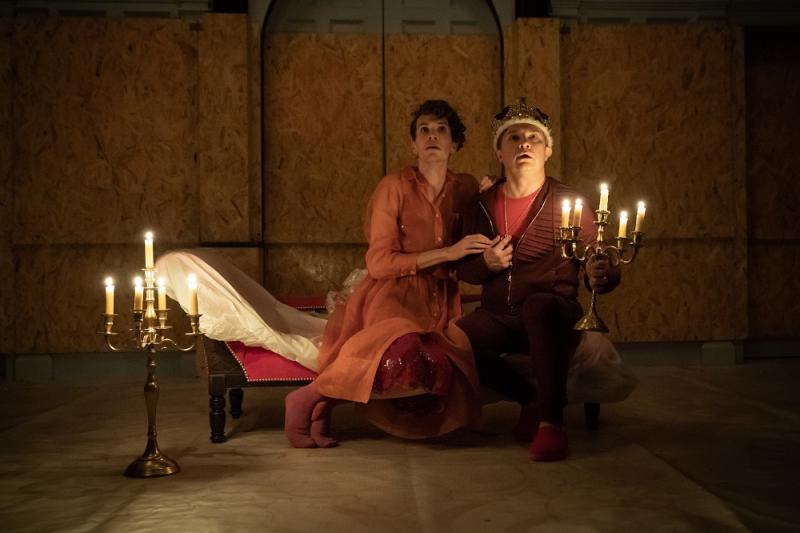 Steffan Donnelly's Queen Margaret and Jonathan Broadbent's King Henry VI in fear of Jack Cade's rebellion
No Joan of Arc means no Henry VI Part One. France, where we left the victorious Henry V - the superb Sarah Amankwah, a shining light of this company - in the Globe's summer history plays, only figures briefly in the last act of a candelelit, intimate stepping-back to the more problematic saga.
It's earlier in terms of composition - though it seems strange that people used to reject
Shakespeare
's authorship - but in terms of historic kingship actually shows how everything about England and its French posessions fell apart with the advent of the introverted Henry VI. Concentrating on the second and third parts shows us that the brutish fallout from civil war made Richard III possible. In this sequence, he's a symptom of psychotic family struggles, not a freak occurrence.
Directors Sean Holmes and Ilinca Radulian keep as tight a grip as they can on the vortex. The centre, literally represented by a red chaise-longue posed upon by Lancastrians and Yorkists, red and white with all the fancy trimmings, scheming as they smile, cannot hold. Humphrey, Duke of Salisbury (John Lightbody) and Lord Protector for the young king, is the first to bite the dust. Grace Smart's designs for Act Two, where Jack Cade's rebellion, stirred up by York Senior (Colin Hurley), all too briefly flares, show boarded up walls in semi-darkness, later an earth-strewn stage, serving for the molehill on which young Rutland is killed and where later Henry, coming to the fore in his reflections rather too late, reflects upon the curse of kingship. The chaise-longue hangs from the ceiling; the filthy white rose of York ascends.
It's a saga of endless tergiversations, told with alternating wit and brutality that only become absurd when Shakespeare does, in the last act (though there's fun to be had with the alternation of white and red football shirts with appropriate names and numbers). Steffan Donnelly's angular, capricious Queen Margaret dominates the scenes in which she appears; Jonathan Broadbent plays Henry simply as weak, which is less interesting than a possible characterisation of a king with a mind all "bent to holiness", which argues strength in itself to stay out of all the political manoeuvring. There's none of the intensity that made us care so much for Eelco Smits' Henry in Ivo van Hove's even more selective adaptation for the peerless Kings of War. Nor does the final confrontation with Sophie Russell's fully-fledged horror Richard unsettle as much as it might, despite the cue taken from the reference to Dicky's being born with teeth in his head to unleash a throat-ripping murder (Russell and Broadbent pictured above)..
This Richard - tall, handsome, no hint of physical infirmity - appears for the first time virtually at the dead centre of the play, part of the yobbish York clan in which the versatile Amankwah, earlier a serpentine Eleanor of Gloucester, takes the apparent lead as Edward soon-to-be the Fourth. We're reminded that Shakespeare was already forming the sequel in his mind; at last in the final act a soliloquy appears which marks the shift from situation to character. This is a company venture, and it already seems clear that Russell won't deliver a theatrical tour de force like Mark Rylance or Kathryn Hunter before her at the Globe; but as part of a true ensemble show, in tandem with the first three acts, the latest Richard III should be worth pursuing.