h Club 100 Awards: Hope Mill Theatre, Manchester |

reviews, news & interviews
h.Club 100 Awards: Hope Mill Theatre, Manchester
h.Club 100 Awards: Hope Mill Theatre, Manchester
Joseph Houston and William Whelton found a storage space on Gumtree and turned it into a musical theatre. Here's how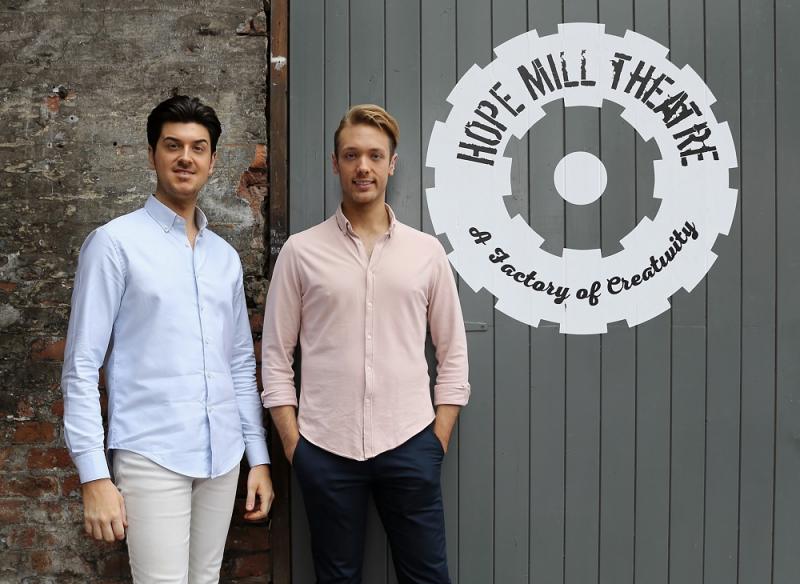 Theatre founders, producers, painters, decorators, toilet cleaners: Joseph Houston and William Whelton at Hope Mill Theatre in Manchester
The Hope Mill Theatre in Manchester is an irresistible example of the can-do spirit. Less than two years ago the ground floor of a disused mill was being advertised on Gumtree as a storage space.
Two actors who had been working as waiters – William Whelton and Joseph Houston – spotted it and, despite having no money, homed in on their chance to realise a dream: to create their own venue for
musical theatre
.
A year after opening their doors, they won the theatre and performance category of The Hospital Club's h.Club 100 awards in 2016. The other finalists included Kenneth Branagh, Denise Gough, Rufus Norris, Noma Dumizweni and Hofesh Shechter. How on earth did they do it? They will reveal much more when appearing in conversation at The Hospital Club on 15 June, in an event hosted by theartsdesk's Alexandra Coghlan. But here are the bare bones of a cheering story of creative flair and determination.
THE ARTS DESK: Where were you in your lives immediately before all this happened?
WILLIAM WHELTON: We both trained as musical theatre performers. We had both had a bad year living in London, struggling to make rent, working as waiters. We decided, why not make the move to Manchester where I'm from and have a better quality of life and maybe one day get on the property ladder? We were working for Byron the chain and they were just about to open a Manchester branch. We transferred up. That was the beginning of 2015.
JOSEPH HOUSTON: Will and I both met five and a years ago touring Sasha Regan's all-male Pirates of Penzance in Australia. We'd only been here four weeks and she offered us the UK tour of the same show for two months. Sasha had established the Union Theatre in Southwark and we started talking about what a great vibe Manchester had. But we felt there were not really many fringe theatres that were taking it to the next level with regard to quality of production, certainly for musicals. There was no Southwark Playhouse, no Menier, no Union Theatre. When we saw that gap, that's when the seed was planted.
How did you go about looking for a venue?
William Whelton: We were looking only on the internet. There are obviously not many building advertised as a small theatre to let. Randomly I was looking on Gumtree and the estate agent had advertised the ground floor of a six-storey mill as storage space. The landlords had wanted to turn it into an art gallery. The floor was subsiding, but they fixed that and put in some toilets. We were naïve and stupid enough to go, "This is doable."
How did you go about raising the money?
Joseph Houston: It sounds ridiculous but for us the financial side was not the main thought. We were so excited about the prospect of creating something different that we were saying, "Don't worry about the money, we'll just make I work." When we phoned the estate agent there was no money. It was very much a wing and a prayer. We would never get a bank loan for this because we're struggling performers with no credit history. We managed to secure through a government start-up scheme a small amount of money that meant we could get the ball rolling.
When did you move in?
William Whelton: We got the keys of 20 October 2015. We didn't have a massive network so it was long days and late nights of me and Joe painting walls. We got the café open within three weeks. Two weeks after that we had our first show, a comedy. It wasn't groundbreaking. We had a few things in in November. Nothing in December. But we'd managed to take a booking in January. It was all done on box office splits. The thought of having to produce was unachievable. But there were new Manchester theatre companies trying to establish themselves. The producer Katy Lipson came to see the venue and she was like, "Wow, incredible space, what is your long-term plan?" We said, "Producing musicals is our passion." She said, "I'd love to be on board." That's where the ball starting rolling for in-house producing. We secured the rights for Parade, which was supposed to run for three weeks and we extended for a week and a half. All of a sudden we were put on the map.
How do you break even?
Joseph Houston: Parade is the only show we ever have. And we paid everyone as well, which is really important for us. We've done three shows in-house and pay has gone up each time.
William Whelton: Because of the profiles the shows have got, we have been able to have outside producers come on board which releases some of the pressure financially. Hair which we revived for the 50th anniversary is transferring to London. Yank the Musical is going to Charing Cross Theatre this July.
What's the long-term plan?
William Whelton: We want to be the home for new musicals in Manchester that go off and have a national presence. Joe has taken the role of artistic director. As he learns the trade he'll want to direct the show as well. I've taken on the role of producer and am the recipient of the Stage One producer scheme. We also work the bar and clean the toilets.
What did the The Hospital Club theatre and performance award mean to you?
Will Whelton: We really did just go on the day to enjoy it and network. The last thing that entered our mind was the possibility we could win. We hadn't got a speech prepared.
Joseph Houston: It was a massive shock but incredible because that was the first acknowledgement that we'd had since opening the place. To be in that room with all those creatives was one thing. But then to actually win was just overwhelming. It was the next jump for us and gave us more of a profile.
There are obviously not many building advertised as a small theatre to let
Share this article