Hay Fever, Noël Coward Theatre |

reviews, news & interviews
Hay Fever, Noël Coward Theatre
Hay Fever, Noël Coward Theatre
Classic comedy that's never less than light on its feet
You winsome you lose some: Judith (Lindsay Duncan) charms Jeremy Northam's Richard Greatham
"Winsome" isn't a word you hear very often these days. The taint of coy, simpering campery already hung about it in the 1920s when Noël Coward gave it a starring role in the after-dinner word-charades of his hit Hay Fever. Yet now (as then) it's a word that speaks to precisely the brand of giddy, self-conscious charm Coward's play so determinedly exerts.
Howard Davies's new production splashes gaily about in the work's theatrical shallows, giggling, posing and romping with the skill of a Monte Carlo ingenue. The result is a show that's seriously good without ever feeling the need to get terribly serious.
Judith Bliss (Lindsay Duncan) is an ageing actress always on the brink of a return from retirement. Married to a writer of second-rate fiction (Kevin McNally), she presides over a nice "abnormal" family, whose taste for cruelty and wit is played-out upon a group of unsuspecting house-guests one weekend. With the stage set and flirtation on the bill, Judith plays both heroine and director to the delight of the family and the discomfort of their visitors.
Lindsay Duncan's Judith presides over the intrigues with gleeful masochism
There are dark undercurrents aplenty in Coward's work, but to search for emotional contra-flow in Hay Fever – the work the author himself described as his hardest – is futile. It's a Rubik's Cube of surfaces, each giving way to another without ever opening onto anything deeper, and the trick for any director is to make the interplay of these colourful planes, their interconnecting shapes and patterns, so slick as to satisfy an audience expecting plot and character.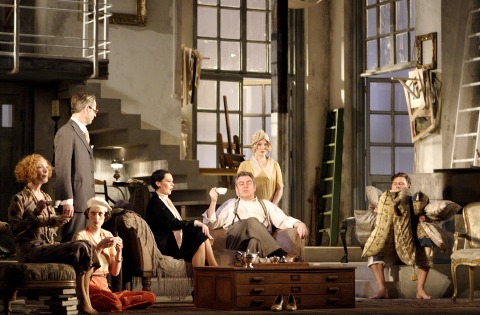 It's a task Davies's cast makes easy. Reprising his relationship with Duncan (so memorable an Amanda in the director's 2001 Private Lives), Davies sets her at the centre of a glossy ensemble cast, over whose intrigues she presides with gleeful masochism.
There's a maniacal twinkle in Duncan's eye that keep the humour from ever getting too safe. Though she may start and demur at the seductions of "noncommittal" diplomatist Richard Greatham (Jeremy Northam, pictured below) with calculated theatrical timing, she also relishes the cruelty of pushing the joke to its extreme with both Greatham and the predatory Myra Arundel (Olivia Colman, whose cougar dissolves just a little too quickly into a kitten under the onslaught).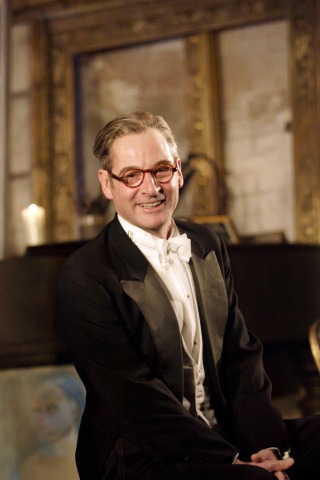 While Freddie Fox hardly extends himself as puppyish Simon Bliss, Phoebe Waller-Bridge's Sorel is altogether more interesting – a physically uneasy bundle of ticks and hearty awkwardness that charms as much as it amuses. She's matched for comedy by Amy Morgan's cockney flapper Jackie and Sam Callis as jovial buffoon Sandy Tyrell, and mention must be made of Jenny Galloway's put-upon housekeeper Clara, whose barely-concealed ferocity tempers the more cloying dramatic moments.
Bunny Christie's designs place the action not in some panelled and corniced country pile, but in a rather more original aesthetic bohemia of the Bliss's own creation – a double-height studio lively with canvasses and pots of paintbrushes. It's a setting that frames the struggles of young Sorel (Phoebe Waller-Bridge) to conform to social conventions – "I should like to be a fresh, open-air girl with a passion for games" – with delicious visual irony, creating an anarchic visual world ripe for the physical comedy of Acts II and III over hiccups and haddock.
Alex Eales's Design for Living, currently at Salisbury Playhouse, is a sobering reminder of just how reluctant Coward's comedy can prove in the wrong hands; this is humour that must be coaxed not commanded, to look it directly in the eye is find all around turned to stone. Davies's approach courts laughter with the elegant obliquity, allowing Duncan to linger over her meticulously modulated delivery, while the rest of the cast propel the action and pace.
The first Noel Coward play to be staged at the West End's renamed Noel Coward Theatre (formerly the Albery), Howard Davies's Hay Fever is surely an homage of which the author would approve. Critics of Coward's original production (summarised by the playwright himself) described the work variously as "dull, amusing, thin, slight, tedious, witty and brittle". Witty and brittle it may be in this latest incarnation, but it would take a harsh critic indeed to find it either tedious or dull.
Hay Fever is at the Noel Coward Theatre until 2 June
Phoebe Waller-Bridge's Sorel is a physically uneasy bundle of ticks and hearty awkwardness that charms as much as it amuses
rating
Explore topics
Share this article