Half A Sixpence, Noel Coward Theatre |

reviews, news & interviews
Half A Sixpence, Noel Coward Theatre
Half A Sixpence, Noel Coward Theatre
A star is born but the show still creaks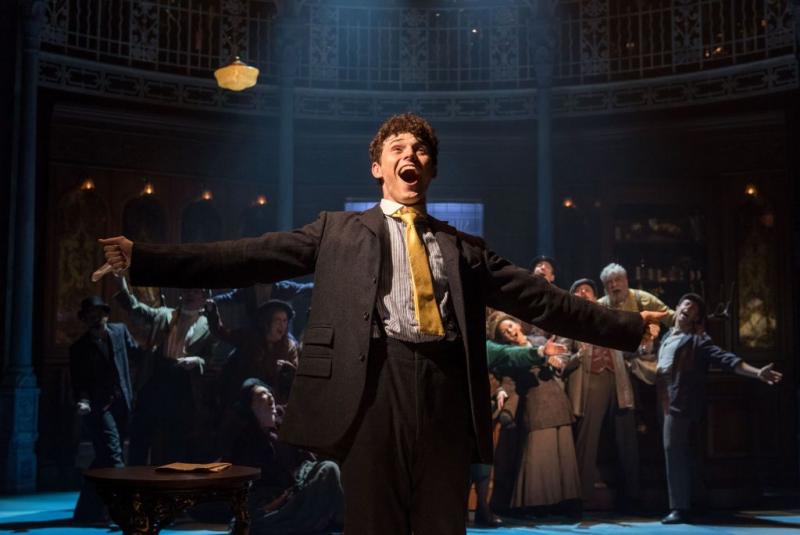 Money money money: Charlie Stemp in `Half A Sixpence'
That old saw about a star being born really is on view at the Noel Coward Theatre, where newcomer Charlie Stemp justifies and then some, the fuss being made about him in this "revisal" of the onetime Tommy Steele vehicle Half A Sixpence. Whether you'll respond as warmly to the show itself may depend on your appetite for nostalgia and the implicit message of a piece at considerable odds with an aspirational climate that long ago left the attitudes on view here in the dust. But stick with Stemp's unforced and genuinely buoyant charm, and as long as he is vaulting with unbridled abandon about the stage, all for the moment is well.
The young unknown (pictured below with Gerard Carey, playing his putative brother-in-law) plays Arthur Kipps, a draper's apprentice in 1911 Kent whose unexpected bequest of serious dosh sends him catapulting through the social ranks. Will this newly wealthy bachelor marry the swellegant Helen Walsingham (Emma Williams) or the ever-pining parlourmaid, Ann (Devon-Elise Johnson), who was Artie's childhood sweetheart of old? The show takes its leisurely time getting to an entirely preordained ending, the original David Heneker score buttressed by an array of songs from George Stiles and Anthony Drewe, most of which tell us what we knew already. One yearns for the nuance and surprise that the same team brought to their work in another, considerably more interesting study in English class dynamics, Betty Blue Eyes.
Adapted from the 1905 HG Wells novel Kipps: The Story of a Simple Soul, the piece in this iteration nods at various times and in varying degrees towards the motley likes of Hobson's Choice, My Fair Lady and, of all unlikely titles, The Wiz, that last-named musical's inspirational "If You Believe" a precursor to a first-act duet, "Believe in Yourself", between Arthur and Helen.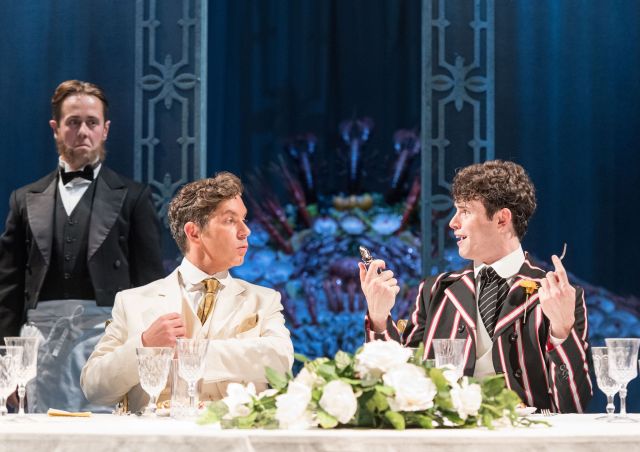 That their initial attraction has to be taken entirely on faith is of little import, given that Rachel Kavanaugh's attractive production seems to exist to feed the big ensemble numbers, not to dwell on the niceties of character that writer Julian Fellowes – having a busy week between this and the entirely dissimilar School of Rock – tended to far more subtly in Downton Abbey. (By contrast, the societal mavens here are one cartoon caricature after another.) Virtually every character behaves and speaks exactly as one might expect, which is all the more reason why the wonderful Ian Bartholomew (pictured below) runs away with his scenes as an instantly likeable eager-beaver playwright called Spratlingdown (!) who falls outside the rigid social geometry in which the piece comes encased. (Spoiler: Bartholomew's show turns out to be a hit!)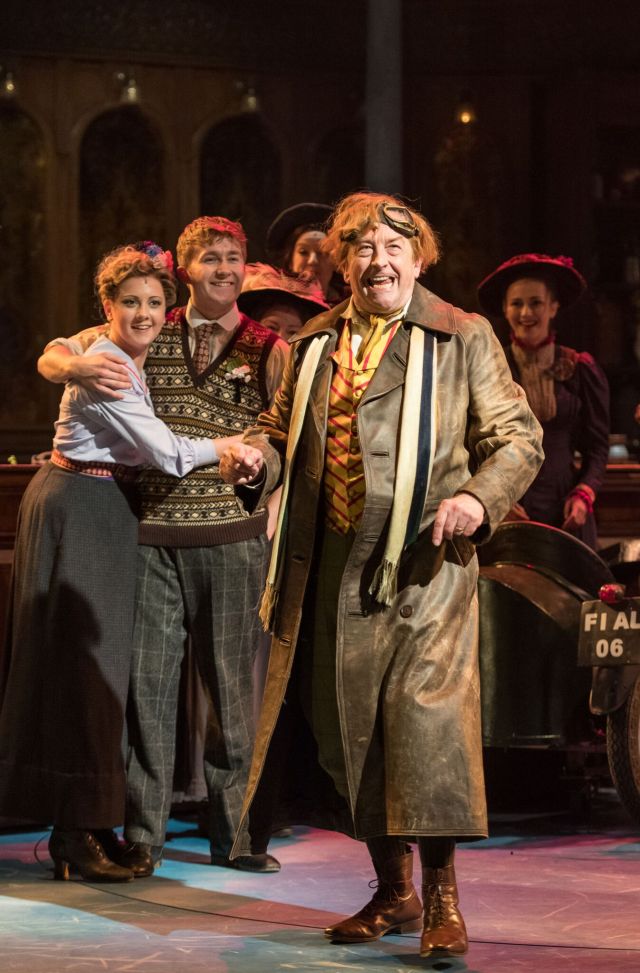 Elsewhere, I doubt I'm the only one to raise an eyebrow at a landscape in which foreign is bad (Arthur winces at the mention of moules marinières), simple is good (as evidenced both from Well's subtitle and from a lively ensemble number called "Pick Out A Simple Tune") and the closing sequence brings with it a photographer (Gerard Carey again, in the second of two roles) so flamboyantly camp that you start to wonder what the good burghers of Folkestone have to say about him from behind their net curtains.
On the other hand, strike up the band – or even Arthur's beloved banjo – and Paul Brown's turntable set bursts into the kind of irrepressible life that made the reclamation of the comparably-themed Me and My Girl a trans-Atlantic sensation some 30 years ago. (It goes without saying that Stemp, though too young now, would in time make a great Bill Snibson, he of "doing the Lambeth walk" renown – not to mention a suitably agile PT Barnum.) This musical's signature song "Flash, Bang, Wallop" delivers on all three of those words and more, senior cast members like the venerable Jane How getting out of the way so that Stemp can lead the company in befriending by sheer force an audience that wouldn't be surprised by that point if he started scaling the theatre walls.
Working in conjunction with a choreographer, Andrew Wright, at the top of his game, Stemp ricochets every which way, leaping the furniture, hoisting the occasional bevvy and all the while landing on his feet with the kind of audience-friendly grin that never once curdles or seems applied. Suggestive of a somewhat less fey Eddie Redmayne, the performer genuinely does deliver the kind of wake-up-and-take-notice splash on which the musical theatre, in particular, thrives. And whereas you know from the off where Arthur will end up, Stemp's career prospects are just beginning.
Subscribe to theartsdesk.com
Thank you for continuing to read our work on theartsdesk.com. For unlimited access to every article in its entirety, including our archive of more than 10,000 pieces, we're asking for £3.95 per month or £30 per year. We feel it's a very good deal, and hope you do too.
To take an annual subscription now simply click here.
And if you're looking for that extra gift for a friend or family member, why not treat them to a theartsdesk.com gift subscription?