Hakawatis: Women of the Arabian Nights, Sam Wanamaker Playhouse review - magical stories by candlelight |

reviews, news & interviews
Hakawatis: Women of the Arabian Nights, Sam Wanamaker Playhouse review - magical stories by candlelight
Hakawatis: Women of the Arabian Nights, Sam Wanamaker Playhouse review - magical stories by candlelight
Hannah Khalil's playful retelling of the 1001 Nights puts women centre stage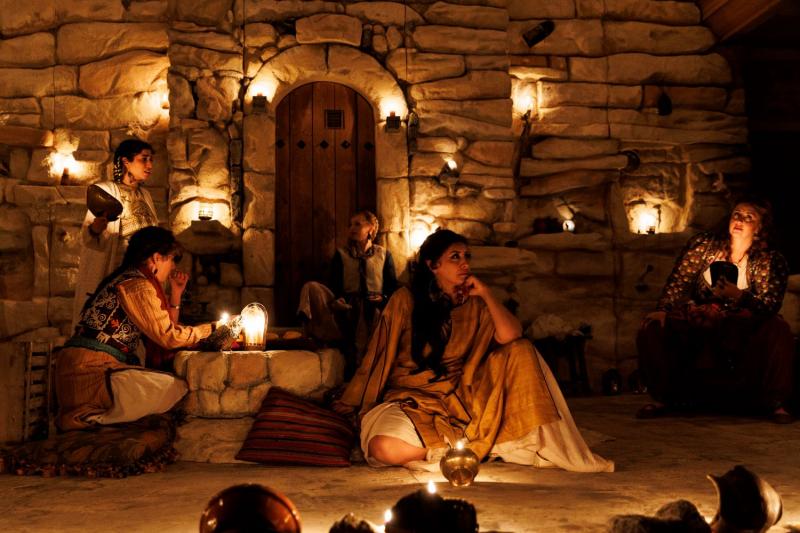 Gorgeously intimate: the cast of 'Hakawatis: Women of the Arabian Nights'
Do you remember how the 1001 Nights ends? You know how it starts: Scheherazade has been married to a king who kills his brides the day after he marries them. She tells him a story so good that he simply has to know what happens next, and she survives the next day. This goes on for 1001 nights, until… what?
The inherently cyclical nature of the source material of the new play Hakawatis: Women of the Arabian Nights is a problem that writer Hannah Khalil never quite solves. But Pooja Ghai's production at the Globe's Sam Wanamaker Playhouse, a collaboration with theatre company Tamasha, is still cheeky, charming, and gorgeously intimate.
That king – who is never named – has been "wedding, bedding and beheading" thousands of women for years. There are five left in this Arab country (also unnamed), locked in the basement of the king's palace. The characters are designated by their defining feature: Fatah the Young (Alaa Habib) has just joined the four old hands in their gilded cage, the newest bride-to-be. She's nervous about getting married but determined to do her duty as her mother and aunts have taught her. Habib comes into her own as the play goes on and Fatah wises up to the situation, with help from the other four.
At first, the women are sceptical of Scheherazade's ploy. Nothing has ever worked before, though Zuya the Warrior (Laura Hanna, fiercely powerful) is constantly sharpening a blade, and Wahida the Dancer (Houda Echouafni) plans to perform her last great dance so as to persuade the king to spare her. Naha (Roann Hassani McCloskey, bright and boisterous) is referred to as "the Wise", but plans to enthrall the king with her sexual prowess rather than her wisdom.

This is what the women tell themselves to keep from going mad. But Akila the Writer (Nadi Kemp-Sayfi, pictured above with Habib) realises that they can provide Scheherazade with stories, keeping her going so that none of them have to be the next bride. So they tell each other tales with names like "The Fisherman and the Djinn", about protagonists with little power but quick wits. They hold up lamps and bowls with candles inside, illuminating their faces with a golden glow. The raconteurs are accompanied by Kareem Samara's enchanting music, played by a trio of musicians behind a shimmering curtain at the back of the stage.
It's a magical world, one the women build for themselves, largely out of words. In Arab oral tradition, a hakawati is a storyteller, usually male. Khalil is the Globe's writer-in-residence; Hakawatis was written for this warmly-lit space, and is ideally suited to it. Rosa Maggiora's beautiful set is full of playful little nooks and crannies. As the play goes on, the women shed the long robes and shawls in which they entered – a relief for those of us concerned that trailing hems might catch the candles arranged along the front of the stage. They become more comfortable in each other's company, laughing and in their shared entertainment.
Yalla, the women say to each other, which means "come on" or "let's go" in Arabic. By the end of the play, they don't need any encouragement to tell their stories. But they still hesitate to take freedom when it's right in front of them because the king has fallen in love with Scheherazade, and so she cannot follow them. "If we are free, how can she still be captive?" asks Fatah, echoing Audre Lorde: "I am not free while any woman is unfree." The hakawatis have freed themselves; now they have to free the woman they helped to survive. The message of solidarity may be heavy-handed, but it's keenly felt, and loudly applauded by a largely female audience.
The women hold up lamps and bowls with candles inside, illuminating their faces with a golden glow
rating
Share this article