Glengarry Glen Ross, Playhouse Theatre review - Christian Slater is gently charismatic |

reviews, news & interviews
Glengarry Glen Ross, Playhouse Theatre review - Christian Slater is gently charismatic
Glengarry Glen Ross, Playhouse Theatre review - Christian Slater is gently charismatic
All-star cast in modern American classic celebrate the ideal of the deal
Saturday, 11 November 2017
Office politics: Christian Slater and Stanley Townsend in 'Glengarry Glen Ross'
American classics dominate the straight plays in London's West End. Whenever a producer wants to revive a straight drama, they will inevitably look first at the back catalogue of Tennessee Williams or Arthur Miller or, in this case, David Mamet.
Then they stuff the production full of stars: in this case, superstar Christian Slater, plus Robert Glenister, Kris Marshall, Stanley Townsend and Don Warrington all shining in the firmament. Together they make this revival of Mamet's 1983 classic,
Glengarry Glen Ross
, a masterclass in testosterone-fuelled acting.
From its haunting title, to its moments of explosive dialogue, this is a modern classic, which when it was first staged won Mamet the Pulitzer Prize. Set in Chicago, it shows a group of slick hustlers who have to sell tracts of indifferent Florida real estate (adorned with fanciful names like Glengarry Highlands or Glen Ross Farms) to gullible suckers who are easily parted from their dollars. Leading the pack in this dog-eat-dog race is cool Ricky Roma (Slater), who can persuade you to sell your soul (never mind your grandmother), for a worthless dream. Snapping at his heels are Shelly Levene (Townsend), an older salesman desperate to prove that he hasn't lost his touch, and the less talented duo Dave Moss (Glenister) and George Aaronow (Warrington).
It's a graphic picture of the free-market in an age of economic downturn
The office boss, John Williamson (Marshall), is a mini-dictator because he holds in his hands the all-important leads, the best of which guarantee sales, while the leftovers are a waste of time. He is able to dispense these to his favourites, although most of the men despise him for never leaving the premises, never knowing what it's like to sell dreams to ordinary punters. In the opening scene, set in a lavishly decorated but sparsely peopled Chinese restaurant, the plot begins to crank up as Shelly attempts to bribe Williamson, and Dave suggests robbing the office and selling off the vital leads to a rival company. At the same time, we see how smoothly Ricky sweet-talks another customer, turning a casual nod into a full-scale pitch.
In the second part, set in the office, these plot lines burst into bouts of furious energy, followed by the lassitude of depression and futility. It's a superbly written play, in which the men rediscover the power of swear words to hurt and offend, and each speech is a bid to outsmart the competition. And, boy, there's a lot of competition. If you want to see a graphic picture of the free-market in an age of economic downturn then there's no better evocation of the pains of capitalism than this drama. In the age of Trump, the cocksure celebrant of the ideal of the deal, it has a fresh relevance: this is the America of his dreams, red in tooth and claw.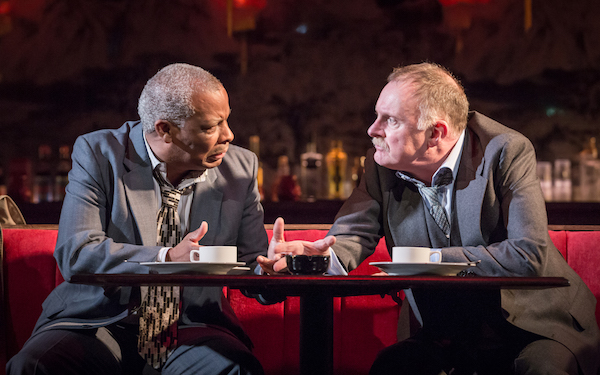 But if Mamet clearly shows how the American Dream is based on a swindle, on relentless cheating, he also cannot conceal his admiration for these men, who conjure sales out of thin air, who literally talk you out of your savings. And, above all perhaps, he loves them because they are men. For all its aggression, its impatience with failure, this is a love letter to masculinity, and a paean in praise of the damaged bags of testosterone that dominate the stage. Wise guys? Not really. Washed up has-beens? Maybe. But you just know that their creator thinks that they are demi-gods.
With its thrilling profanity-rich dialogue, Sam Yates's well-focused production, designed by Chiara Stephenson, orchestrates the music of the text. Each encounter is like a small solo, a duet or a quartet, as the voices of the actors play off each other. And Yates fields a cast of heavy-hitters. Warrington, as the slow-witted George, and Glenister as the fiercesome Dave (pictured above) come across as a pair of bruisers, whose speech is studded with iron. Likewise, Townsend's Shelly, who can turn on the charm with his rubber mouth and staring eyes, packs a hidden knuckleduster of rage. By contrast, Marshall's Williamson is more sleazy while Slater's Ricky has more gentle charisma than vicious thirst for duelling. Slater only has one problem: compared to the others, he is almost too nice.
In fact, there are some moments in this enjoyably funny, often magnetic and occasionally lacerating evening when you miss the sheer ferocious passion of previous versions, but in general it does deliver the goods. If you think that the posters advertising the show feature animals, then unsurprisingly you sometimes feel as if you are watching an urban zoo. Just be careful, in the interval, that you don't sign any cheques to strangers.