The Glass Menagerie, Duke of York's Theatre review - memories flare and fade |

reviews, news & interviews
The Glass Menagerie, Duke of York's Theatre review - memories flare and fade
The Glass Menagerie, Duke of York's Theatre review - memories flare and fade
A classic play can still collapse time and space with its heartrending relevance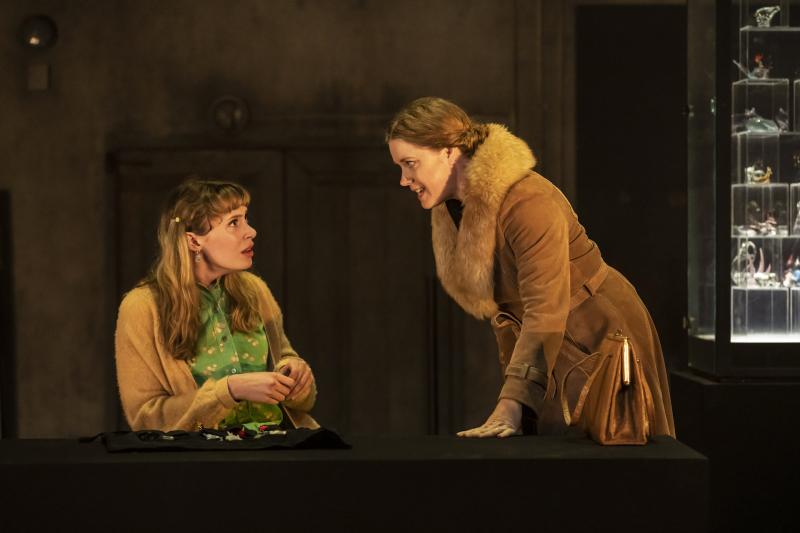 Henpecked: Lizzie Annis and Amy Adams as Laura and Amanda Wingfield
The stage is cluttered with objects; a pianola sits stage left; a large cabinet, soon to be revealed as a display case for tiny glass ornaments, dominates the centre. A man, gaunt, in his 40s perhaps, wanders among this stuff.
He is our narrator (Paul Hilton) and he tells us that what we will witness is a memory, the truth presented through an illusion. The set suddenly makes sense – because this is how we remember things. Objects loom large or small, music floats in and out and around us, triggering otherwise inaccessible recollections, spaces are porous. Tennessee Williams has made a world as gossamer-light in its plasticity but as powerful as the long-sunken traumas that can swim up into one's mind, sometimes unbidden and unwelcome, from decades past.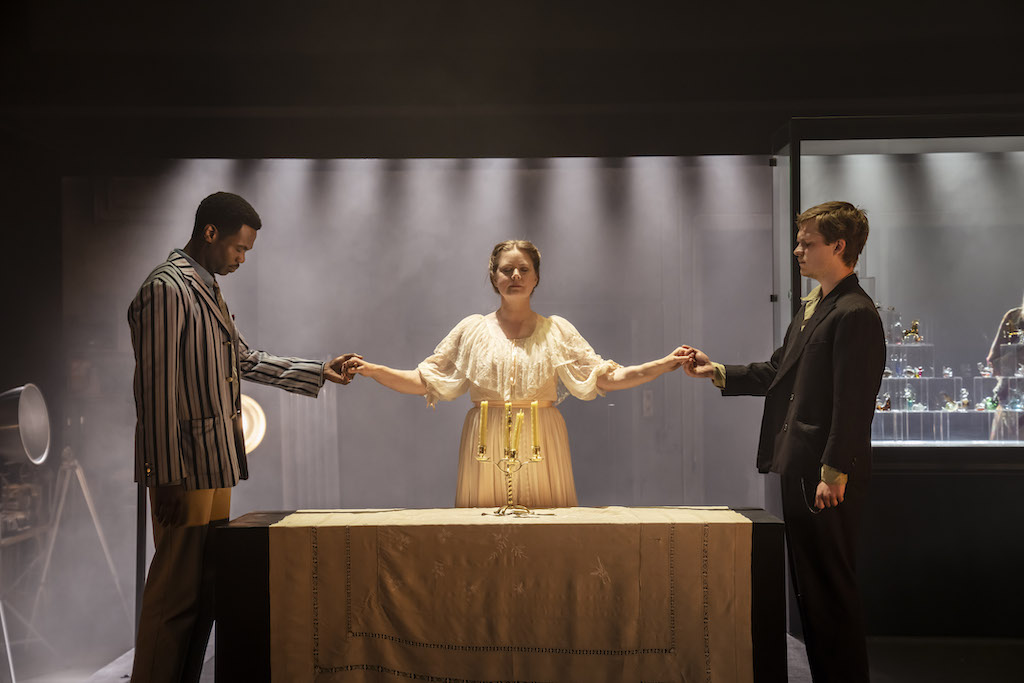 Soon the disappointments and thwarted dreams start to accumulate within a family broken by the desertion of its husband/father and hemmed in by neuroses and the weight of insecurity.
Tom is revealed to be not just the narrator seen lurking in the shadows but a man in his early 20s, frustrated and angry, stuck in a St Louis apartment with his mother and sister, but out at the movies (and the bars) night after night. He rails, in a speech that could have been written days rather than years ago, about the contrast between the lifestyles of the rich and famous Hollywood stars and the foolishness of those who pay for ticket to live vicariously through them – I thought of MTV Cribs but we've four days of Royal Jubilee celebrations coming up, so...
His mother, Amanda, sweeps on and off stage, radiating a passive-aggressive vibe like a swarm of midges biting at Tom's sense of self, wanting to know more and more of his life so as to chip away with criticisms and microaggressions. She misses the husband, gone now 16 years, but she also misses her days as a Southern belle and the prize for a procession of visiting suitors (of whom she picked the wrong one, of course). She dominates her children's psychological lives to displace the emptiness she feels in her own.
Her daughter Laura, the keeper of the menagerie, limps literally and metaphorically through her stuttering life, a bout of childhood pleurosis hobbling her self-esteem and giving her the nickname "Blue Roses". She projects her needs on to her fragile, inanimate glass ornaments that stay, safe and unchanging, shut off from the outside world, enveloped by her attention and love – which is all they require.
But a "gentleman caller" is coming, a young man to break this spiral of hopes extinguished before they've even surfaced. He's an acquaintance of Tom's (the son doesn't really do friends) and, it transpires, the high school crush of Laura. The mother wildly over-invests in the visit, the daughter is traumatised by the resurrection of the only living thing she's ever really loved and Victor Alli's Jim, the gentleman in question, is charming and unexpectedly charmed, but sees through what might be and acts, understandably if cruelly, in his own interest.
Amy Adams (pictured above, with Victor Alli and Tom Glynn-Carney) is the star name in Jeremy Herrin's ethereal production and she catches the irritating bonhomie of a mother doing too much and feeling too little for her children. The more she tries to avoid her son following his father out of the door forever, the more likely she makes it that he will; the more she pushes her daughter into reenacting the social life that she revelled in, the more Laura returns to the tiny silent animals. Adams, for all her celebrated screen work, is inexperienced on stage, but she is careful not to draw on her star wattage in the first act, all the better to lend weight to the comedy and pathos of her pathetic pandering to Jim when the caller arrives.
Tom Glynn-Carney invests Tom with an ocean of disgust – for what his life has become and, worse, what it will be unless he does something about it, and for Amanda's catastrophic approach to her parenting responsibilities. But he knows that pain suffuses his mother's life and, though he's set to abandon her too, he's not without understanding, as his apologies attest and as his memories evidence.
The key scene is candle-lit and hikes the unreliability of memory up still further, as Tom was not there and can only have heard about it from Laura or Jim – or constructed it himself. Lizzie Annis (pictured above, with Paul Hilton), deeply affecting in her stage debut, emerges from behind her Taylor Swift fringe and slowly confesses her infatuation with Jim. It's moving enough to make you want to throw your own arm around her from the stalls and that's what Jim does, Victor Alli brilliantly transitioning from a man slightly too full of himself to one who wants to rescue this all but broken soul. In fact, Jim is not much more than a kid himself and does the inadvertently cruellest thing of all which he knows as he skulks away, a hasty cover story sufficient for now.
It's a wonderfully constructed, quietly terrifying conversation that foreshadows the power of Williams' writing that, in 1944 when the play premiered, still lay in the future. It will also speak to girls in 2022, probably a little younger than poor Laura, afloat in a culture that undermines their self-confidence with impossible role models and then sells them the snake oil of the day to build it back up before demolishing it again. The world of advertisers and their close cousins, influencers, feeds this shameless, almost pathological, cycle of mental disintegration.
That's all a long way from a St Louis apartment in the 1930s and a family on the verge of being riven again by a deserting man, but such is the strength of great art – it collapses time and space. Just like memories.
The thwarted dreams start to accumulate within a family hemmed in by neuroses and the weight of insecurity
rating
Share this article