Fun Home, Young Vic review - a simply sublime musical memoir |

reviews, news & interviews
Fun Home, Young Vic review - a simply sublime musical memoir
Fun Home, Young Vic review - a simply sublime musical memoir
Alison Bechdel's graphic novel becomes achingly intimate theatre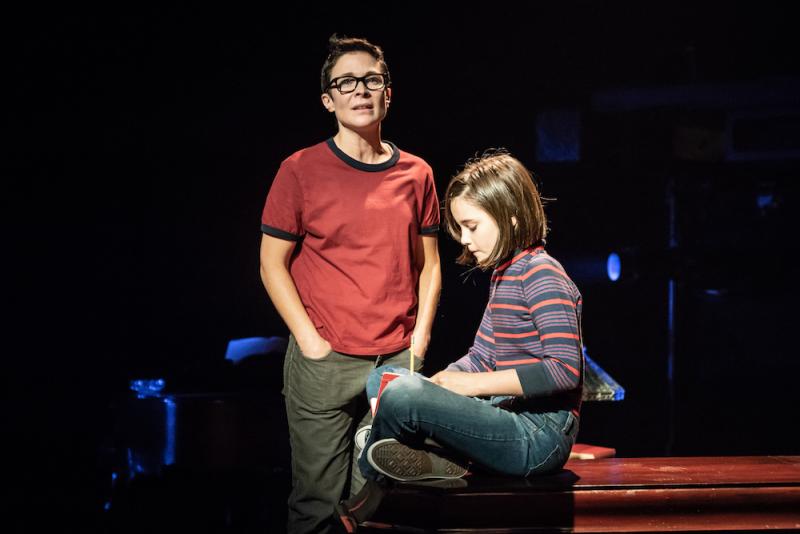 Myself and I: Alison (Kaisa Hammarlund) revisits her younger self (Brooke Haynes)
It seems only too fitting that David Lan's luminous reign at the Young Vic should draw to a close with this bold, creatively thrilling international import.
Jeanine Tesori and Lisa Kron's Tony-winning
musical
, which premiered Off-Broadway in 2013, is an exquisite adaptation of Alison Bechdel's graphic-novel
memoir
– a heartfelt detective story that traipses through memory in order to decode our loved ones, and ourselves.
We meet Alison at three different ages: as a child in small-town Pennsylvania, where her father runs the funeral – or "fun" – home; as a college student coming out as a lesbian; and as an adult artist. Vividly evoking how memory really feels – jumbled and zigzagging, with murky corners, revisionist touch-ups and flashes of clarity – this non-linear piece elides the three timelines. The two younger Alisons journal, creating their interpretations, while older Alison tries to fit her life into the neat boxes of a cartoon.
Sam Gold's sensitive production shares some tonal qualities with other memory plays like The Glass Menagerie: a pervading wistfulness, claustrophobia in the past, mingled frustration with and empathy for family members (pictured below), and occasional dreamlike moments. But the central voice here is very much Bechdel's: self-effacing, wry, unflinching in her pursuit of truth.
The great mystery of the story is Alison's father, Bruce, who – as well as juggling other identities as an English teacher and amateur house restorer – she later learns is a closeted gay man. But her beginning is his ending: as she reveals early in the show, four months after she came out to her parents, her father stepped in front of a truck. Older Alison hunts through her childhood, just as her fastidious dad searched through junk to find antique treasures, for clues about his real self, and how it affected those around him.
Tesori's delicate web of a score weaves around the action. Aside from a couple of pastiche set-pieces – the Bechdel kids doing a hilarious Jackson Five-type commercial for their funeral home; Alison imagining her fractured clan united in Partridge Family perfection – it's more a series of leitmotifs, yearning, searching, left hanging and then picked up again.
When the score builds into a big number, it's a spine-tingling, fully earned emotional realisation. In "Ring of Keys", Young Alison – who longs to swap dresses and barrettes for trousers and a crew cut – sees a butch delivery woman and experiences a shattering realisation as she glimpses a whole new future for herself. On press night, Brooke Haynes handled this pivotal moment, and Alison's whole journey, with exceptional maturity.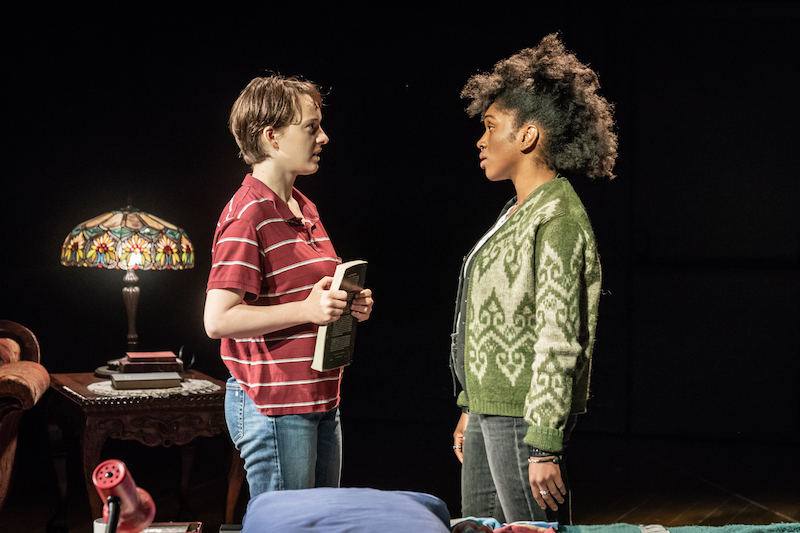 As Medium Alison, Eleanor Kane provides a wonderfully goofy, awkward, Tiggerish portrait of transition: from a thwarted prayer not to be homosexual while hovering outside a Gay Union meeting, through to her astonished elation after spending the night with Joan (Cherrelle Skeete, pictured above with Kane, a cool, confident paramour). Her "Changing My Major" is a real highlight – at once funny and moving in its soul-baring vulnerability.
Kaisa Hammarlund's omnipresent Alison does plenty of wincing at her younger incarnations' naiveté, but, more poignantly, sometimes urges them to change the past – to speak before it's too late. Her repeated cry of "Caption" shows the artist at work, editing her mythology, but it comes to ring hollow as she realises how much her parents were strangers to her, even as she re-evaluates them each time she reaches a new stage of life.
There are beautifully nuanced performances, too, from Jenna Russell as Alison's mother, trapped in a loveless marriage and a wasted life (articulated in the big 11 o'clock number "Days and Days"), and from Zubin Varla as Bruce: a man capable of great insight and charisma, but also of cruelly turning off affection like a tap. As we gain more information, his method of compartmentalising – and its devastating consequences – becomes clearer, as does the self-loathing and desperation that drives him to extreme behaviour.
Throughout, Kron's book and lyrics create intimacy through meticulous specificity, David Zinn's design is packed with period signifiers, and Ben Stanton's lighting gives us memorable images like the family – though occupying the same house – divided and isolated. In a genre dominated by declarative certainties, it's refreshing to see a show that lives in the ambiguous spaces in between, not to mention one female-created and -led, with a textured lesbian protagonist. But above all, this is a beautiful, humorous and compassionate piece, one that tears down a poisonous façade and gives us humanity in all its messy, but honest, glory. Simply sublime.
When the score builds into a big number, it's a spine-tingling, fully earned emotional realisation
rating
Explore topics
Share this article