Falsettos, The Other Palace review - affecting search for the new normal |

reviews, news & interviews
Falsettos, The Other Palace review - affecting search for the new normal
Falsettos, The Other Palace review - affecting search for the new normal
This ambitious musical tackles the changing forms of family, romance and faith
Friday, 06 September 2019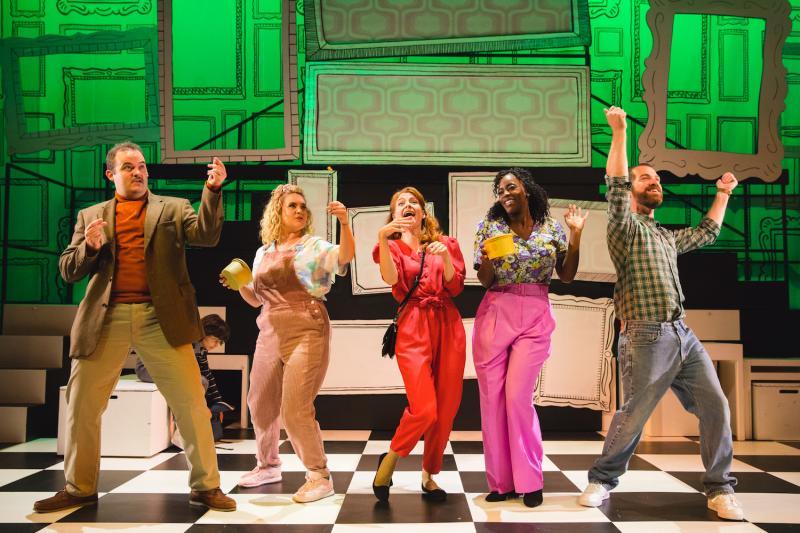 The more the merrier: Marvin's (Daniel Boys, far right) tribe expands
William Finn and James Lapine's musical – which combines two linked one-acts, March of the Falsettos and Falsettoland, set in late 1970s/early 1980s Ne
w York – picked up Tony Awards in 1992 for its book and score, and was nominated again in 2016 for an acclaimed revival. Yet the UK hasn't sighted this landmark piece until now, with Tara Overfield-Wilkinson directing and choreographing an engaging if somewhat chaotic production.
Daniel Boys plays Marvin, who recently left wife Trina (Laura Pitt-Pulford) for lover Whizzer (Oliver Savile, pictured below) – while maintaining close ties for the sake of son Jason (Albert Atack on the night I reviewed). Marvin's psychiatrist Mendel (Joel Montague) treats the family, but falls for Trina; we also meet Marvin's lesbian neighbours, doctor Charlotte (Gemma Knight-Jones) and caterer Cordelia (Natasha J Barnes). The second half picks up the action two years on, with the looming spectre of AIDS.
Finn's sung-through score captures the feverish minds of this overthinking, overanalysing, frenetic, neurotic group, caught between heritage and newfound personal liberty. Just as their worries and self-reflections dart around constantly, one immediately replacing another, so the music vies for our attention in intricate, overlapping lyrics, urgent counterpoint, and occasional well-earned soaring harmonies. It's almost too much to absorb in one viewing, and some words are lost here in a sound balance that favours the band.
Overfield-Wilkinson's staging is similarly hectic, with erratic lighting from Nic Farman, and PJ McEvoy's versatile white boxes and chairs clever as a base set for every scene, but requiring too much hefting around by the industrious ensemble. More effective are projections placing us in the various locations (with some witty touches as the cast interacts with them), and the upper level's giant frames, which showcase various versions of this evolving clan.
That grasping for the new normal is the work's most fascinating – and resonant – theme. Marvin has taken a brave leap with Whizzer, yet is still conservative, wanting Whizzer to commit to monogamy and fulfil the same "wifely" domestic duties for him. Trina faces the strange fact that she did everything expected of her, but still lost her husband, and all grapple with a sense of discontent. Traditions and social constructs are constantly questioned – what it means to be masculine, a good partner, a good parent, Jewish, gay, loved and loving – plus the tension between individual and collective in this biological and found family.
As well as a challenging score and complex themes, the work also has big tonal shifts, from vaudevillian giddiness and surreal interludes to domestic intimacy and quiet agony. Generally, the cast handles this heightened naturalism well, with Savile in particular developing an increasingly rich interior life for sex symbol Whizzer, and delivering his big second-act number with enough vocal power to create real impact, without sacrificing its affecting poignancy.
Excellent, too, is Pitt-Pulford, building Trina's "I'm Breaking Down" into a furious tragicomic convulsion (pictured right), and later showing her psychological complexities; separating from Marvin and apparently moving on doesn't mean she's rid of her jealousy or bitterness. Atack is impressive as the precocious but socially isolated Jason, who starts to question the purpose of his bar mitzvah, and makes a great double act with Montague's Mendel. Though a late replacement for Matt Cardle, Montague in fact anchors the show, whether entertaining with jazz hands and cartwheels or hurtling through the shrink's own neurotic patter.
Boys suggests some of Marvin's confusion and greedy neediness ("I want it all!"), but doesn't quite convey his constantly whirring, conflicted mind, nor is there enough chemistry with either his former or current partners. It feels like Boys is a little hesitant to lean fully into the interestingly dark, selfish, libidinous, hyper-competitive elements of the character, but, conversely, that portrayal also flattens Marvin's redemptive arc.
However, Barnes and Knight-Jones immediately convince as a devoted couple, and their teasing warmth provides a welcome new element; in fact, the first half feels poorer for their absence. Barnes's peppy, eager-to-please caterer beginning to unfavourably compare her output with her partner's more vital medical work – work weighing down Knight-Jones's dedicated Charlotte as she grapples with AIDS – is a dynamic that deserves further exploration, and their strong vocals contribute to a stirring climax.
While very much of its time, Falsettos certainly feels worthy of revisiting, and many of its messages still have potency – not least its condemnation of selfishness, deceit and game-playing, versus embracing difference and reaching out to the most vulnerable. There are unresolved tensions in the piece, and indeed in this production (including a very public debate on Jewish representation; certainly, it's to be hoped lessons are learned about at least having adequate consultation in the rehearsal room). Yet some of the show's intrinsic messiness reflects its very human journey. After all, forging a new path means hitting a few bumps, but love is always worth the endeavour.
Falsettos at The Other Palace until 23 November
Finn's score captures the feverish minds of this overthinking, overanalysing, frenetic, neurotic group
rating
Explore topics
Share this article