An Enemy of the People, Chichester Festival Theatre |

reviews, news & interviews
An Enemy of the People, Chichester Festival Theatre
An Enemy of the People, Chichester Festival Theatre
Hugh Bonneville returns to the stage after more than a decade in Ibsen's political comedy
Family matters: Hugh Bonneville as Dr Stockmann and William Gaminara as his mayoral brother
If Downton Abbey creator Julian Fellowes were (a lot) more like Ibsen, our national viewing habits would be in good hands. But then, as the hero of An Enemy of the People discovers, presuming to know what's good for the public is a dangerous game. In his first full stage role in 12 years, the Earl of Grantham, AKA Hugh Bonneville, returns to his local Chichester Festival Theatre as a whistleblower who thinks he's doing his town a favour.
Come the fifth act of Ibsen's political comedy, he's been driven out of job, house and inheritance and is fighting off the mayor with an umbrella.
This is a beautifully judged role for Bonneville (pictured below, centre) who throws himself into the part of Dr Stockmann with modest brilliance. There are echoes of his character Ian Fletcher in BBC comedies Twenty Twelve and W1A, faced with the baffling impossibility of Doing His Job as he's caught in the crossfire of others' competing agendas. There are also flickers of Mr Brown in Paddington, particularly the state of antic clarity that descends as he begins to buck against authority.
On stage as on screen, Bonneville is at once powerfully at ease and sharply alert to the familiar comedy in formal human interactions. It's a performance perfectly in key with Christopher Hampton's subtly modernised translation. "This is fun," he observes with sagging spirits, as he clocks the presence at an impromptu supper of his older brother, the mayor.
Dr Stockmann is the character with which Ibsen, out of all his plays, most closely identified. In 1882 Ghosts, now the Norwegian playwright's best-known work, had just been rejected by the theatres and torn apart by the "so-called liberal press". His brave and masterful attack upon damaging lies and dead values had gone down like a sulphuric lead fart at a polite social function. Ibsen had well and truly been burnt.
There are clear parallels with Dr Stockmann, who discovers the health spa he's been brought in to run is poisoning visitors. The town's water supply is contaminated. He has truth on his side – of course he must speak out. But his brother, the mayor (William Gaminara, pictured above right with Jonathan Cullen and Bonneville), oversaw the laying of the pipes. His father-in-law's tanning business happens to be upstream. The initially supportive liberal press has fickle appetite for a fight.
And, as it turns out, the "solid majority" would rather eat shit (or at least bathe in "decomposing organic matter") than shoulder the tax bill. Even his wife, with two young boys to support, has moments when she wonders whether he shouldn't just "endure the injury". Is it possible to be a free thinker when you're also a family man responsible for keeping a roof over your children's heads? Designer Tim Hatley's set has the answer: when a public meeting descends into a riot – staged here with full use of the theatre's multiple and recently renovated aisles – Dr Stockmann's paned roof comes down on his cosy drawing room in a cascade of glass.
Much of the comedy, to which Howard Davies's pacy production fully commits, comes from Dr Stockmann's exaggerated failure to anticipate any of this. He welcomes all-hours visitors to his home with boozy hospitality, and expects the same warm reception for his revelations. He imagines a lavish display of gratitude from the townsfolk: a torchlit parade, perhaps, or "a subscription to some kind of commemorative gift". When he twigs that the pollution of the baths is symptomatic of local government corruption, he anticipates that revolution will "slide off the stocks like a liner". This will, he keeps saying, be a very smooth process, very smooth.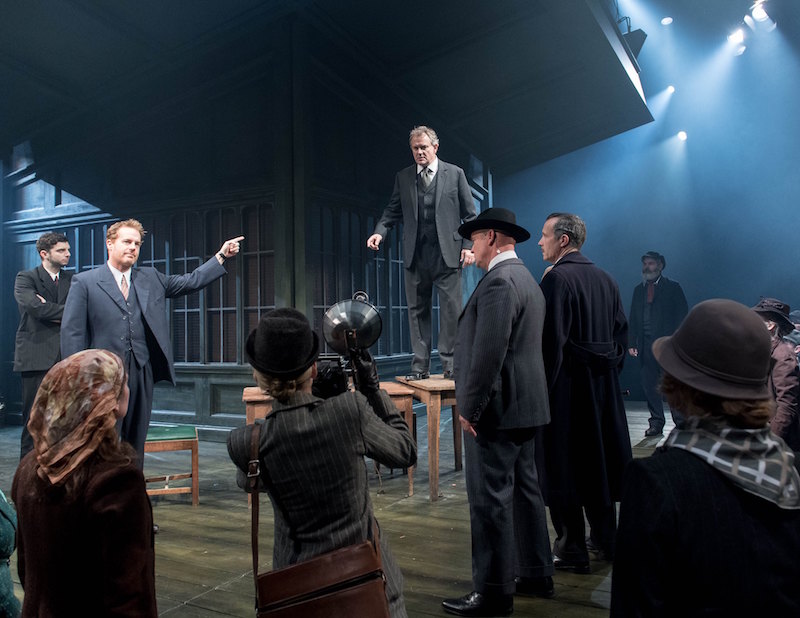 An Enemy of the People is also a comedy of competing vanities, and the core cast pulls its considerable weight. Adam James's handsome newspaper editor Horvstad (pictured left with Bonneville and company) keeps whapping out his working-class roots. Jonathan Cullen steals his first scene as Asklaksen, the pencil-mustached printer and chairman of the Property Owner's Association, who greasily extolls moderation in all things. Young journalist Billing (Michael Fox, another Downton Abbey alum) is a fairweather revolutionary who eggs Dr Stockmann on as if he's got a bet on a street fight, and snorts up suggestions of political controversy like crumbs of speed.
But Dr Stockmann, too, has his vanities. He is not simply a martyr to his cause. Bonneville keeps a tight reign on his easy personal charm to ensure we also see Dr Stockmann's excitable self-regard. In the scenes with his brother, in particular, a clear-cut clash of ideologies is muddied in a skirmish of temperaments. Offended at being called a troublemaker, Stockmann throws his head back over the sofa in an extravagant sulk. The mayor sits, straight-backed, in strained patience beside him, flicking dust from the armrest.
Bonneville gets the biggest laugh for a line that could have been spoken by any one of his characters. It strikes an everyman chord across the ages, mingling self-pity and middle-class disproportion yet somehow instantly soliciting our sympathy. Standing amid the ruins of his life, Dr Stockmann realises the mob have torn a hole in his trousers: "One should never wear one's best trousers when one goes out to fight for freedom and truth."
Standing amid the ruins of his life, Dr Stockmann realises the mob have torn a hole in his best trousers
rating
Explore topics
Share this article