Twenty Twelve: The Finale, BBC Two |

reviews, news & interviews
Twenty Twelve: The Finale, BBC Two
Twenty Twelve: The Finale, BBC Two
Handover Day - when the comedy had to hand over to real-life events with a Big Bong
Real life takes over: Jessica Hynes' Siobhan and Hugh Bonneville's Ian
So that's all over then. Which isn't good. The gnawing anxiety for followers of Twenty Twelve, the programme whose theme song is "There may be trouble ahead...", has been whether real-life events would become so like it - or even worse, more like it than it could be - that the programme would become redundant.
The extempore absurdities of Jeremy Hunt, the lost Olympics taxi drivers and G4S have given its scenarios a tense run for their money, and I'd guess a lot of BBC nails are down to the quick by this week.
This was an exceptionally bold TV idea, to keep apace with current events and constantly spin them into über-comedy. No one could have foreseen how tough the last three episodes would turn out to be, but the programme always had a secret weapon: its G&S-like appreciation of language. Written by John Morton (writer of Broken News, Absolute Power and People like Us), this has been a Yes, Minister for today, a linguistic farce rather than a satire of events, so while it's a pity that the winding-up plots couldn't parallel the lunacy of the past month's headlines, it's not fatal.
Way to go. Less words, big type. Biggedy-biggedy-big
Last week it was painfullest joy that Diversity Day was being celebrated in parallel to Inclusivity Day, in two rival London 2012 initiatives. An equal writer's relish made the Heads of Legacy and Sustainability separately essential to the Deliverance vision, and set both occupants in hot pursuit of the equally separate and essential post-Olympics job of Head of Posterity.
Greatest gift of all to the triumph of crap verbiage over thought: the creation of Siobhan, Head of Brand ("Way to go. Less words, big type. Biggedy-biggedy-big"), and the addition of words like "Jubilympics" and "catastrophisation" to the lexicon.
And so the 1,000 days set off with the first episode last year ticked down to "Handover Day", when the fictional Twenty Twelve office would hand over to the real 2012 office, and lines that have been very effectively blurred over the months would become, presumably, cleaned up and unblurred. It seems telling that Seb Coe, having appeared in three past episodes as himself, failed to show up at the vital handover. Well, what could he have said?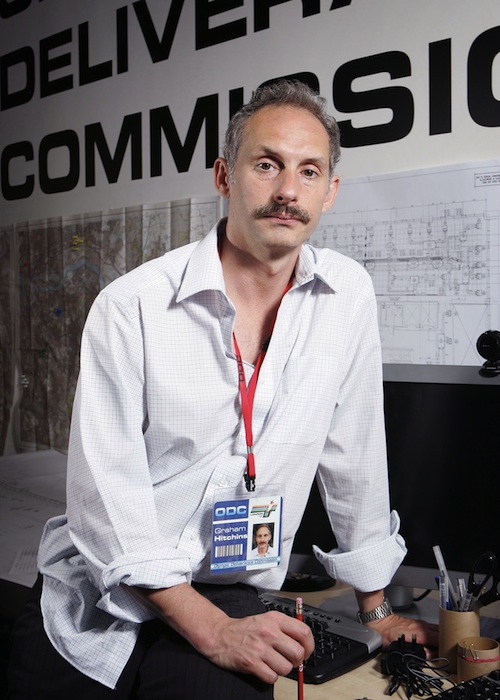 Tonight's concluding episode - if sadly trumped by the latest G4S chapter about "cheating" X-ray machine training - had a decentish hand up its sleeve plotwise. David Tennant, a sly and ferrety narrator throughout, murmured for our elucidation that "a potentially explosive situation has arisen between the Opening Ceremony creative team and the Ministry of Defence", on account of those ground-to-air missiles on Newham council blocks and a necessary hair-trigger sophistication in the ceremonial fireworks 'n' rock music programming.
Cue some quakingly funny problem-solving, starring above all Karl Theobald's upstaging act as Graham, the eyeball-rolling, moustachioed little runt who heads Infrastructure (pictured above right). If G4S were imaginary, rather than real, he'd be a shoo-in to succeed Nick Buckles as its chief exec - that is to say, he can only fail better, more spectacularly, and with even more "told-you-so" blamelessness.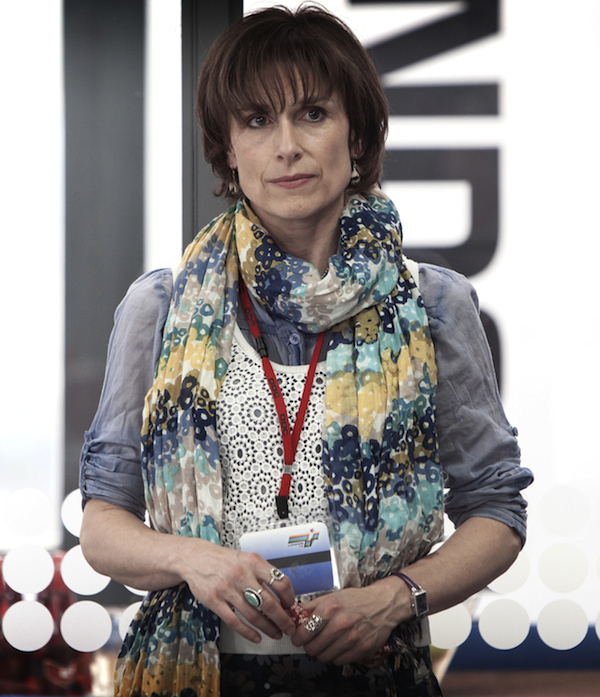 Kay, "as part of her ongoing commitment to future problems" (as the precision-tooled voiceover had it), had previously attempted to solve Sustainability, Legacy and Posterity in one blinding stroke for the Olympic Stadium by contracting as two of its new occupants Dagenham & Redbridge FC and the long-defunct Walthamstow Greyhound Stadium. It turned out in the finale that this was part of a deeply laid personal agenda, like her scheme for ethically designed slow-charge plug points for the fleet of Olympic electric cars which will ensure that by Day Two all of them will be off the road at once being charged (note to check the news Saturday). Amelia Bullmore's hassled creation of Kay (pictured left) has been memorable, both hilariously imbecilic and vaguely touching.
A weaker device was the concoction of a last-minute bellringing spectacular officially named "The Big Bong", though it did fetch up Siobhan's worst nightmare, attempting to make Aled Jones cool.
Still, to compensate, among the "Big Bong" competition entrants introduced with flawless cruelty by Tennant, there were those creative types that we at The Arts Desk will have particular occupational familiarity with: the audio-sculptor "who has come to be thought of as a prize-winning artist in a number of circles", and the tragically beardy music teacher "who is a prolific composer in his own head".
The winding-up theme of personal deliverance was presumably intended to call up shades of The Office, but by then Sally, Ian's doormat PA, had become thoroughly irritating and Ian Fletcher (Hugh Bonneville) hasn't been able to find a suitably nonsensical new job to give him a point. He won't linger in the memory, unlike the excruciating Graham and Siobhan.
The acting throughout has been wonderfully funny, magnified by the deft reaction shots, but text matters a lot, and it won't be surprising if comedy writers with mockumentary series ideas are retreating in fright from the sheer absurdity of British life being revealed day on day. Still, I'll be watching the Opening Ceremony closely to see if Danny Boyle, LOCOG and the MoD followed Graham's genius advice.
It's telling that Seb Coe, having appeared in three episodes, failed to show up at the vital handover. Well, what could he have said?
rating
Explore topics
Share this article