The Master Builder, Old Vic
The Master Builder, Old Vic
False notes mar Ibsen's unsettling mix of the real and the supernatural
Thursday, 04 February 2016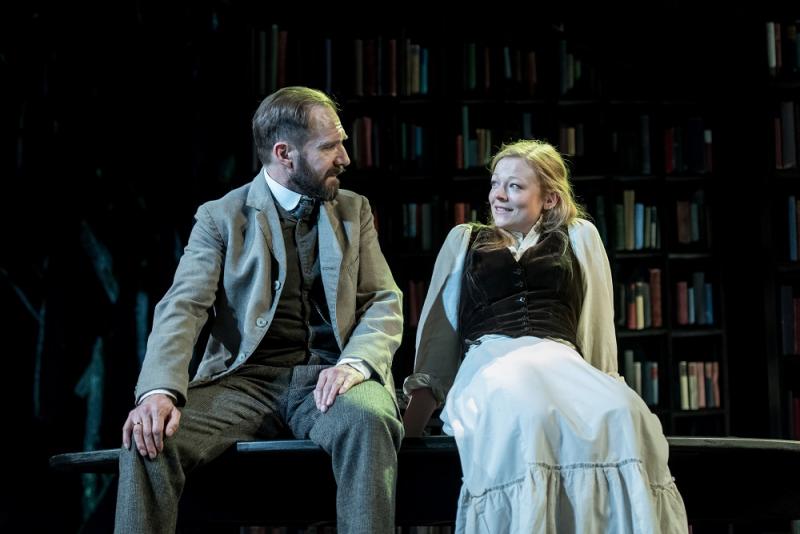 Halvard Solness (Ralph Fiennes) finds himself fascinated by 'princess' Hilde Wangel (Sarah Snook)
Demons, trolls and dead souls have a habit of latching onto Ibsen's bourgeois Norwegians. Surely the best way for actors to handle them is to keep it natural, make them part of the furniture and, in Dostoyevsky's words, "render the supernatural so real that one is almost forced to believe it". But very little seems real or spontaneous in Matthew Warchus's production of The Master Builder.
It certainly doesn't help that chilling events from the past or visions of the paranormal are underlined with creepy music and lighting when they should be torn from the characters' insides, the sounds unheard by anybody but themselves.
Halvard Solness, the self-taught Master Builder who worked his way up from ground level, is as complicated a character as Ibsen himself, if not exactly a self-portrait (though the penchant for young women who turn out to be more predatory than the predator has parallels with the playwright's life). Ralph Fiennes has a good shot at every facet of a lost soul in mid-life meltdown – the workshop bully, the conscience-stricken husband, the visionary and the weakling – without entirely convincing in any of them or seizing the few opportunities for sympathy. Perhaps the casual, cruel joker works best; Fiennes has proved himself a master of comedy. But the rest too often feels phoney. Mere charisma isn't enough; and besides, last night's restless, endlessly coughing audience didn't seem transfixed.
If Fiennes's Mark Antony in Deborah Warner's production of Julius Caesar caught the tones of Leonard Rossiter's Rigsby in Rising Damp, the boorish professional who sweeps in at the beginning here sounds a bit like Jim Broadbent's irascible, tragicomic Count Bolkonsky in the BBC War and Peace. Fortunately the levels soon drop to a brief naturalism, but it's not the only time in the evening that a crucial character seems to be addressing the hard-of-hearing. Sarah Snook as Hilde Wangel (pictured above right), the youth Solness so fears and yet wants who comes knocking at the door, booms hoydenishly in contralto register, the voice not at all caressing like Janet McTeer's soft and low persuasiveness in Les Liaisons Dangereuses.
This Hilde is little more than a Hooray Henrietta, commanding in what she wants – the man who may or may not have kissed her as a 13-year old and promised to carry her off as his "princess" 10 years later – but fatally lacking in mystery, danger or sensuousness. This character should have the potential to blow away the childish irritant of Charlie Cameron's Kaja Fosli, the infatuated assistant, not to mention Solness's dated tosh about his now-frigid wife having been a potential "builder of souls" before the loss of their twin babies. The newcomer is a more independent-minded woman, though still one with her own fatal illusions. Snook doesn't come close to the complexity of Solness's natural match and nemesis.


The Act Two scene between husband and wife (Linda Emond, best when still and icy, pictured left with Fiennes) comes across as Victorian melodrama, for all the hard-working naturalistic cadences of David Hare's rendering – presumably hewn from a rough translation – which sticks faithfully to the essence of the original, fitting for a production in period dress. Gabbling takes over in the Act Three confrontations, with the honourable exception of Martin Hutson's frustrated apprentice Ragnar Brovik, a rare dose of realness balanced by James Laurenson as his bleakly fatalistic father at the other end of the play.
An interval shouldn't be necessary between the second and third acts, but Rob Howell's incoherent and complicated set, good only in symbolic parts, needs remaking for a final coup that comes a bit too late and doesn't allow its implications to resonate. It's sabotaged in any case by the soundtrack at its most ludicrous while a now echo-chambered Snook swings in ecstasy. The temptation to do a Grand Design clearly got the better of Howell. His clutter is in marked contrast to the clean lines of Tim Hatley's scenery for the Almeida Little Eyolf – admittedly a shorter play, but nevertheless The Master Builder, too, could run straight through without a break. Strip it all down, find the truth in the performances and then maybe you'd have a production fit for one of Ibsen's greatest masterpieces.
MORE IBSEN ON THEARTSDESK
Ghosts, Duchess Theatre (2010). Iain Glen makes directorial debut with a straightforward take starring Lesley Sharp
The Master Builder, Almeida Theatre (2010). Passions blow hot and cold in this uneven production starring Gemma Arterton and Stephen Dillane
Emperor and Galilean, National Theatre (2011). Power and pace help to exhume Ibsen's Romano-Christian epic starring Andrew Scott
Judgement Day, The Print Room (2011). Ibsen's last play has its issues but emerges strongly in new adaptation with Michael Pennington
The Lady From the Sea, Rose Theatre, Kingston (2012). Joely Richardson takes on the Ibsen heroine her mother and sister made their own
A Doll's House, Young Vic (2012). Period setting yields a contemporary tragedy adapted by Simon Stephens and starring Hattie Morahan
Hedda Gabler, Old Vic (2012). Ibsen's heroine draws new depths from the West End's sweetheart Sheridan Smith (pictured)
Love's Comedy, Orange Tree Theatre (2012). Early Ibsen finds the playwright in his awkward adolescence
A Doll's House, Royal Exchange (2013). Ibsen in the round loses none of its power to cast a spell
Public Enemy, Young Vic (2013). The horrors of local politics still chime in Richard Jones's queasy production of an Ibsen masterpiece
Ghosts, Almeida Theatre (2013). Richard Eyre and Lesley Manville shine light into Ibsen's dark thriller of family misfortunes
Peer Gynt, Théâtre National de Nice (2014). Irina Brook's song-and-dance Ibsen entertains, but misses the darker shades
The Wild Duck, Belvoir Sydney (2014). Heartbreaking adaptation mixes naturalism and forensic examination
Little Eyolf, Almeida Theatre (2015). Strong women and one weak man in Ibsen's swift study of isolation and guilt
Hedda Gabler, National Theatre (2016). Ivo van Hove makes an uneven Southbank debut