The Emperor, Young Vic |

reviews, news & interviews
The Emperor, Young Vic
The Emperor, Young Vic
Perfectly paced two-hander about Haile Selassie's impact on court and country
Friday, 09 September 2016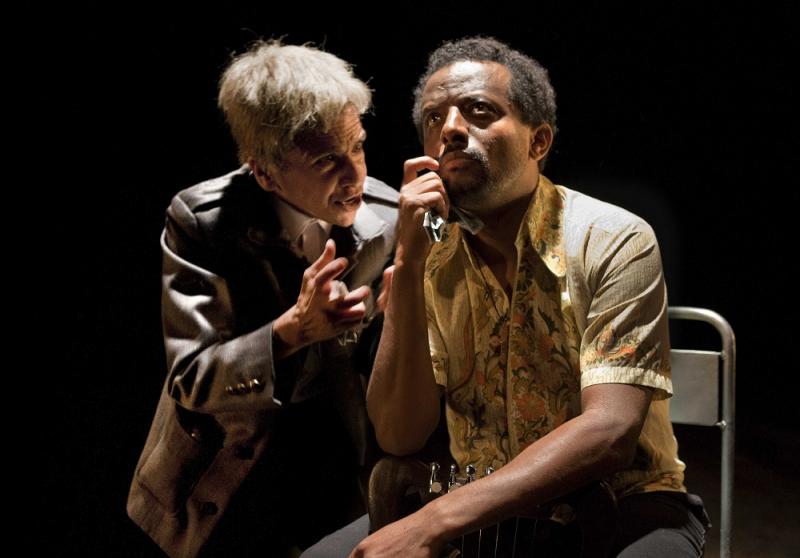 Kathryn Hunter and Temesgen Zeleke as a minister and his son
She gave us the most moving King Lear years before the news broke that Glenda Jackson would be playing the role. Only Mark Rylance has recently matched the malicious wit of her Globe Richard III. Now Kathryn Hunter spellbinds in a very Shakespearean downfall drama about the court of Ethiopian Emperor Haile Selassie – but this time the Elect of God doesn't actually appear in person, not literally at any rate, and the triumph is shared by everybody involved, lighting and soundscape designers included.
Hunter plays 12 parts, the voices of the ruler's courtiers as reported in Ryszard Kapuściński's supra-journalistic masterpiece and thriller The Emperor. Temesgen Zeleke features as four representatives of the younger generation, but his equally important role is as a musical Greek chorus, from the gentle sounds of the five-string Krar which punctuate the quiet opening stretch dealing with the sleepy if lethal court to exquisite singing which ends the show. At one point he manages to play and sing consummately while holding a microphone in his other hand. He's as much a true artist as Hunter.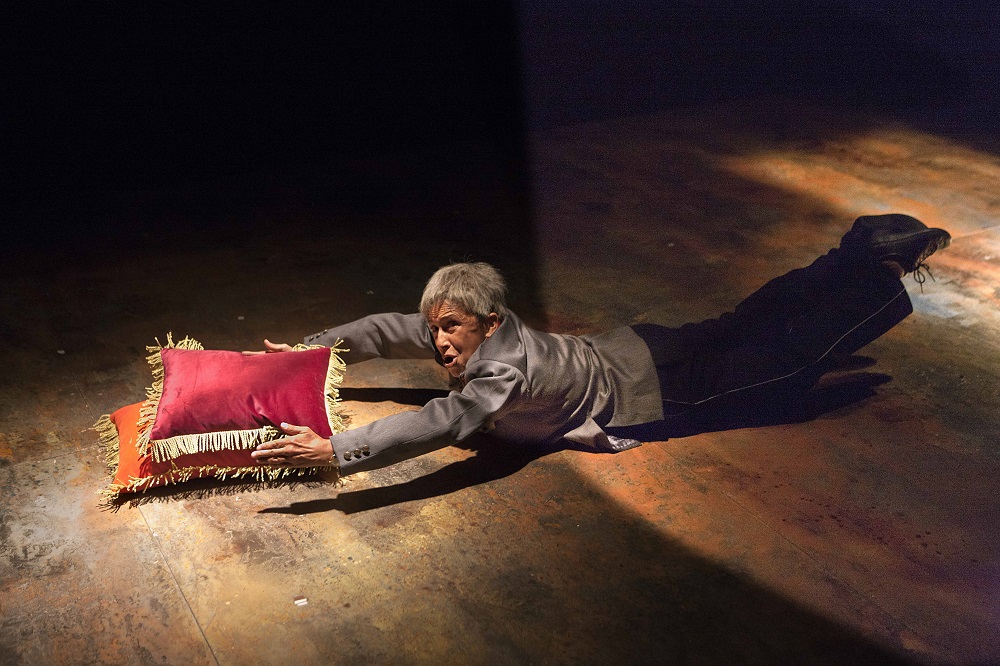 Colin Teevan's perfect adaptation mirrors the three parts of Kapuściński's study, and this production, with Walter Meierjohann as director and Hunter as "Creative Associate", has all the musical ebb and flow of a great one-hour symphony. Gentle humour and absurdity abound in Hunter's quick-change presentations of the courtiers, from the man who wipes the dog wee off the shoes of visiting dignitaries and the man who slips the pillows beneath the King of King's posterior and feet (pictured above) to the intelligent recording clerk in the Ministry of the Pen who appropriately wields the most eloquent language. The physical theatre we've come to expect from a Complicite master is spare but telling, the props deftly wielded, the voices well contrasted (the only stereotype about the "cuckoo" who bows to signal the Emperor's next business slot is the self-created one of the oppressed gay African man).
We're put off our guard so that the first explosions of violence and "progress" come as a shock. Paul Arditti's sound, consummate as ever, plays as much a part in this as Zeleke's outbursts. Designer Ti Green's red Ethiopian earth can be transformed by Mike Gunning's powerfully adaptable lighting; a curtain drawn over traditional music-making works wonders. The first coup is quickly, shockingly despatched; there's a wacky dance interlude as "International Life" comes to Addis Ababa in the shape of Santanas and Hunter, riffing, draws up a front-row audience member to do some funky disco dancing.
Yet the underlying seriousness is never far away: the results of "development without reform", the inevitable demise of a 700-year old dynasty that wants time to stand still, bring the expected catastrophe. Hunter is brilliant as the Minister of Information who loses a rebellious son. Teevan, Meierjohann and Green wisely refrain from video footage until we finally see a sequence from the game-changing 1973 Jonathan Dimbleby film The Unknown Famine which counterpoints very movingly Hunter's most important and touching character, the quiet valet de chambre (pictured above) who recites Old Testament passages to the imperial throne and ushers the peeing dog Lulu into her master's arms before he's driven away to an unknown future (rumoured to have been smothered by his successor, Mengistu – whether true or not, Shakespeare would have used that).
The end is quiet, also moving in Zeleke's final, unaccompanied song, and just before it a virtuoso whizz through the reactions of eight of the other former courtiers so long silent as a second intermezzo. At such moments we're reminded of Hunter's tour de force, but otherwise we hang on every word of each of the characters she embodies – sometimes straining to hear, but that's no bad thing – and we catch glimpses of the Emperor, his build not so dissimilar to Hunter's deceptively frail-looking frame, as her narrators allow her to conjure him, however fleetingly.
Though in a way Haile Sellasie's luxury and way of life can't be emulated by any current autocrat, the lessons of his life and the disaster which followed his overthrow are repeated time and again. Though Kapuściński's book should be read, too, there's no more finely-crafted or vivid way of getting to grips with the big issues than this astonishing piece of theatre. And Hunter's performance up there alongside Chiwetel Ejiofor's stunning Patrice Lumumba in another Young Vic high-spot, A Season in the Congo. Don't miss it.
Subscribe to theartsdesk.com
Thank you for continuing to read our work on theartsdesk.com. For unlimited access to every article in its entirety, including our archive of more than 10,000 pieces, we're asking for £3.95 per month or £30 per year. We feel it's a very good deal, and hope you do too.
To take an annual subscription now simply click here.
And if you're looking for that extra gift for a friend or family member, why not treat them to a theartsdesk.com gift subscription?