Dream On: Surprises in the Athenian Wood |

reviews, news & interviews
Dream On: Surprises in the Athenian Wood
Dream On: Surprises in the Athenian Wood
There are Dreams aplenty in Shakespeare's anniversary year. Southwark Playhouse will go for different, says director Simon Evans
Doubling up as Demetrius and Bottom: Freddie Fox rehearses 'A Midsummer Night's Dream'
Doctor Peter Raby (Emeritus Fellow at Cambridge University) was quick to pull me up on my first stab at A Midsummer Night's Dream – an indulgence-of-a-production played out in a university park to the sound of cucumber flirting with Pimm's. His grounds were that I had failed to acknowledge the mortal danger facing those errant elopers, Hermia and Lysander. He had, he said, expected better of me.
Revisiting the play a decade on (I take criticism slowly) I see his point: in turning their backs on the ancient law of Athens and fleeing seven leagues, the pair openly defy the patriarchy of the time and run the risk of execution if caught. Considering that the Greek capital's capital punishments, at that time, included Perilaus's Brazen Bull (a large hollow brass cow into which a man could be squeezed then roasted to death) the lovers' need to escape quickly is clearly pressing.
But, often unnoticed, another group of Midsummer characters are playing with similar fire. In Act 1, Scene 2, Peter Quince (carpenter by day and director by night) warns his leading man Nick Bottom against imitating a lion in their upcoming production: "You should do it too terribly. You would fright the duchess and the ladies that they should shriek, and that were enough to hang us all." Quince's trepidation is shared by his mechanicals, and prologues are soon being scribbled down to ensure the wedding guests remain held in the tragical and merry narrative of the play: the Duke and Duchess must hang on their every word, rather than hang them for their every word. (Pictured below: director Simon Evans, centre, with Ludovic Hughes and Melanie Fullbrook)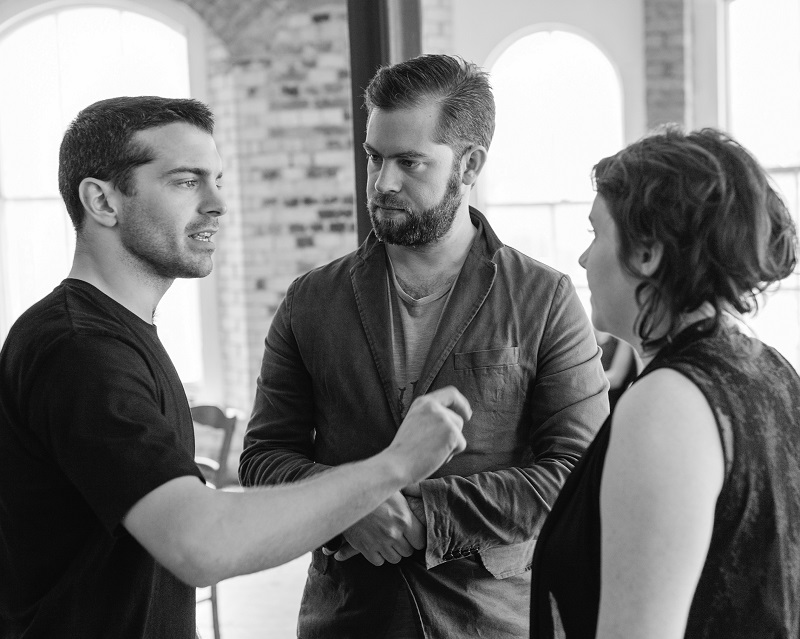 Shakespeare's plays are replete with theatrical metaphor, but Quince's understanding is unique. For while all the world is a stage, and we ourselves are the players, this narcissistic attitude fails to acknowledge the most vital element, one which Quince puts front and centre: our relationship with an audience.
I know what he means. I started to notice it about two or three years ago: a move towards a solipsistic type of play-making in which something elegant happened on stage, but from which an audience was emotionally held at arm's length. This cooling of the relationship resulted in crowds emerging from London's top-tier theatres searching for appropriate words of praise, eventually landing on versions of "You have to see it, it's so clever". The theatrical-review equivalent of "He's got a wonderful personality."
I'm not suggesting that these responses are disingenuous. To call something "clever" is undoubtedly to feel positive about it (compare it to "vacuous"), but it's also defeatist. Should we be happy settling for craft over art, casting our hopes of catharsis aside and accepting theatre for theatre's sake? It would be easy to lay this charge at the feet of the theatre-makers themselves, but there is blame on both sides of the fourth wall. Audiences play out their well-worn routine too: booking the seats they like, in the theatres they know, round the corner from the restaurant they love, until it becomes rote; until familiarity becomes the enemy to feeling.
Not happy to settle for this divorce, I have in my own way used the last 12 months to try and rekindle the dwindling romance between audience and play. My productions of The Dazzle and Bug were played in front of only 130 people per night in the new Found111 theatre, and the experience of a new play in a new space made that tiny room feel alive: the passion reignited by the unfamiliar, like sex on a plane. In between those two shows I worked with my long-time collaborator David Aula on The Vanishing Man, a show about an Edwardian magician, which followed in the footsteps of Tim Crouch in using transubstantiation to give the audience parts to play in the story. Role play, we proved, proves a potent aphrodisiac too.
I do not say I fight this battle alone. Ivo van Hove's A View From the Bridge and the Punchdrunk model set the train in motion for me and myriad other shows have stoked the engine, but I continue to find it fascinating, even as that train pulls up at the Waterloo Station of Shakespearean plays: A Midsummer Night's Dream.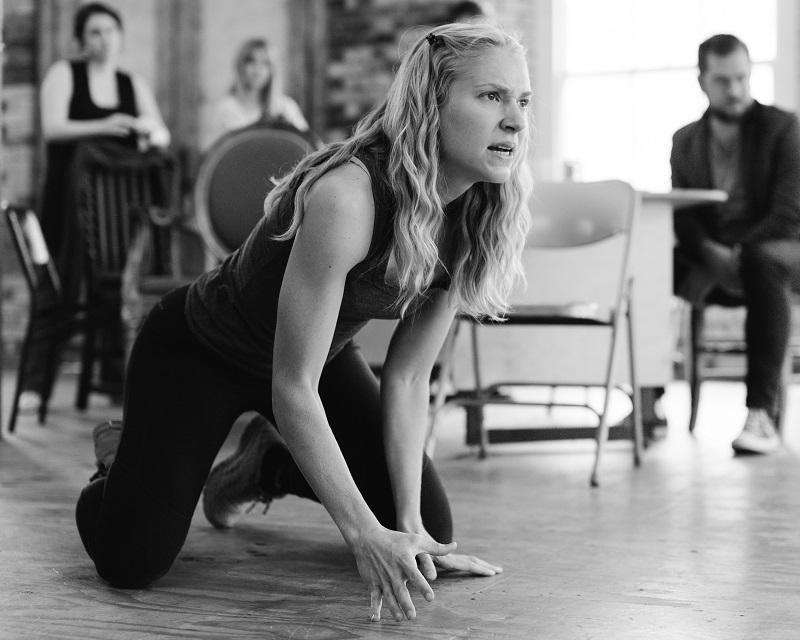 I don't think I could have a found a play more threatened by "familiarity" and "routine" if I'd tried. The Lyric Hammersmith produced the inaugural 2016 production (waving the 400th anniversary flag first), the RSC and the Globe have productions running, and the BBC's starry television version was broadcast last week. But into rehearsals we step in the hope of reconnecting you to the play's multitudinous, interweaving plot lines.
It's a story with so much to say about young love and old love, what's real and what's not, betrayal and trust, and who's playing what, but it's been a long time since I've heard it as clearly as this. Clarity always breeds a new appreciation and the phenomenal cast, lead by Freddie Fox and Maddy Hill (pictured above), makes old words seems new-minted, and the part the audience will have to play promises sparks.
To tell you more about it here would be to threaten you with familiarity (which would seem to undermine the entire effort), but I'll assure you I've hung no gaudy paintings on the fourth wall: what "concept" there is is around how the story is told.
Perilaus's Brazen Bull has long since bought the farm (and capital punishment for bad theatre seems a thing of the past too), but it would be a mistake to think that gave us permission to ignore Quince's wisdom; we should, rather, rally behind him. It's the perfect time to put the audience at the heart of theatre, and see if you might fall in love with A Midsummer Night's Dream again.
I have used the last 12 months to try and rekindle the dwindling romance between audience and play
Share this article