Dear World, Charing Cross Theatre |

reviews, news & interviews
Dear World, Charing Cross Theatre
Dear World, Charing Cross Theatre
Eco-drama meets gentle whimsy as this chamber staging wins a quirky, long-neglected show its rightful place
Thursday, 14 February 2013
Notes from underground: Betty Buckley's Countess Aurelia at home to Paul Nicholas's Sewerman
It's odd that Jerry Herman merits only a passing mention in Stephen Sondheim's two-volume autobiographical take on Broadway words and music, Finishing the Hat and Look, I Made a Hat. In a couple of subjects Herman chose no less daringly than the master.
Yet while
La Cage aux Folles
is now so entrenched that we forget its original boldness in asserting a loving gay relationship,
Dear World
's eccentric mix of eco-plea and nostalgia has yet to be established as a bittersweet chamber piece.
Where it only took Sondheim's Merrily We Roll Along 11 years to progress from flop to classic, Dear World has taken 44. Its time has finally come underneath the arches of Charing Cross in the intimate setting Herman always wanted, crowned this time by the supreme grace of Betty Buckley.
Her predecessor as Countess Aurelia, the Madwoman of Chaillot as adapted from Giraudoux's 1943 play of that name, was the great Angela Lansbury, whose delivery of a string of terrific songs on the 1969 Broadway cast recording has kept the show's memory fresh. But it seems that Lansbury was buried alive in an extravaganza that kept growing, in the wrong way, through 57 Broadway previews and three directors. Gillian Lynne's crisp, straightforward new production puts Dear World to rights on the smaller scale it clearly needs, with a cast of 15 always sure of where it's going, nimbly played orchestrations by Sarah Travis and adaptable if slightly clichéd Parisian set designs by Matt Kinley.
There's still a touch of initial uncertainly in David Thompson's new version. The plot – one-third realism to two-thirds fantasy, to reverse a judgment on the original play – could hardly be simpler or more topical. The collective Satan is a board of directors (Peter Land, Jack Rebaldi and Robert Meadmore with Anthony Barclay and Stuart Matthew Price, pictured right) led by a louche prospector who's discovered oil under the Café Francis in Paris's Chaillot district and who suggests drilling soon. The angel is Aurelia, with method in her madness and a gathering of loyal if stereotypical friends. "Grassroots advocacy versus fracking," enthused my NGO companion.
So it would still make for a stronger start if the suits began the show with the scene-setting satirical number "The Spring of Next Year", transferred in Lynne's production to the second act. It's a waltz, like so many others here; we're almost in A Little Night Music territory. Instead we get an Occupation dumb show narrating how the Mute (dancer Ayman Safiah in perhaps the only thankless role) became so. We have to wait until the end to see the point of that.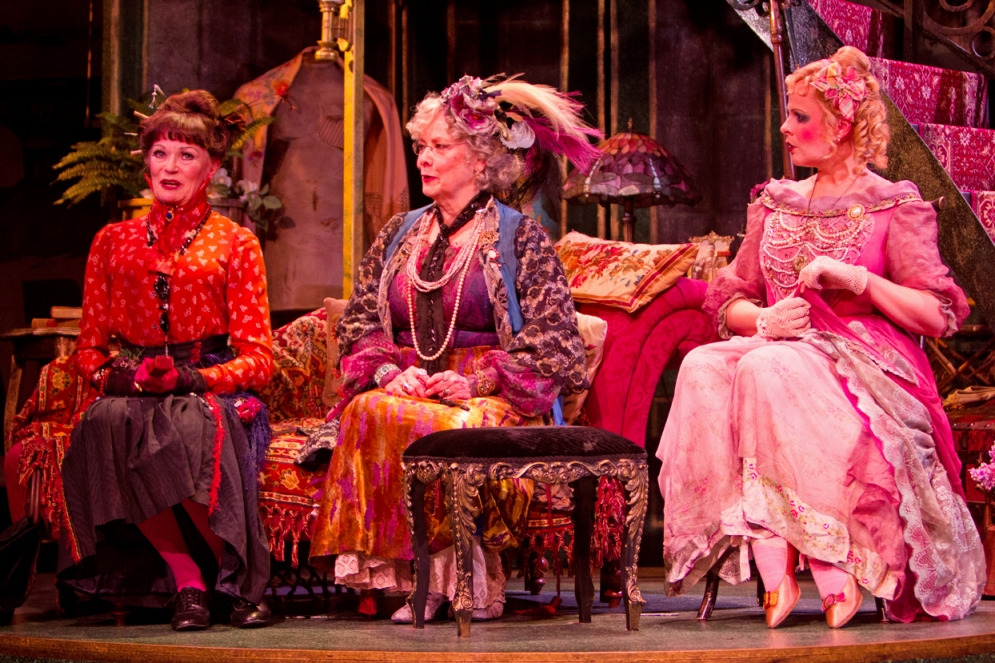 Buckley's first number, "A Sensible Woman", is also weak - one of several extras restored to this adaptation. But already her beatific aristocratic bearing, which belies the oddities of her speech, cries star quality. And soon she's off spreading light with "Each Tomorrow Morning" and sadness, with a terrific pianissimo start, in "I Don't Want to Know". Two more hits follow in Act Two, the simple but ineffably touching reminiscence of lost love "And I Was Beautiful" and the slightly extraneous "Kiss Her Now". It's only a pity the titular torchsong of eco-ruin is cut short.
There's strong support from Paul Nicholas as a far from corny Sewerman – though his Act Two routine, another addition, doesn't quite work – the superb quartet of capitalists, going through Little Swans dance routines at one stage, and the dispensible but well-sung young lovers (Katy Treharne and Stuart Matthew Price). But while no-one can steal the show from Buckley, Annabel Leventon and the tirelessly inventive Rebecca Lock as her fellow Madwomen from the Flea-Market, vamp Constance who hears voices around the house, and from Montmartre, Gabrielle with her invisible doggie Dickie come close (all three pictured above left). The tea-party trio shot through with Giraudoux's Lewis Carroll absurdity and ending in effervescent three-part counterpoint is a highlight of this quirky show. Don't miss it before it makes a major transfer - off-Broadway, perhaps?
Listen to the Tea Party sequence in the original Broadway cast recording
The tea-party trio shot through with Giraudoux's Lewis Carroll absurdity is a highlight of this quirky show
rating
Share this article