Dandy Dick, Theatre Royal Brighton |

reviews, news & interviews
Dandy Dick, Theatre Royal Brighton
Dandy Dick, Theatre Royal Brighton
Christopher Luscombe's new Brighton company revives a tired old nag by Pinero
Swooning in unison: the cast of 'Dandy Dick'
"I can't live without horse flesh, if it's only a piece of cat's meat on a skewer." So declares Patricia Hodge's gung-ho racing fanatic Georgina in this straight-down-the-line revival of Pinero's 125-year-old caper, which requires cast and audience to subsist on the theatrical equivalent of the latter.
A rarely-seen drawing-room comedy about a put-upon vicar tempted into risking money and reputation on a horse, Dandy Dick was partly written in Brighton and possibly inspired by its racecourse. Hence its selection to launch Theatre Royal Brighton Productions which, under artistic director Christopher Luscombe and associates Maria Aitken and Philip Franks, hopes to turn the city's central historic theatre into a producing house feeding the provinces – and eventually the West End – with fresh takes on classic comedies and forgotten gems.
This is great news: perhaps more cursed than blessed by the loyalty of its ageing, twinset-and-pearls audience, the theatre where Rattigan, Coward and Orton previewed West End runs and Gielgud did some of his heaviest drinking has too often operated in isolation from Brighton's progressive artistic community and booked itself a royal box in creative purgatory. (If you haven't seen the posters, creative purgatory is a crudely photoshopped affair where the disembodied heads of former Hi-de-Hi cast members float eternally around a tap-dancing Gary Wilmot.) But this beautifully staged, capably acted, conservatively directed, tired old nag of a comedy is pulling in precisely the wrong direction.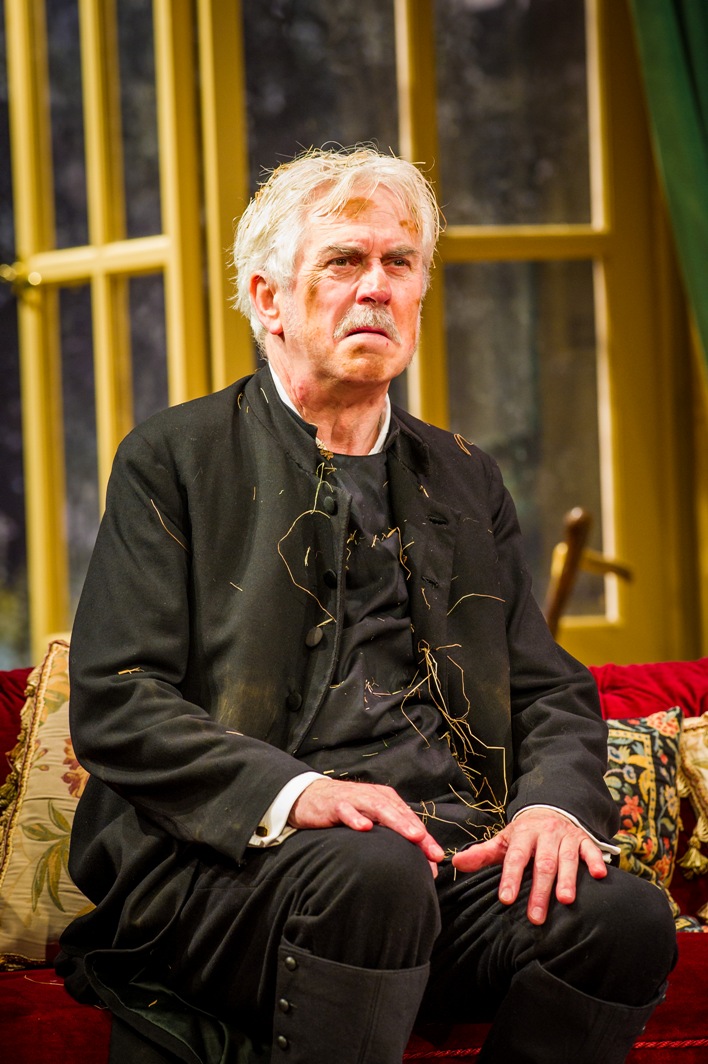 A woman self-declaredly as at home among the lowest cads of the racing world as Boudica among the Druids, when Georgina (a tartan-bustled, hunting-jacketed Hodge) comes to stay with her clergyman brother (Nicholas Le Prevost, pictured right) she upsets the quiet of his deanery and his conscience with an irresistible betting tip. A win on dead cert Dandy Dick would clear his shrill, spendthrift daughters Salome and Sheba (Florence Andrews and Jennifer Rhodes) of their dressmakers' bills, and cover the cost of fixing his church's crooked steeple. When the horse itself turns up as an unexpected guest in the vicar's stables, temptation takes new forms for several members of his household. Uniform mayhem ensues, peppered with pointless asides and lots of exclaiming and swooning in unison.
Patricia Hodge can accomplish much with a slight tilt of the chin and arch of the eyebrow, while Prevost as her greying, gently terrorised brother fights against his baser nature like John Cleese trying not to mention the war. He winds up in a local police cell Ipictured overleaf) which, in a memorable touch, is located in the officer's kitchen – the handcuffs hang next to the ladles and hungry prisoners are tortured into disclosure with the smell of his wife's cooking.
Elsewhere Michael Cochrane and his facial corpuscles do a stout enough turn as the vicar's old school pal Sir Tristram Mardon, a man flushed with good humour, while Andrews and Rhodes as his daughters woo their solider suitors as one ("your lip curls better than mine – I'll dilate my nostrils!")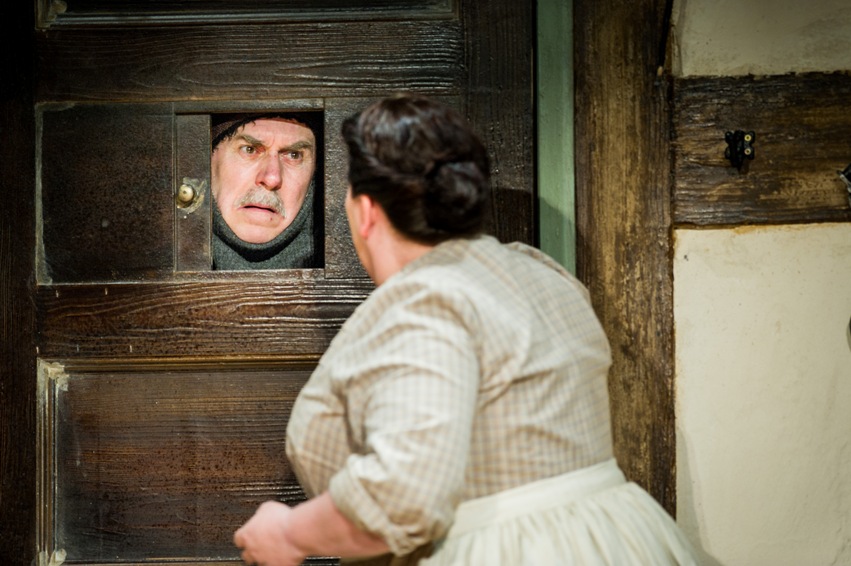 But there's a limit to what you can do when cast as, say, a flirtatious cook with a big bosom, or a jealous husband with a small brain, or when the sub-Wildean aphorisms ("I have never thought of marriage". "People never do till after they are married") wilt on your lips. In Luscombe's direction there's too much knowing dumbness and not enough clever silliness. The best comic performance, purely because it has an element of surprise, comes from the (off-stage) horse – a sound effect at the end of a piece of rope.
Born a year between Oscar Wilde and George Bernard Shaw, Pinero was never going to win that particular race. But it's still surprising just how little of pertinence Luscombe and his cast have managed to flog from this text – and, most importantly, how few genuine laughs there are. Dedicated gamblers when it comes to regional theatre, we're shifting our bets to Theatre Royal Brighton's second production, of Joe Penhall's Blue/Orange, which will follow in September. In the meantime, Brighton and its famous theatre continue to deserve better.
Dandy Dick is at Theatre Royal Brighton until 7 July, and touring the UK until 1 September 1
The Theatre Royal has too often operated in isolation from Brighton's progressive artistic community and booked itself a royal box in creative purgatory
rating
Explore topics
Share this article