Cuckoo, Royal Court review - slow, superficial and unfunny |

reviews, news & interviews
Cuckoo, Royal Court review - slow, superficial and unfunny
Cuckoo, Royal Court review - slow, superficial and unfunny
New comedy explores digital and family alienation, but finds nothing to say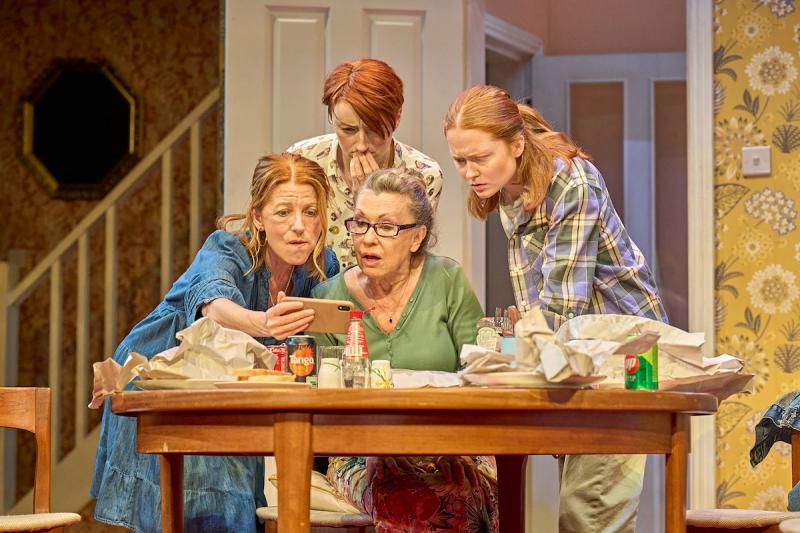 Screen time: Michelle Butterly, Jodie McNee, Sue Jenkins and Emma Harrison in 'Cuckoo'.
Historically, the Royal Court is the venue for cutting-edge new writing – you know, the kind of plays that have something urgent to say about contemporary life. Like what? Well, let's see, something important to say about digital alienation, climate catastrophe, teenage discontent and family breakdown.
And, indeed, these are some of the themes of Michael Wynne's new Scouse comedy Cuckoo, directed by this venue's outgoing head Vicky Featherstone, in a co-production with the Liverpool Everyman and Playhouse, where it can be seen later in the summer. But the play has two problems: it isn't funny – and has nothing urgent to say.
Set in the Birkenhead home of widow Doreen, the situation concerns three generations of women. She is the mother of Boots assistant Carmel and primary schoolteacher Sarah, and grandmother to Megyn, who is Carmel's 17-year-old daughter. The evening opens with them all around the dining-room table, about to have a takaway of fish and chips, but more interested in their mobiles than in each other. Ping! Scroll, baby scroll; google and goggle; stare and be scared. Because the digital world brings its share of bad stuff to your eyeballs, in this case news of terror attacks in Germany. And climate change deniers.
The usual family tensions – which feature the sibling rivalry between Carmel and Sarah, topped up by comic comments from their mother – soon result in Megyn, who has left school with no qualifications and is totally glued to her phone, running upstairs and squatting Doreen's bedroom. She decides to stay there, for weeks on end, communicating with her gran by text, while Carmel and Sarah react with bemusement and anger. Clearly, this is a cry for help, but the other women are more concerned with their own problems than with Megyn's teen anguish. Carmel is being put on a zero-hours contract, while Sarah and Doreen are exploring new romantic attachments through online dating.
Amid the pings, buzzes and melodies of notifications and alerts, the comedy is quite dark. Sarah's primary school has violent child pupils and violent parents; the climate emergency has especially affected Megyn, who thinks the other women don't understand it, and the sense of mutual neglect is strongly suggested. Even though it remains superficially depicted. Overall, the main gesture of this dysfunctional family play is the rather banal thought that we can never truly understand another person, and that most families are composed of strangers. In this situation, the temptation to escape into a child-like world, hiding under the duvet cover, is hard to resist.
So Wynne's Megyn retreats to her cuckoo nest in her gran's bedroom and barricades the door. In her absence, the other women enact a sitcom in which jokes about selling stuff on eBay, creating glossy ideal families on the internet, phone addiction and family resentments meander through some cringingly declaratory writing, all arm-waving signals and no subtlety. I mean, if you are going to write comically about mental problems, coercive control and family breakdown, it really does help to have snappy dialogue, acidic one-liners and some vigorous psychological insights. Instead, Wynne's writing feels slack and underpowered, full of loose ends and flaccid observations. Worse of all, it's not funny: I simply didn't laugh – and I wasn't the only one.
The message of the piece, which is that we can all solve our problems by just being nice to each other is frankly the essence of trite – even for a comedy. And Wynne's plotting is somnolently slow. This is compounded by Featherstone's lethargic production on a set by designer Peter McKintosh which gets the architecture of the house all wrong and whose attempt to poke fun at working-class bad taste is, yeah, quite tasteless. The cast – Sue Jenkins (Doreen), Michelle Butterly (Carmel), Jodie McNee (Sarah) and newcomer Emma Harrison (Megyn) – do their best, but it's not enough. I wouldn't discourage anyone from going to see this show, but I predict they'd have more fun watching cat vids on their phones.
Worse of all, it's not funny: I simply didn't laugh - and I wasn't the only one
rating
Explore topics
Share this article