Conundrum, Young Vic review - inscrutable and ungraspable |

reviews, news & interviews
Conundrum, Young Vic review - inscrutable and ungraspable
Conundrum, Young Vic review - inscrutable and ungraspable
Aptly-named new play from Paul Anthony Morris shows the effects of racism on one man's psyche
Tuesday, 01 February 2022
'Ofoegbu is magnetic, bringing compassion and charisma to Fidel'
Conundrum is a tricky play. Written and directed by Paul Anthony Morris, founder of Crying in the Wilderness Productions, it's an extended meditation on Blackness and what it means to live in a racist society. Anthony Ofoegbu is the star of the show, but his mesmerising performance isn't enough to make sense out of Morris's inscrutable script.
Fidel (Ofoegbu, pictured below) is decluttering, shredding documents he doesn't need anymore. He stumbles across a page of biology notes, and starts testing himself on parts of the body: hypothalamus, oesophagus, carotid canal. He scrawls the words in chalk on the blackboard floor, which is covered with words from the script, lines upon lines echoing Fidel's teeming brain. The chalk stains his hands white.

Despite his intellect, Fidel's life has been "one huge vain attempt at trying to achieve". He feels like he let down his mother, who has passed away, because he didn't do anything with his brains. He reads out rejection letters from jobs that he applied for decades ago: "overqualified". Then he finds a teenage diary tucked into an old science textbook, and starts to wander down memory lane – until his emotions get the better of him. Ofoegbu holds the offending diary like a wasp trapped in a cup, slamming it safely back into the textbook. But the memories keep spilling out of it and into Fidel.
Ofoegbu is magnetic, bringing compassion and charisma to Fidel. He moves through Shane Shambhu's sinuous choreography beautifully, showing off his dance training; the elegance of his hands as he mimes writing the scientific terms in mid-air is a highlight. Sean Cavanagh's set and Jack Weir's lighting – rows of lamps hang from the ceiling, sometimes in institutional white, sometimes soft amber for Fidel's gentler memories – work well to draw us into Fidel's world. But it's just not enough to make the play coherent.
Conundrum would have done better as a novel or a short film; it's too dependent on an unheard narrative voice to work as a play. Aside from a lovely remembered exchange between a younger Fidel and his mother, the scenes lack meaning and feel disconnected from each other. There's no real storyline to speak of – there doesn't have to be, of course, but there's nothing here to grab onto. Maybe that's a reflection of the alienation that Black people experience in a racist society.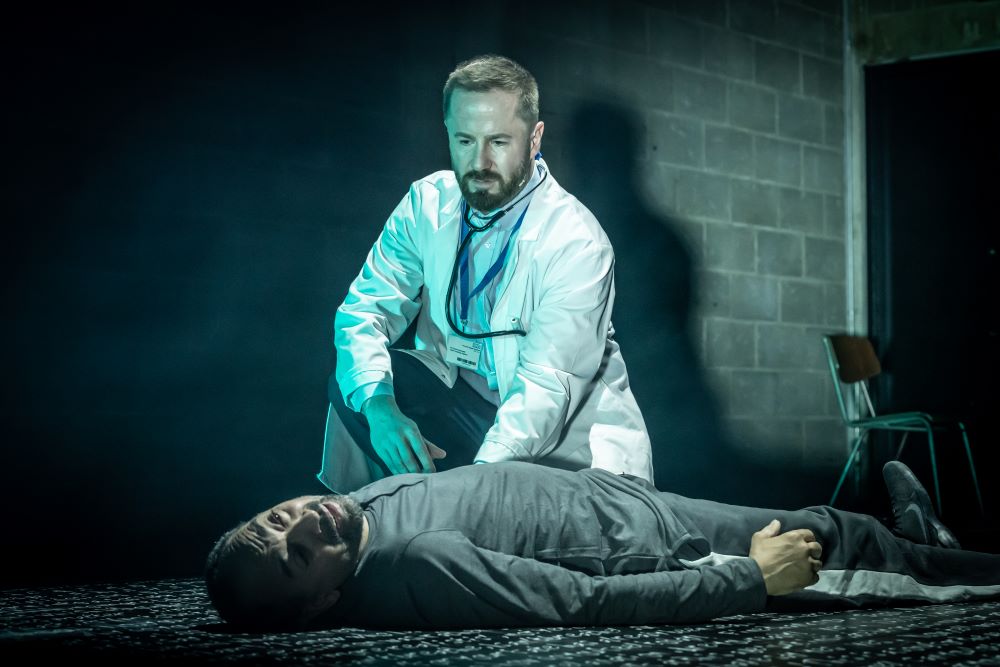 Ofoegbu's microphone is very sensitive, picking up every tiny noise he makes, which renders the scene where Fidel coughs up the pills he has just swallowed painfully visceral. The staging implies that Conundrum is a one-man show, but then Filip Krenus (pictured above, with Ofoegbu) turns up, playing a doctor. Krenus doesn't do much – he announces that he is here to give Fidel "a shot", does so, and then returns and gives him another one. He comes back again a while later to observe Fidel, who is distressed by this attention and grows manic. The (white) doctor keeps imploring Fidel to "calm down", as if what Fidel is suffering from is his own fault.
We assume that Fidel is an orphan, given how much the loss of his mother affected him. But his father appears at the end (though only through the phone); Fidel organises to meet him for lunch the next day. Was this living parent always within reach, ready to be called upon? Ofoegbu's performance hasn't given any hints that he was. The presence of a father can't make up for the absence of a mother, of course, but it still jars the foundation Morris has created for us. Conundrum, it seems, remains unsolvable.
Anthony Ofoegbu moves through Shane Shambhu's sinuous choreography beautifully
rating
Share this article