Consent, Harold Pinter Theatre review - exhilarating |

reviews, news & interviews
Consent, Harold Pinter Theatre review - exhilarating
Consent, Harold Pinter Theatre review - exhilarating
The stakes are high in the West End transfer of Nina Raine's play about marriage, rape and the law
Consenting adults: Adam James (Jake), Stephen Campbell Moore (Edward), Lee Ingleby (Tim), Clare Foster (Zara), Claudie Blakley (Kitty)
Question: is Consent, transferred from the National to the West End, a sharp-tongued comedy or an acute reinvention of a revenge drama?
There are more than enough smartly placed laughs throughout the tart, increasingly taut first act, to make you think you're watching an amusingly balanced, if increasingly vicious, exposé of the divide between the private and professional lives of lawyers. But at the top of the second act, playwright Nina Raine triggers a perfectly timed dramatic explosion blowing the niceties of legal language out of the water. As everything turns frighteningly personal, the stakes – and audience involvement – rocket.
Language isn't just the means whereby Raine examines the urgent matter of consent, it's also her subject. In a play that so responsibly handles at least one (off-stage) rape, that's remarkable. But if you think that suggests an aridly intellectual evening, think again.
From her brightly talkative opening scene onwards, Raine's enviable skill at hooking her audience via subtext – literally, what lies beneath language – is deliciously to the fore. Having barricaded themselves in after the birth of their first child, Kitty (Claudie Blakley) and Edward (Stephen Campbell Moore) have invited their friends Jake (Adam James) and Rachel (Sian Clifford, pictured below, best known as Fleabag's sister) round to wet the baby's head. Everyone's happy as they tease one another, drinking champagne and swapping stories of new, exhausted parenthood but Kitty senses tension in her friends' marriage. What they're saying and what Rachel is actually feeling seem slightly at odds, a marker for the rest of the play.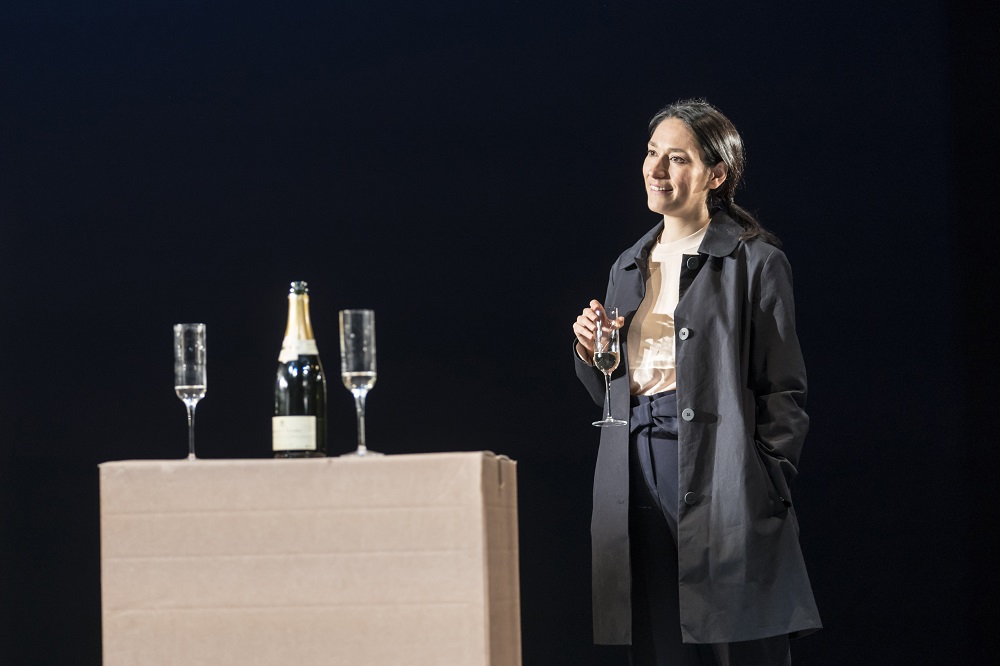 As infidelity rears its head, the engrossing gap between is said and what is "true" grows ever more important and not just in the bracingly brutal examination of flawed marriages. Edward and his single friend Tim (Lee Ingleby), both barristers, find themselves unusually on opposing sides of a rape case. Whether supporting or mercilessly cross-examining Heather Craney's frightened, angry victim Gayle, their use of language traps her as much as it attempts to explain her pain.
Yet for the lawyers, the necessity of professional distance means they keep all this at arm's length. At least, that is, until personal rivalry surfaces between them. Kitty's single friend Zara (ever-hopeful Clare Foster), an actress up for a TV series as a barrister, is looking for hints and tips. In one of two virtuoso scenes of double meanings and wonderfully savage game-playing – the other is a terrifyingly exposing game of Truth or Dare – the two men dare to uncover each other's hidden motives beneath the shimmering veneer of shared devil-may-care wit.
The balancing of those two scenes is symptomatic of Raine's structural command. In lesser hands, the dovetailing of both scenes and characters would feel strained and schematic. But the detail of Raine's writing, the vivid clarity with which she reveals her characters' needs (and their lack of self-knowledge), keeps the audience glued to every word and, crucially, every held, fraught silence.
That degree of control over what is said and what is unsaid is one reason why Roger Michell is the ideal director for the play. His meticulous precision nails tiny moments – Tim going for a two-cheeks-kiss after a blind date with Zara who is already moving away after the first kiss – while at the same time he never allows the flow of a scene to be interrupted. And he understands perfectly the irony of a play about articulacy that is at its most thrillingly emotional when, in two separate scenes, rage renders first Jake and then Edward violently incoherent.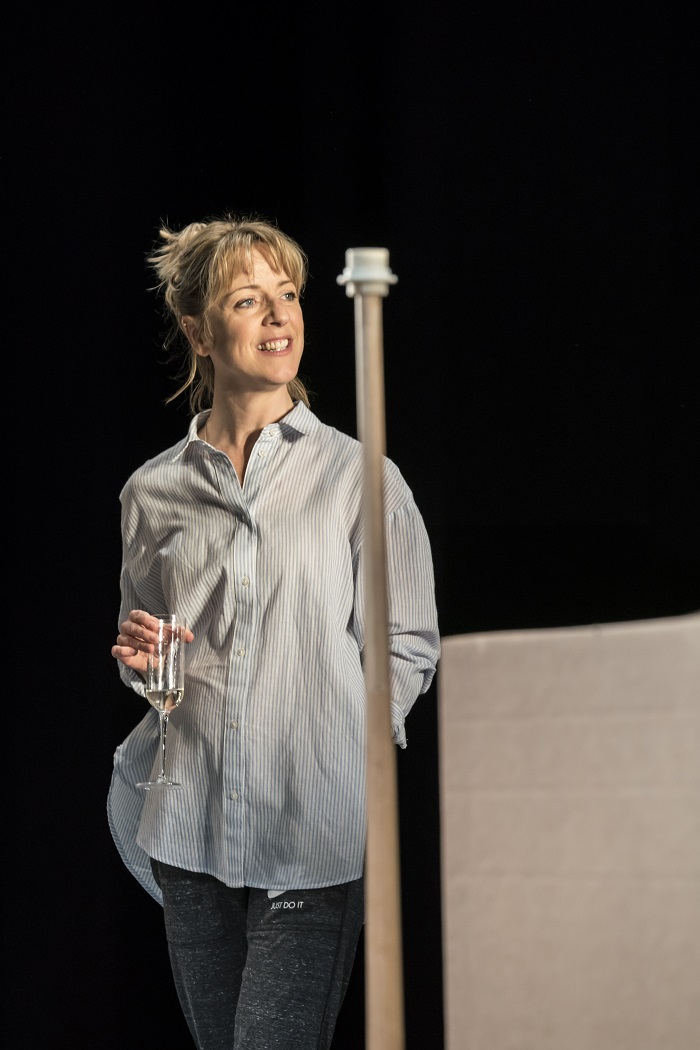 Both James and Craney reprise their roles from the play's National Theatre premiere last year with added stillness and depth. The remainder of the seven-strong cast are both new and ideal. Stephen Campbell Moore (pictured above right), who has hitherto had a career in nice guys, both toughens and cracks to frightening effect and Blakley (pictured left), who has few if any rivals when it comes to calm expressivity, holds the audience rapt.
The apparently simple elegance of Hildegard Bechtler's careful design gives the play the fluidity it demands, aided by both the pale intensity of Rick Fisher's lighting and Kate Whitley's crisp piano and violin music.
The badly written version of the play's scenario would see a playwright laying down, as it were, the law about consent, about the evasions of language and, crucially, the importance and limitations of empathy. But Raine never stoops to hectoring or easy answers. She asks questions via her characters who remain consistently surprising yet painfully plausible. Playwrights have long loved to examine the gap between the personal and, in the widest sense, the political. Few have managed to dramatise the judicious and the judgmental with such exhilarating elan.
Consent at the Harold Pinter Theatre until 11 August
The detail of Raine's writing keeps the audience glued
rating
Share this article