A Christmas Carol, Old Vic Theatre review - the festive favourite mixes gloom with merriment |

reviews, news & interviews
A Christmas Carol, Old Vic Theatre review - the festive favourite mixes gloom with merriment
A Christmas Carol, Old Vic Theatre review - the festive favourite mixes gloom with merriment
A vigorous Paterson Joseph meets the Christmas spirits
Thursday, 05 December 2019
Paterson Joseph as Scrooge in his counting house before the ghostly adventures begin
The story of Scrooge encompasses both as the old curmudgeon learns to mend his miserly ways and open his heart to others in a tale of redemption.
Matthew Warchus's enveloping production has already had two successful outings here (with Rhys Ifans in the "Bah Humbug" role in 2017 and Stephen Tompkinson last year) and another iteration of it has just opened on Broadway.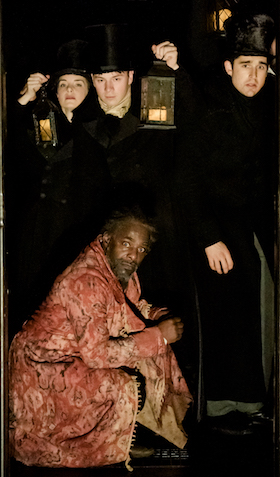 This version, by Jack Thorne (a writer whose work is familiar to all-age audiences for Harry Potter and the Cursed Child and the current BBC adaptation of His Dark Materials), takes a number of liberties, most important among them that Scrooge resists the influence of the visiting ghosts for much longer than Dickens requires. In the novella he is nervously open to what the Ghost of Christmas Present has to teach him while here he is still stubbornly hanging on to an idea of himself as "a great man" by the end of that visit. Scrooge surely did not have such delusions: he simply made money his god to the exclusion of all human feeling. Thorne also introduces the character of Scrooge's mean-minded and cruel father, merely mentioned by Dickens, to provide a psychological explanation for his son's lack of empathy. And did the fun-loving Fezziwigs have to be transformed into undertakers?
Of course, a playwright has to make changes to suit the different medium. One of these, the shocking apparent death of Tiny Tim, is justified in that the Ghost of Christmas Present warns Scrooge that this is a likely outcome if the family's situation remains unchanged. The abstract characters of Want and Ignorance are understandably absent. And it is, of course, essential that Scrooge's blindness to suffering is clear, but the tone of the first half - especially after the jolly introduction, full of music and warm mince pies dispensed by motherly figures in poke bonnets - is rather off-puttingly gloomy and hectoring.
Paterson Joseph (pictured above, with some of the cast), a fine actor with a track record of leading roles for the RSC and the National Theatre, at first seems miscast. He is not a desiccated creature surviving on a diet of gruel and grimness, but vigorous and angry until his transformation. Neither does he appear to be frightened by the visitations until the last when he is finally changed by another cathartic return to childhood memories. But then Joseph wholeheartedly embraces the essence of the redeemed Scrooge and joins the rest of the cast in the impressive ensemble bustle, full of energy and fun.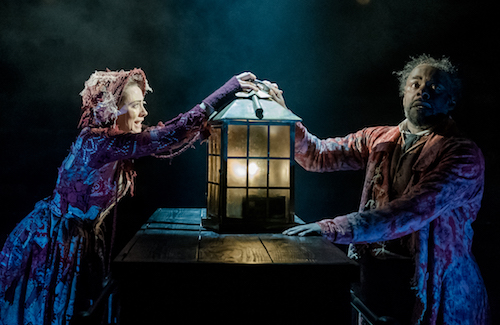 After the short visit of the Ghost of Christmas Yet to Come, the mood reverts to the jolly celebration of the first few minutes. The now famous "snow storm" over the audience is only one of the witty elements in the final joyous sequence during which a Christmas feast comes together in surprising ways. And Tiny Tim (on my visit Rayhaan Kufuor-Gray, diminutive but with a memorable presence) takes centre stage. Cue mopping of eyes all round. Sentimental, yes, but a redemptive relief and everyone goes home in a warm, Christmassy glow.
Rob Howell's design, featuring a mass of twinkling lanterns dangling from the ceiling, takes its style from Dickens' contrasting of light and dark, of the good and happy against poverty, suffering and unkindness. The three ghosts are disappointingly similar in appearance, however. Women in bonnets and patchwork gowns (the last transformed into Scrooge's sister Fan, Melissa Allan pictured above with Scrooge) give few visual clues about the differing flavour of their messages. Played in the round, with a raised walkway along which Marley drags his prodigious burden of chains and moneyboxes through the stalls, the production overflows with music. A versatile cast expertly delivers favourite carols (arranged by Christopher Nightingale), some sung in mellifluous harmony, others played on hand bells.
Cavils aside, this unusual version of a Christmas favourite justifies its return.