The Choir Of Man, Arts Theatre review - old school hits in an old school pub |

reviews, news & interviews
The Choir Of Man, Arts Theatre review - old school hits in an old school pub
The Choir Of Man, Arts Theatre review - old school hits in an old school pub
Lots of songs and lots of sugary sentimentality
Wednesday, 10 November 2021
Drink up: the cast of 'The Choir of Man'
Like a previous occupant of this venue, Six, The Choir Of Man started life as a quirky Edinburgh show and has gone on to be staged around the world to adoring audiences, tapping into a vibe that's as much about participation as viewing, the show as much a gig as a musical.
Be warned however - they may not hand out free mead at the start of
Six
, but they do hand out free beers at the start of this show, so a note of caution: amidst fierce competition, the Arts Theatre has the least hospitable lavatories in the
West End
!
Director and co-creator, Nic Doodson, takes us into a pub, its entirely male but welcoming culture described by the twinkling-eyed Ben Norris (pictured below), who also wrote the monologues between the songs. It's not a Wetherspoons, still less an All Bar One, but an old-school, spit-and-sawdust place full of thirty-something regulars and discarded bags of pork scratchings. We are introduced to the friends who gather to josh and, er…, banter, all of whom have their sensitivities, but none of whom appear to have family responsibilities (maybe one does, to be fair, but that's not where the show is going). They all share an almost heroic disdain for the prospect of type 2 diabetes.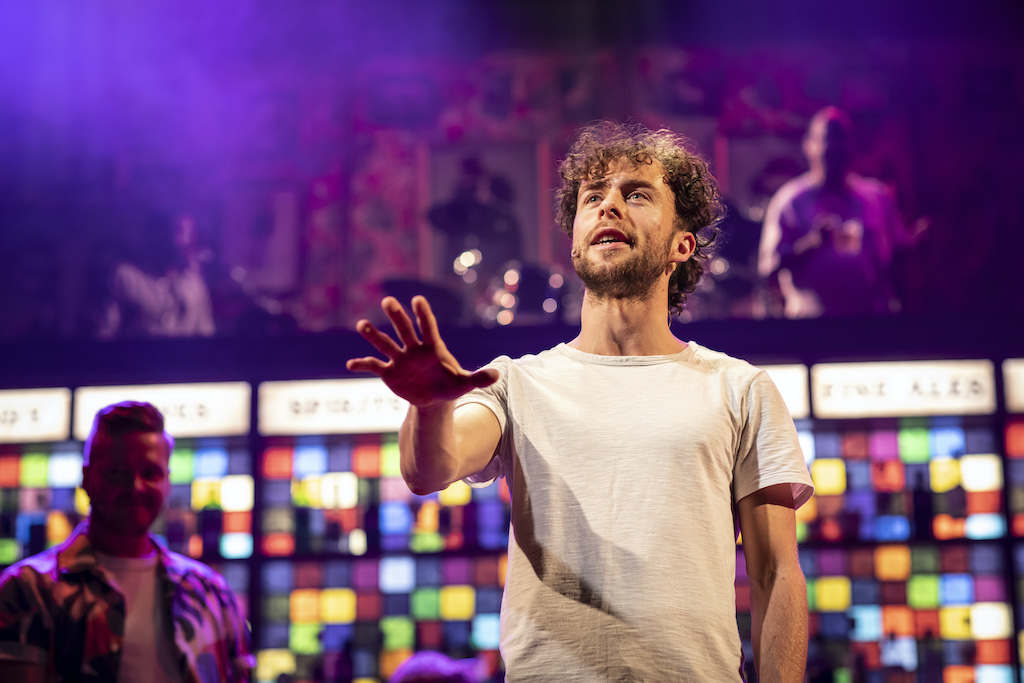 This is the men's safe space, the place they go to unburden their anxieties to friends without being judged, to sing songs alone and collectively, to compare Dalston hipster-style facial hair. They don't often swear though, they seldom talk of women and they are sentimentally incontinent. But there's always a mate to wipe away a tear with a joke and a thump on the back. It's a the kind of idealised men's world that mothers would like their sons to inhabit - but, speaking as one myself, a world fathers know doesn't really exist.
But theatre, even with this sort of agenda, does not have to be grounded in the messy compromises of day-to-day life to entertain while shining a light on how we live today. For all the artifice in the set up (it would work so much better in the round), the men we meet, largely caricatures rather than characters, have enough in their insecurities, anxieties and compensating bravado for us to recognise them as people. They're listed in the programme as The Hard Man, The Joker, The Maestro, The Romantic etc etc etc - you get the picture - their types enough to differentiate them. This is no exploration of the complexities of an individual's soul, no Hamlet.
And then there are the songs. Joined by a band in which Zami Jalil excels on the fiddle, we're treated to a Radio 2 playlist of familiar, easy-on-the-ear hits, some sung individually, some in close harmony, some a cappella. The voices vary in quality, but the harmonies are a delight - a male voice choir indeed. It's the familiarity of the tunes that lends much of the show's crowdpleasing appeal - Guns and Roses' "Welcome To The Jungle", Sia's "Chandelier" and (showing the Australian influence brought by co-creator Andrew Kay), John Farnham's "You're the Voice". There was even room for one number I like, "The Impossible Dream" from Broadway's Man of La Mancha.
There are some missed opportunities with the jukebox musical formula since there does not appear to be any intention to link the songs to the themes the men introduce. So "Under The Bridge" is played for laughs in a comic interlude, when its tale of alienation and redemption in the big city would sit better when we hear of the men's home towns. In a similar vein, an excellent version of "Waterloo Sunset" could link to the romances that may have passed these men by - but it stands alone.
But that, perhaps, is a different show. This one is more suited to a singalong post-happy hour crowd, with just enough poignancy (well, sentimentality) to pull the heartstrings as well as tap the toes. As is the case with pantomime, you do have to buy into the format, the ethos dare I say - and some (and I suspect critics will be amongst them) definitely will not. Those that do will have a great time and will be on their feet at the end, applauding and enjoying the metaphorical warm embrace of the men on stage (and sometimes their literal warm embrace in the aisles), before returning home to real-life men - warts' an' all. It would be easy to stand back and cast a cynical eye, but, in 2021, we all need, indeed deserve, a little escapism don't we?