Bleak Expectations, Criterion Theatre review - popular radio comedy takes to the stage |

reviews, news & interviews
Bleak Expectations, Criterion Theatre review - popular radio comedy takes to the stage
Bleak Expectations, Criterion Theatre review - popular radio comedy takes to the stage
Entertaining mash-up of Dickensian tropes
Cold comfort: Dom Hodson, Rachel Summers, JJ Henry and Serena Manteghi
We all need a break from time to time, especially now given the grim state of the world. So it's not surprising that comedy is making something of a comeback in the West End: Operation Mincemeat; The Unfriend seen recently at this theatre; The Play that Goes Wrong and all its offshoots; and now Bleak Expectations, an affectionate send-up of the various tropes of Charles Dickens.
Initially, a popular Radio 4 comedy, this dramatised version premiered at the Watermill Theatre in Newbury in 2022. For fans of the radio show wondering whether to go, there's the additional attraction of a different celebrity every week in the role of the narrator, the middle-aged, moustachioed Sir Philip, who looks back on the trials and dangers of his childhood. This week the part is taken by Sue Perkins, to be followed, among others, by Julian Clary, Jo Brand, and Stephen Fry. Apart from their pulling power, the guests must also keep the actors on their toes as they respond to a variety of different performers, who, given their reputations, can be relied upon to take liberties with the script. Dom Hodson as the younger Pip is reduced to giggles when Perkins lavishly praises his performance, before adding that he should ignore the fact that he is despised by everyone backstage.
Playwright Mark Evans doesn't only draw on Bleak House and Great Expectations. There are also nods to Dickens's other novels, such as A Tale of Two Cities, Oliver Twist and David Copperfield. The radio series revels in elaborate names and far-fetched similes, while theatre has the advantage of being able to add visual gags, as well as establishing a rapport with the audience. Evans exploits this theatricality to the full. Katie Lias's tumbling set is covered in piles of books, while providing numerous doors, and even a grandfather clock through which many unexpected exits and entrances are made.
Pip Bin's comfortable life is shattered when his father, who had gone to the Indies to exploit the natives, is killed by a colony of feral penguins. His mother is delirious, while his father's partner, Gently Benevolent, proves to be nothing of the sort. He is rather determined to marry Pip's sister regardless of her wishes, and to deprive Pip of his inheritance. Boarding school follows. At St Bastard's, the food is so disgusting that the young Pip asks for less, not more. Reliably evil in all his roles as members of the extended Hardthrasher family, Marc Pickering as the headmaster nurses the cane he calls Michael and dangles a noose called Nigel.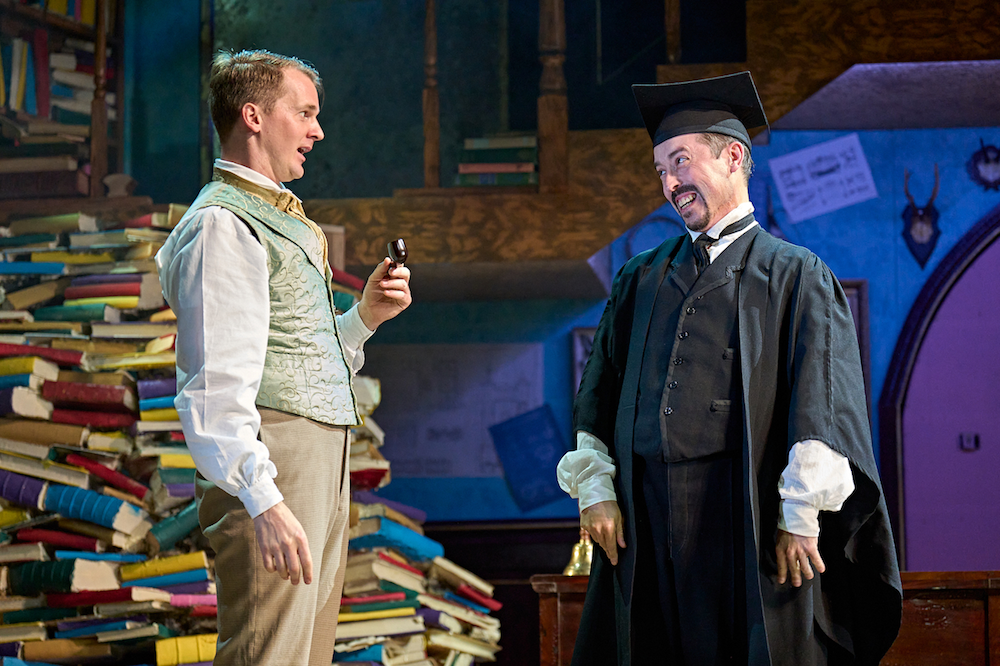 Comedy is hard to do and traditionally doesn't win many awards. The pace of Caroline Leslie's production is hectic and the shouting sometimes excessive. The story just about holds one's attention as the actors leap from one role to the next as they recount Pip's many adventures. Pip, who is slightly more intelligent than his swan-obsessed friend, Harry Biscuit, manages to trounce Gently Benevolent once, only for him to pop again in a new guise, leaving our hero's mood "lower than a legless chihuahua". Benevolent is so wicked that he writes to Pip in red ink, having dipped his pen into the blood of a sweet little kitten. Pip's sister, Pippa (Serena Manteghi), champions the female cause throughout, railing against Victorian values, mocking the men who try to be manly, and looking forward to the day when women will be pilots "whatever they are". Not that Dickens's habit of killing off his female characters in their prime goes unnoticed, including the demise of Flora Dies-Early.
The second half gets bogged down in Pip's invention of the rubbish bin, which lands him in court in front of Pickering, who plays judge and jury and comes down hard on the young inventor. But there's never any doubt that we are heading to a happy ending in which good will triumphs and the bad are punished. The humour is cosy, never dangerous. There's the comforting sense that even if you miss one throwaway joke, there's always another one just behind. It might not do much for the bar takings, but the show would be immeasurably better if it were to lose half an hour and run straight through without an interval. The reward would be more belly laughs instead of titters.