Bakersfield Mist, Duchess Theatre |

reviews, news & interviews
Bakersfield Mist, Duchess Theatre
Bakersfield Mist, Duchess Theatre
Kathleen Turner and Ian McDiarmid are too big for this weak Fake or Fortune drama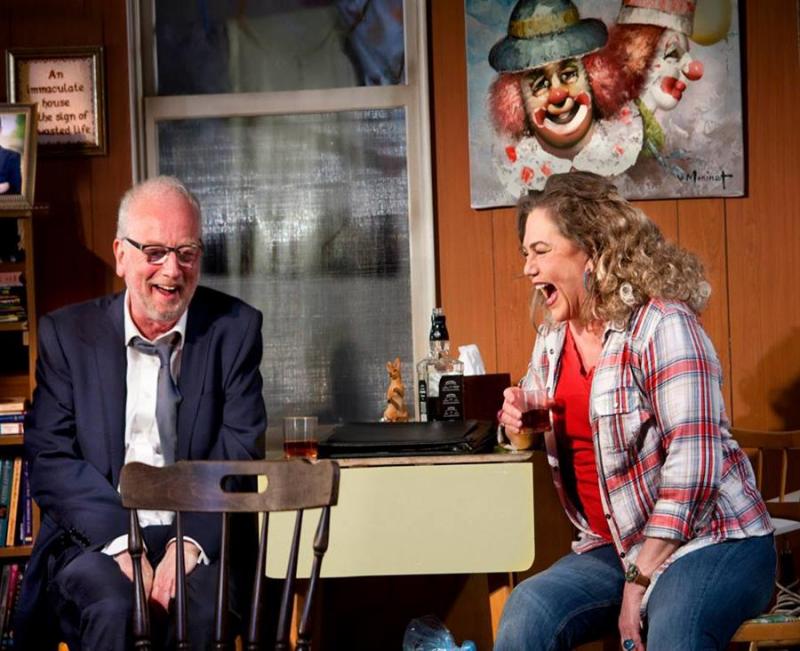 Having a laugh? Art expert Ian McDiarmid meets junk-shop buyer Kathleen Turner
When a big star meets a small play, they go one of two ways - they step up to it like a believer, or they clue in the audience that this is all a bit low, throwing everything they have in the toolkit at it, playing the actor who does what one can with what's available these days. Bakersfield Mist is the arena for a battle between the honest integrity of Kathleen Turner, the Hollywood film star, and what at the moment is the mighty over-acting of Ian McDiarmid, the renowned British st
age and TV actor.
To older generations Turner will always be the scorching, duplicitous redhead in Body Heat and Prizzi's Honor, but she shows herself now without pretence at nearly 60 happily slutting about the stage in shapeless jeans and lumberjack shirt, playing whiskey-swilling California trailer trash Maude. And she is just fine, with that Lamborghini-growl of a voice allied to still spectacular hair and an indomitable, likeable stage presence - she does (sigh) almost make you believe she'd have collected all those fridge magnets. Alas, the usually subtle McDiarmid has been panicked by some shaky direction into providing a caricature of himself as a Denis Thatcher-esque Lord Snooty.
Everyone hopes their car-boot buy may turn out to be something worth millions
Stephen Sachs is a highly regarded Los Angeles stage director, but his playwriting strikes me here as dodgy. Bakersfield Mist rides on the current wave of Antiques Roadshow thrills, where everyone hopes their car-boot buy may turn out to be something worth millions. Maude bought the ugliest painting she could see in the local thrift shop for three dollars, to give as a birthday gift to a neighbour she was pissed off with, yet once a local art teacher put it into her head that it might be a Jackson Pollock she has since seen some beauty in the daub.
Hot-foot to her trailer has come (by private jet and limousine) hoity-toity Brit art expert Lionel Percy - ex-director of the Metropolitan Museum of Art, no less - to assess the said picture and tick the box on his piece of paper that says, yes or no. And that is really that, as far as this short play is concerned.
But given that 80 minutes are not enough to deal with the complexities that would ensue if, blimey, yessiree, it's a Pollock!, the play has to be about something else. And so it re-churns the old perplexities about evaluating art, whether instinct can trump forensic analysis; whether the "blink" test is always right about a work of art, or a person; whether the "truth" about a picture's provenance makes it any better a picture; whether a good picture (or a good person) is the less for being unrecognized; whether a Pollock looks just the same upside-down.
It's conceivable that this over-familiar ground could be trodden with some new wit or sense of place (the programme notes draw attention to Bakersfield's trailer park communities), but no, Sachs's writing is ponderous, introducing Turner's Maude in a roar of hoarse "shits" and "fucks", and larding Lionel Percy with some flatulent rhetoric about Pollock, the art establishment's mercenary priorities, his sense of grievance about an attribution that may have been "wrong". Maude's past family tragedies are her offerings to this artificial situation, just as Lionel's career tragedies are his, and are no more emotionally authentic.
Tom Piper's design piles on junkshop kitsch (a chime of beer bottles on the clothesline is jolly pleasing), and Polly Teale's direction, less credibly, piles on the pratfalls in this manufactured clashing of social worlds. It doesn't feel like a genuine character study - the only interchange between Maude and Lionel that matters for the purposes of the play is which one of them is wrong about who painted the picture. It matters not at all in their relations with each other whether they have a "good" or "bad" eye (one of the great amusements and aperçus of Yasmina Reza's Art was that friends need to share similar tastes).
One gathers that by the end Lionel Percy has rethought some of his snobbery towards the no-bullshit resilience of his hostess, whose surname, Gutman, gives something away, but real life in such situations has been vastly more intriguing. One thinks of BBC's Fake or Fortune, when a poverty-stricken woman who discovered her rubbish-tip find was an American treasure was then overtrumped by the people who dumped the picture. Now that was drama. In my "blink" test, Bakersfield Mist is a fake.
With that Lamborghini growl and still spectacular hair, Turner does (sigh) almost make you believe she'd have collected all those fridge magnets
rating
Explore topics
Share this article