The Audience, Gielgud Theatre |

reviews, news & interviews
The Audience, Gielgud Theatre
The Audience, Gielgud Theatre
Helen Mirren returns, triumphantly, as Her Majesty to spar with Prime Ministers from Churchill to Cameron
HM as HM: Helen Mirren majestically reprises and enlarges on her Oscar-winning performance as Queen Elizabeth
Catching rabies from a corgi, living on a council estate, becoming an uncommon book addict, painting the town red, incognito on VE Day, parachuting into East London on a date with James Bond... what a strange fantasy life our Queen has led.*
Now Peter Morgan and Helen Mirren, the writer-actress team whose film The Queen remains a very high-ranking entry in this fictional league, enlarge the canon with The Audience, loosely inspired by the weekly confidential meetings between the Queen and Prime Minister, of whom there have been 12 (so far) over her six-decade reign.
The reason to see it is unarguably Mirren, surely first in line for an Olivier Award to match her Oscar for the 2006 film. Eerily convincing in the role once again, she gets the chance here to develop a much more rounded character, from a slip of a girl to well-upholstered matriarch and all points in between (and not, incidentally, in chronological order).
One moment she's offering a tearful John Major a motherly hanky, the next, aged 26, she's being royally patronised by Winston Churchill before putting him quietly in his place. A vision of youthful beauty and glamour, she emerges from a portrait session with Cecil Beaton to unpick the hollow lies of Anthony Eden's response to the Suez Crisis, then endures a handbagging from Margaret Thatcher in one of the play's best scenes (pictured above right).
Mirren's physical transformations are dazzling. The costume and wig changes, some of them onstage, are effortless too, with the speed and legerdemain of a magic trick. But, more than this, her performance captures the complex inner life: a mix of mischievous intelligence, iron determination, simple decency and deep long-term loneliness in the gilded palace (one of Morgan's inspired touches, the recurring dialogues between the Queen and her girlhood self add yet extra layers).
The play itself is never less than richly entertaining. It's a dense meditation on the burden of power, the crisis of the monarchy (the Diana saga, the central focus of The Queen, is briefly revisited from a different angle) and Britain's diminishing role in the world, all spiked with piercing humour.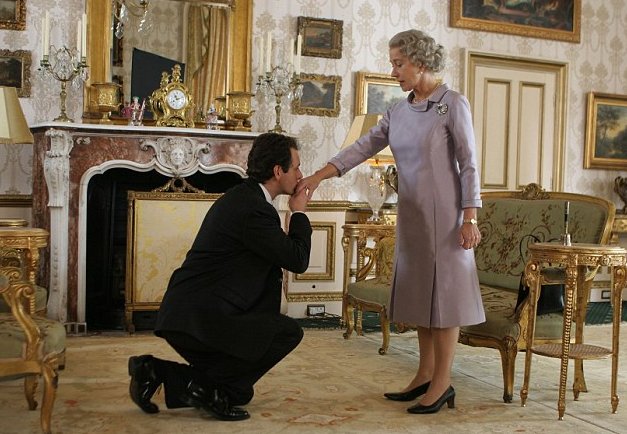 Eight of those 12 Prime Ministers appear in the play, though not Tony Blair (pictured left, Michael Sheen as Blair with Mirren in The Queen). Here they collectively emerge as supremely neurotic individuals, on uppers or downers or both at once, and mostly mad as hatters. The cast, which includes Haydn Gwynne as Maggie, Paul Ritter as Major, Richard McCabe as Harold Wilson and Edward Fox, stepping in at the eleventh hour to replace Robert Hardy as Churchill, mostly seem to be having fun with their lightly drawn characters.
Still the fact remains that the play is a suite of repetitions and variations on a couple of themes, rather than an evolving, deepening narrative. And, meaty as those themes might be, it does start to run out of steam towards the end, with its message of plus ça change in an endless whirl of revolving doors, where only the PMs' ties change colour.
As the final curtain approaches, the Queen's meeting with David Cameron, peppered with topical jokes (including one this week about the gender of Kate Middleton's baby), moves things perilously close to the realm of a slick news revue skit. But Stephen Daldry's direction is smart and fast, and pulls out a few rabbits - or rather, scene-stealing corgis, guaranteed to earn another laugh and round of applause - before smoothly ushering The Audience to an elegiac conclusion.

* For the record, the dream-Queens mentioned above inhabit Peter Bradshaw's Night of Victory, Sue Townsend's The Queen and I, Adam Mars-Jones's Hoosh-Mi from the Lantern Lecture short story collection, Alan Bennett's The Uncommon Reader and, of course, Danny Boyle's Olympics opening ceremony, which co-starred HRH as a Bond girl alongside Daniel Craig.
Mirren's physical transformations are dazzling, and the costume and wig changes, some of them onstage, have the effortless speed and legerdemain of a magic trick
rating
Share this article