Asking For It, Birmingham Repertory Theatre review - victim-blaming and abuse in small town Ireland |

reviews, news & interviews
Asking For It, Birmingham Repertory Theatre review - victim-blaming and abuse in small town Ireland
Asking For It, Birmingham Repertory Theatre review - victim-blaming and abuse in small town Ireland
Story of sexual consent leaves the audience squirming
Thursday, 06 February 2020
Harrowing: Lauren Coe in 'Asking For It'
In a world where the contentious report of a young English woman gang raped by teenage boys in Cyprus last year continues to make headlines, Asking For It is more than relevant. Such scenarios are by no means new but are once again making news.
The play itself is an adaptation by Meadhbh McHugh of Irish writer Louise O'Neill's young adult novel from 2015, and tackles issues of sexual consent in the social media era head-on, in a way that has no truck with the usual, tired stereotypes that usually frame such tales. That the UK debut of this breath-taking and award-winning piece of Irish theatre is being staged at Birmingham represents quite a coup for the Repertory Theatre there, even though many were probably not aware what they were letting themselves in for.
The lead role of Emma is again taken by Lauren Coe, who also starred in the director Annabelle Comyn's premiere at the Everyman Theatre in Cork. Emma is an arrogant and less than sympathetic young woman, at least initially, who lives in a small town in Ireland, and Coe leaves no doubt as to this young woman's character: she is queen bee of her group of friends and is more than capable of throwing her weight around to get what she wants.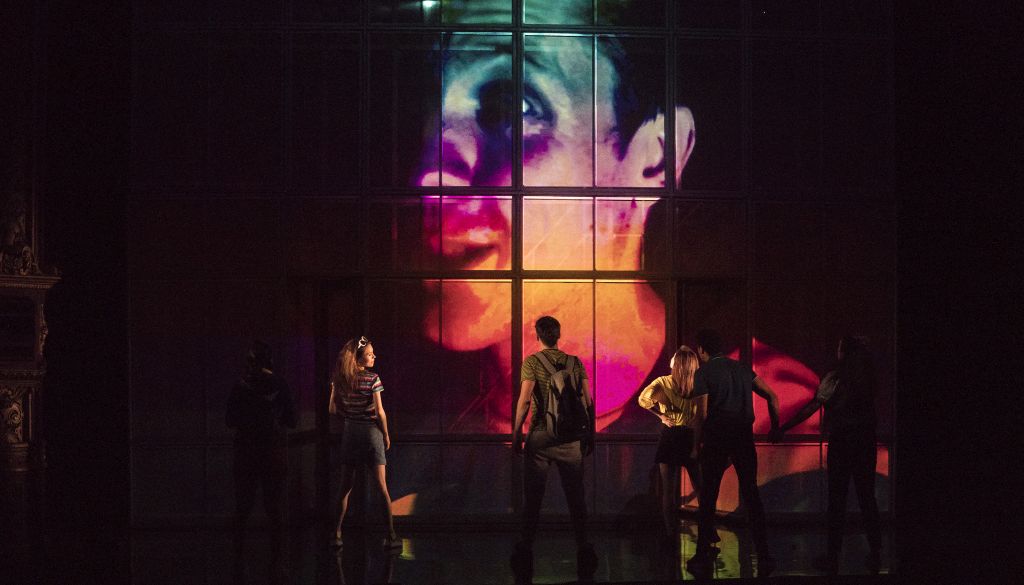 Emma's life is turned on its head, however, when she is gang raped by the captain of her school's football club and his mates at a party and images of her unconscious body are posted on social media. In a town where everyone knows everything about each other, the effect is about as shattering as it could possibly be to a person not yet out of her teens.
In the first half, Paul O'Mahony's minimalist set is given over largely to projections on the back wall. School friends do each other down and vie for attention. There is a party when someone's parents are away. Alcohol is drunk and drugs are taken and then Emma passes out and is passed around by the golden boys of the local area. After the interval, however, O'Mahony makes the walls close in physically, just as McHugh metaphorically does with the script, as we find Emma and her family still trying to come to terms with the attack a year later.
At this point, things get decidedly dark, as Asking For It deftly addresses the horror of Emma's ordeal, her reputation destroyed in a storm of victim-blaming and the white noise of others' voices and opinions. As she becomes ever more withdrawn, Emma's family similarly falls to pieces, leaving Emma almost a bit player in her own story. Her Mam, a force of nature in Dawn Bradfield's performance, hits the bottle and lashes out with ever-greater ferocity before succumbing to doubt in her support for her daughter. Her brother (Liam Heslin) becomes more and more tense with anger, slipping into macho protectiveness while not really listening to his little sister. Emma's Dad (Simon O'Gorman), plagued by indecision, closes down emotionally and largely absents himself from the situation before finally exploding in a howling fit of pain.
There are times when the family's collective pain is almost overwhelming, and there were many in the audience who seemed to be having a difficult time, as frequent sharp intakes of breath and occasional nervous shuffling in seats made clear. Needless to say, the people who really need to see this play will never do so, but those who can manage it are unlikely to encounter anything quite so powerful for a long while to come.