Around the World in 80 Days: why now? |

reviews, news & interviews
Around the World in 80 Days: why now?
Around the World in 80 Days: why now?
Phileas Fogg is off on his travels at St James Theatre. Its author explains what's new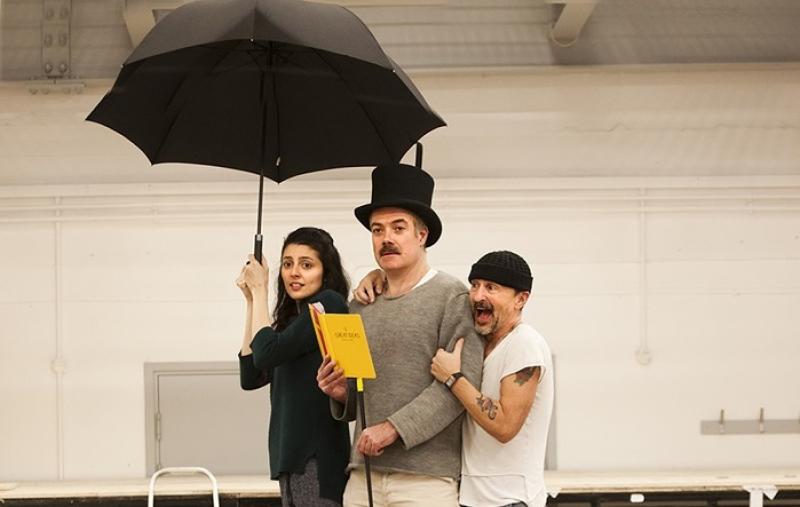 The cast of Around the World in 80 Days in rehearsal
I adapted Around the World in Eighty Days very specifically for my own theatre company, Lookingglass Theatre of Chicago, where I am one of 24 multi-skilled ensemble members who are writers, directors, actors, and/or designers. Although Lookingglass' work varies, we most often do adaptations of classic stories, frequently epic in scale, told in a highly theatrical, strongly visual and/or physical way. Some of the novels/stories/myths that Lookingglass members have adapted include Dickens's Hard Times, Ovid's Metamorphoses and Lewis Carroll's two Alice books under the title Lookingglass Alice.
During any given play's development at Lookingglass we always ask, "Why must this story be told?" to make sure it will be relevant to a modern audience. I started adapting the novel during the third year of the war in Iraq in 2006. Around the World is set in 1872 and Phileas Fogg, a well-to-do white man, takes his privileged position and wealth for granted and England's domination of the world in his stride. He offers little to no criticism of England's mission to conquer the world and remake it in its own image.
A protagonist representing a country that blindly believes in exporting its own way of life, even at the cost of destroying the people and culture of the conquered land, felt very relevant to me in the USA of 2008, when the show was first performed. Most places on earth have been touched by some aspect of the American culture, with many places forever impacted, having lost local traditions in food, customs and ways of life to the "American way". US goods are exported or replicated in restaurants and shops all over the world and American culture saturates any land where there is TV or a WiFi connection (St James Theatre production in rehearsal, pictured below).
For all its greatness, the USA's exportation of its way of life will continue to have some tragic implications in other cultures as, of course, did the British Empire. Although there are many differences between America's export of our culture and the conquests of the British Empire, there are also many similarities and this seemed fertile land in which the adaptation could dig around. Although my goal was to make a family-friendly piece that was a great night in the theatre, I wanted my story to also address these larger, enduring issues in a subtle but persuasive way.
People care about people. So, the best way to weave these bigger ideas into the adaptation from my point of view was to develop more fully or change characters from Verne's original conception and root the ideas in these characters. The most significant changes are manifest in Mrs Aouda, the well-educated Indian widow whom Fogg and Passepartout rescue from certain death during a ritual Suttee (an archaic tradition where widows were burned to death on the funeral pyre of their husbands). For me, Mrs Aouda is a victim of her time. Verne presents her as beautiful and kind but gives her almost no inner life. And although Verne states clearly that she "received a thoroughly English upbringing" and has terrific command of the English language, she has a total of 12 lines of dialogue. Verne doesn't explore her pain over leaving her homeland and her family, her point of view on Fogg or what she experiences when seeing and interacting with unfamiliar cultures and peoples on the journey. In short, he doesn't give Mrs Aouda a voice. And so I did. And through expanding and deepening her character, I was able to find a way into many of the social, political and philosophical questions I wanted to explore in the adaptation.
One of the smaller roles among the many I reinterpreted was Brigadier-General Sir Francis Cromarty. In the novel, Sir Francis, an English general, meets Mr Fogg on a ship, the Mongolia, and then joins him on the journey across India. I wanted Fogg to encounter people who were not British or white and who would push against his assumptions. So I reimagined Sir Francis as Mr Naidu, an Indian businessman. In the novel, Sir Francis and Mr Fogg have a conversation about Passepartout accidentally stepping into a temple in Bombay with his shoes on and almost getting arrested. This conversation with Mr Naidu about the violation of religious customs on Indian soil is contextually very different when spoken by a native Indian. We were also very lucky that Anish Jethmalani, the American actor of Indian descent who played Mr Naidu, spoke Hindi. This enabled us to incorporate a few conversations in Hindi into the play, which added authenticity to the play's depiction of India and its people. In Chicago, our cast of eight that was comprised of a majority of actors of colour which was incredibly important to me when telling this story to a modern audience.
I can't wait to see what the visionary director Lucy Bailey and her team have done with the 2015 London production.
For all its greatness, the USA's exportation of its way of life will continue to have some tragic implications in other cultures
Explore topics
Share this article
Subscribe to theartsdesk.com
Thank you for continuing to read our work on theartsdesk.com. For unlimited access to every article in its entirety, including our archive of more than 10,000 pieces, we're asking for £3.95 per month or £30 per year. We feel it's a very good deal, and hope you do too.
To take an annual subscription now simply click here.
And if you're looking for that extra gift for a friend or family member, why not treat them to a theartsdesk.com gift subscription?