Antony and Cleopatra, National Theatre review - Ralph Fiennes in marvellous throttle |

reviews, news & interviews
Antony and Cleopatra, National Theatre review - Ralph Fiennes in marvellous throttle
Antony and Cleopatra, National Theatre review - Ralph Fiennes in marvellous throttle
Supreme lucidity and two commanding performances make for a moving production
Thursday, 27 September 2018
Opening rapture: Ralph Fiennes, Sophie Okonedo
You always wonder about those final scenes of Shakespeare's tragedies. Are they really needed dramatically; do they work? We understand, of course, that a closing exhalation may add impact to high passions just witnessed.
But is it just a romantic idea that tragedy might be better ending with the real bang of (multiple) death, rather than the relative whimper of a new order being established?
In his new Antony and Cleopatra, Simon Godwin gives us a double whammy, playing the final scene – the closing tableau, at least, with its pronouncements over the dead heroine – as prelude to the action as well as epilogue. It's a very Roman gesture, you can't help feeling: in a dramatic universe that hinges on the contrast between the infinite variety of the East, of Egypt, and the much more pragmatic rationality of the West, of Italy, giving the winning side's perspective on the whole story before it has even started might seem rather biased.
It's clear that Godwin intended it that way, given that his only casting experiment here is to have Caesar's general, Agrippa, played as a woman (Katy Stephens, steely), who is far more high-flying civil servant than military (wo)man. And it's Stephens who is emphatically there at the summary scene (pictured left), rather than the practically anonymous male minion Dolabella. There's no room for musing on any exotic past grandeur from her, we feel; this Agrippa is more likely to be thinking that if those autopsy reports aren't filed pronto, heads are going to roll. A scalding return to reality, indeed.
It's a decision that certainly adjusts the play's wider dynamics: one way of emphasising the uniqueness of Cleopatra's appeal, most of all as a sexual woman, is to set her against an Agrippa-femme who, if she has a passion at all, it's for intrigue or number-crunching. Then throw in an Octavia (Hannah Morrish) who seems to walk into the final-scene drama with all the perplexity of a gal (twangs of Welsh?) fresh out of finishing school. The one real puzzle that Godwin's revision throws up is Agrippa's obvious closeness to Enobarbus, an element traditionally seen as blokeish camaraderie between two top adjutants. It certainly gives new ramifications to Agrippa's otherwise straightforward invitation, "Good Enobarbus, make yourself my guest/Whilst you abide here"; you would think that Stephens's character would have unsexed herself long ago, but it wouldn't be a stretch of the imagination for Tim McMullan's magnificently cynical Enobarbus to be keeping such a tupping liaison going for diversion.
Okay, file that one away under "unlikely couples", though the prospect of another man-woman relationship in the play would add perspective on its blazing central duo, played here by Ralph Fiennes and Sophie Okonedo. After elements of early languor, the second half of the production grows appreciably in power, something also absolutely true of Fiennes's performance; by its last stages it has attained an almost possessed inspiration that blends lucidity of speech rhythm with flights of poetry.
There's quite a lot of gadgetry, but it never risks stealing the show
Okonedo isn't quite up there with him yet, though the gap could yet be narrowed: there's not quite the same organic intensity in her closing scenes. It's such a hard balance, though, especially when Godwin gives the text's final counterpointing bathetic comedy full rein, and when caprice and coquetry is so central to her character. With a character of whom it is famously said, "Age cannot wither her", is it churlish to ask – just how old was Cleopatra? Close on 40, at the time of her death, the compressions of Shakespeare's time-scale notwithstanding: there a sense here that Okonedo's Cleopatra remains rather more in her "salad days" prime, her "greenery" still exaggerated.
The retort to that would be that she is a heroine who brooks all contradictions, not least because she represents an entire milieu, the East, as well as an individual. Godwin's modern-dress production certainly adds diverting touches (Pompey in a submarine), while Hildegard Bechtler's sets excel in each of the play's worlds. Cleopatra's Alexandria could be a louchely luxurious Marrakech riad – or you might think from Antony's opening garb that he's just sashayed in from a Goa beach – and Tim Lutkin's lighting catches its hazy air and mellow yellow light (that's surely a cicada soundtrack, too).
By contrast, there's a white elegance and contemporary cool to the conference rooms of Rome, adorned as they are with fashionable primitive sculpture and large abstractions on the walls. Huge screens projecting news images bring home that this is almost a fascistic surveillance state, complete with contemporary unrest on the Mediterranean, even hints of boat immigrants (that's an allusion never pressed, however).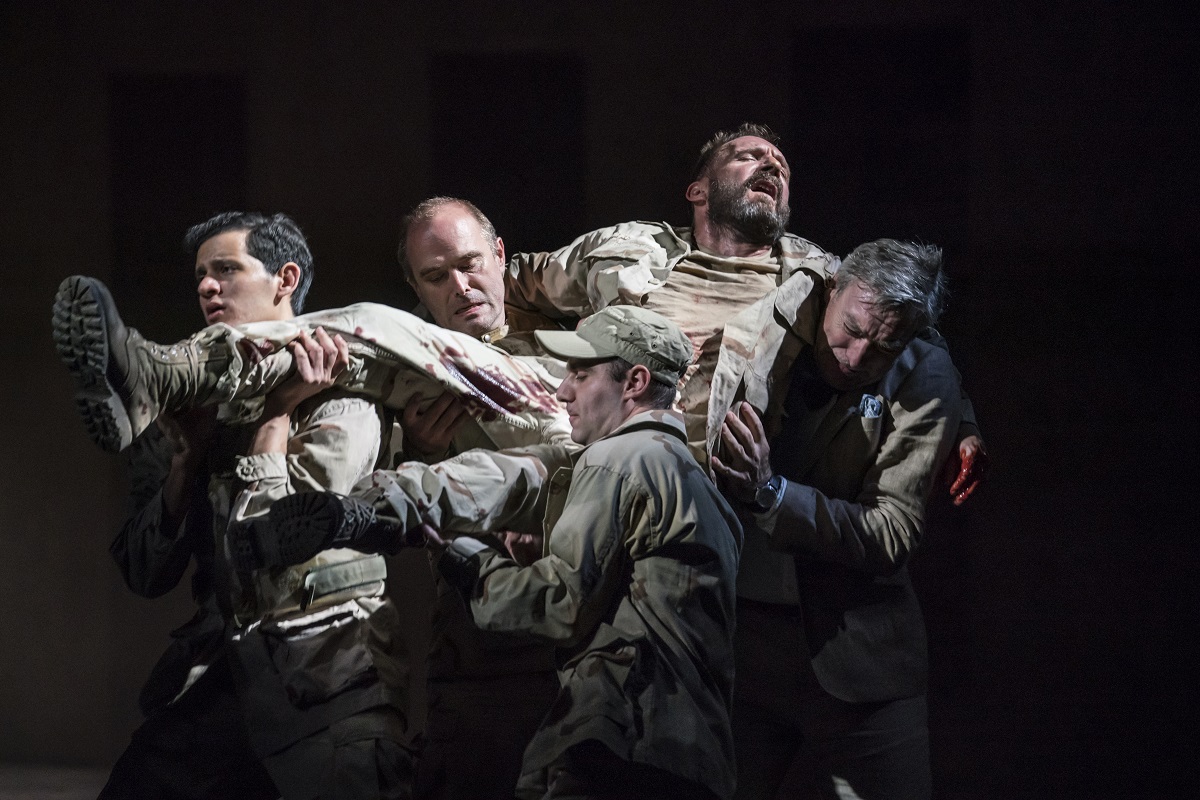 Godwin and all his collaborators certainly make the most of the Olivier stage, particularly the revolve; the prelude to the first battle scene is a real show-stealer, as its lowers Cleopatra's Egypt into the depths while raising the massive hulk of Pompey's submarine to dominate the stage, all set to a rich full musical interlude (a lovely score from Michael Bruce). There's some atmospheric video design (Luke Halls) that gives a sense of the sea, though the second-half marine conflicts are played out against the background of an aquamarine interior (which works), and final street conflict unfolds around gyrating masses of columned stone (less so).
That's quite a lot of gadgetry, but it never risks stealing the show. For there's supreme lucidity at the heart of this Antony and Cleopatra, its relish for textual richness counterpointed by some nice small-scale comedy (Fisayo Akinade's sopping Eros, not least). Come for a tour-de-force from Fiennes, but the delights here are spread right across the board, right down to the performing snake.
Fiennes's performance, by its last stages, has attained an almost possessed inspiration that blends absolute lucidity of speech rhythm with flights of poetry
rating
Explore topics
Share this article