An Education |

reviews, news & interviews
An Education
An Education
Good work but could try harder
London, 1961. Duffle coats are the ne plus ultra in hipster cool, everybody smokes like fury and black people are known as negroes in enlightened society (and even enlightened society wouldn't want them moving in next door). In the congenial, shiny-surfaced world of this coming-of-age comedy, the Beatles' first LP is still two years away, and so is sexual intercourse, but not for Jenny.
For Jenny, 1961 is an
annus mirabilis
, the year in which this skittish 16-year-old schoolgirl acquires a wealthy, worldly older admirer. And, being a deal more beautiful than Philip Larkin, she doesn't have to wait long to lose her virginity.
I said that the setting was London but in fact it is suburban Twickenham, which is not the same thing at all. Here Jenny lives in restless semi-detachment with her well-meaning middle-class parents who are pushing her to try for a scholarship to Oxford. Her own rather laudable secret ambition is always to wear black, live in Paris and spend the days and nights listening to Jacques Brel and Juliet Greco. When the choice arises between swotting up on Latin declensions and getting a glamorous sentimental education at the university of life, well, it's really no contest.
Her tutor is David, a super-smoothie in his mid-30s who offers her a ride in his Bristol. He is Jewish (and thus, it's made clear, an outsider in the snobbish Britain of the early Sixties) and is drawn to Jenny's precocious intellectual poise and her unimpeachable middle-classness, as well as to her naivety. Together they visit swanky nightclubs, go to the greyhound races, bid at auction for a Burne-Jones and swan around Paris, of course. David's money comes from vague wheeling and dealing in this and that, and his associates include a chap named Rachman. It's inevitable that the scales will fall from Jenny's eyes but the power-shift within the relationship does not entirely follow the predictable course.
The film's jewel is Carey Mulligan. The actress, who is actually 24, cleverly captures Jenny's sweet, inchoate sexuality and the way her veneer of sophistication occasionally fissures to reveal a giggly ingenue (she scrubs up a treat for the big nights out too). As David, Peter Sarsgaard is at once smarmy, comical, extremely likeable, vulnerable, a cad and a bounder: a richly realised character.
They should not detract from the array of tremendously good supporting performances. The bright young actor Matthew Beard (from When Did You Last See Your Father) has a couple of telling moments as Jenny's gauche schoolboy suitor, who will, you guess, be a rather interesting fellow a couple of years hence. Rosamund Pike is a hoot as a very beautiful, beyond-dumb dollybird. Emma Thompson, Olivia Williams, Alfred Molina and Cara Seymour all have telling scenes. The director is Denmark's Lone Scherfig, who previously made Italian for Beginners under Lars von Trier's Dogme banner and the Scottish-set black comedy Wilbur Wants to Kill Himself. She brings a fresh foreigner's eye to the familiar setting, as well as that distinctive Dogme flair for allowing each member of the ensemble cast a chance to make his or her mark.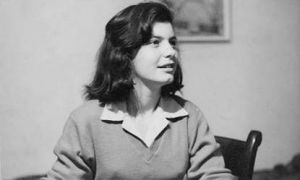 An Education is based on a memoir by the journalist Lynn Barber (pictured, right, at around the time when the film is set) which was written originally for the literary magazine Granta, and fleshed out by Nick Hornby into a feature-length screenplay. It has had rave reviews in America, where it opened earlier this month and is a sure crowd-pleaser. But the nice attention to detail, the busy plethora of great characters and good lines - good scenes, even - can't disguise the shaky dramatic architecture of the piece and, when I (perhaps unwisely) saw the film for a second time, this became more and more apparent.
The oppositions - dry academe versus a sexy, colourful London on the very verge of swinging - are too stark, the range of life choices and role models available to Jenny too limited. Like Audrey Hepburn's Holly Golightly in Breakfast at Tiffany's, Mulligan has a radiance that can momentarily blind you to the story's sad, seedy side, but you're left feeling that this has been tarted up for smooth consumption (the final five or 10 minutes in particular are disgracefully glib). For all its qualities, it's an A-minus movie.
Mulligan has a radiance that can momentarily blind you to the story's sad, seedy side
Explore topics
Share this article