Trial by Jury / The Zoo, King's Head Theatre |

reviews, news & interviews
Trial by Jury / The Zoo, King's Head Theatre
Trial by Jury / The Zoo, King's Head Theatre
Perfect Savoyards excel in trial by telly and sweet zoological love story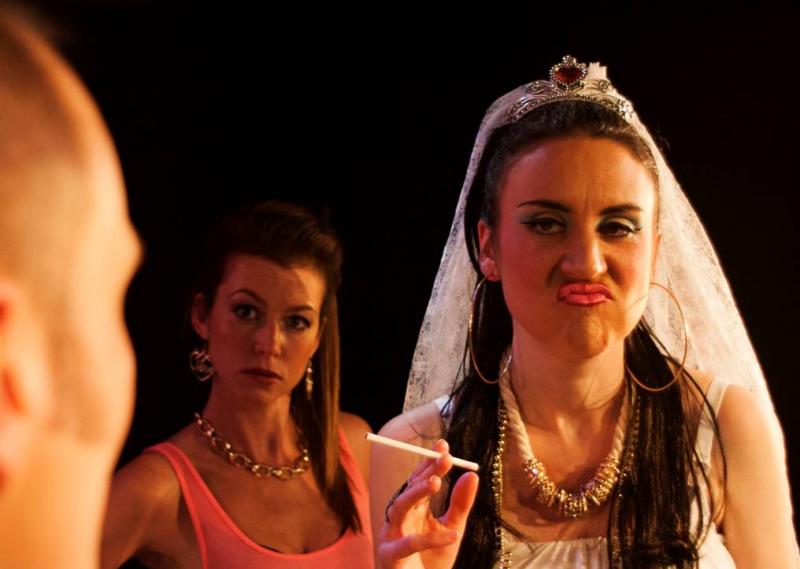 Catrine Kirkman as Essex Ange, Plaintiff, with friend (Nichola Jolley) facing David Menezes's Defendant
Judge Judy meets The Only Way Is Essex: this endlessly resourceful production of Gilbert and Sullivan's first (mini) masterpiece Trial by Jury is one that cries out to appear on TV. Which in a make-believe sense it does: we're the audience in the studio where Court on Camera is about to air.
A warm-up chappie who turns out to be the Usher (Wagnerian bass-baritone in training Martin Lamb) – on other Sundays it will be a lady – gauges our capacity to applaud and boo, and we're off on a case of breach of promise of marriage as you never saw it before.
The pleasure is doubled because in Charles Court Opera's double bill, the Essex former couple – am I allowed to put "chavs"? – who get in to a real old ding-dong with each other are dazzlingly transformed from a sweet if hapless pair with sellotaped specs in The Zoo, a trifle which is very evidently Sullivan and not Gilbert; the libretto's by Bolton Rowe, who doesn't have the master's capacity for felicitous rhymes or a tendency to stress wrongly only when it's funny. Still, the plot's foursome of star-crossed lovers are stock Gilbertian territory, both beautifully sung and acted by fresh young opera singers.
Our to-be-metamorphosed pair are the stunningly transformable Catrine Kirkman as Laetitia Grinder (centre in photo right) and perfect lyric tenor David Menezes as Aesculapius Carboy (pictured on the left), an apothecary less than eligible in the eyes of Laetitia's father (played by Matthew Kellett, a congenial Robin Oakapple in the company's unbeatable Ruddigore). The other couple are a bonny refreshment-stall hostess, Eliza Smith (Nichola Jolley, doubling as chav's best friend at the trial), who feeds the well-out-of-sight and (mostly) irrelevant animals as well as homo sapiens, and her suitor "Thomas Brown", in true proto-Gilbertian style a peer in disguise, whose patrician airs company doyen and director John Savournin is well capable of assuming. Despite a near fatal visit to the bear-pit, love conquers all and nothing much happens (though my four-year-old goddaughter, riveted and sometimes alarmed by it all, especially enjoyed the rolling to and fro of "Mr Brown" once he'd had too much to eat).
Musically there are a few distinctive Sullivan charms here, not least Eliza's arietta about her suitor, and a few clear cross-references to Trial by Jury, which was already running when The Zoo opened in 1875. The set could do with an inexpensive makeover – some visual suggestion of the beasts, perhaps, in Richard Jones fashion – but there's no faulting the performances.
If this is funny, Trial by Jury is hysterically so. Ask not how the wide-boy defendant and the heavily pregnant jilted bride come to sing such cultivated lyrics, nor how an American lady judge could have so penetrated the English class system and persuaded a presumably rather conservative rich attorney to let her wed his "elderly, ugly daughter"; this is already topsy-turvyville where the jury are peculiarly partial from the start.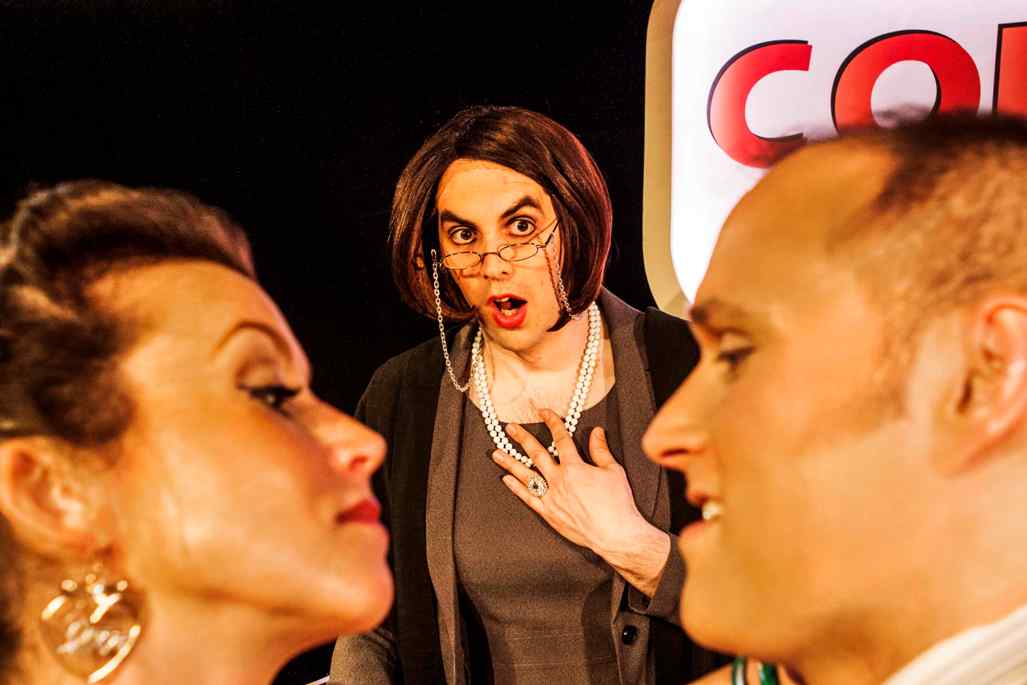 Except, this being a company of seven, plus their tireless pianist and music director David Eaton, there can be no choruses of jurymen and bridesmaids. Hence the highly inventive virtue made from necessity of locating a studio jury in the audience. The choral parts are cleverly carved up among the principals, giving for instance Kellett's shabby "I was young once, too" Clerk and Philip Lee's slick Counsel to the Plaintiff some delicious extra lines. I've already given the game away about the Judge, and a photo only compounds it, which is a shame because that character's entry came as a real surprise to me: Savournin's tall personage in elegant drag and with mirthful ad-libs (pictured above with Jolley and Menezes).
Superb as ever though Savournin is, the show is decisively stolen by Kirkman's gum-chewing, smoking, moueing, hoop-earringed Plaintiff. Daring of her to sing in character both flat and flatly, at least until the Italianate ensemble "A nice dilemma". We found it a little worrying that said four-year-old thought her a "pretty princess", though she did enjoy impersonating the lip contortions. Whatever your feelings about this Essex Ange(lina), Kirkman's performance is the stuff of which awards are made. As is the production itself, a sure-fire Fringe Firster. What with this, the company's Ruddigore and Sasha Regan's all-male Pirates of Penzance, Mike Leigh with his ENO Pirates... just around the corner will have a hard job making us laugh even half as much.
The show is decisively stolen by Catrine Kirkman's gum-chewing, smoking, moueing, hoop-earringed Plaintiff
rating
Share this article