The Pirates of Penzance, Touring |

reviews, news & interviews
The Pirates of Penzance, Touring
The Pirates of Penzance, Touring
Where the maidens are men and every gag's a winner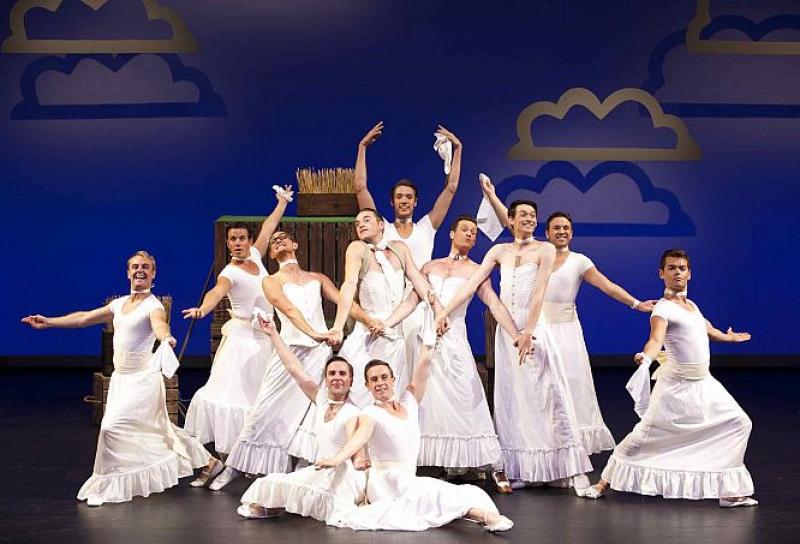 Major-General Stanley's daughters put on a show
When does a Gilbert and Sullivan chorus make you laugh, cry and cheer as much as any of the famous set pieces? In this case when Major-General Stanley's daughters "climbing over rocky mountain" wear pretty white dresses but turn out to be gym-trained showboys from the waist up, with their very own hair. That's already one extra dimension to an operetta gem, but there's so much more to enjoy around the crisp delivery of Gilbert's undimmed lyrics.
After plentiful touring, not least to Cate Blanchett's Sydney Theatre, the business of Sasha Regan's All-Male The Pirates of Penzance, to give this pionnering production its full title, has had time to develop. It never stops, but never takes away from the classical genius of the piece.
Indeed, there are times when the surreal comedy is hyper-Pythonesque. To take just one of many examples, Regan has taken a cue from a single line of the Major-General's song – the desperation with which he looks around for a rhyme with "strategy" and comes up with "sat a gee" – to give him a broom as a hobby-horse. Cuddly piratical maid-of-all-work Ruth – the consummate Alex Wetherhilll (pictured above with Samuel Nunn's Frederic and Neil Moors's Pirate King), who never has to work overtime for laughs - approaches, frightens the "horse" but engages the broom with a carrot. You have to be there. But you may take it from me, who've sat unsmiling through the grim forced business of Scottish Opera's Pirates and the desperate ploys for laughs of the Finborough Princess Ida, the constant invention formulated between Regan and her wonderful choreographer Lizzie Gee never palls. The dances around the main events sometimes bring the proceedings to a halt amid gales of laughter, but the message of music and text always gets across.
We know from her oddly touching and magical Iolanthe in Wilton's Music Hall that Regan does G&S the service of taking it seriously when pathos or splendour are at hand. Here the absolute coup with which the entire company, a cappella, hail "Poetry, thou heaven-born maid" is delivered with such glorious, full-voiced harmony that you get the reference immediately – the Nurembergers' salute to Hans Sachs in Act Three of Die Meistersinger. If the ENO Chorus in Mike Leigh's forthcoming production handle it half as well as this team, they'll have earned their laurels again.
The special delight of it all is that although many of us have been through this all-male Savoy style before – and I wondered if the magic was wearing off in the company's HMS Pinafore, probably because it was lost in the spaces of the Hackney Empire while the Richmond Theatre is just right – it still comes up amazingly fresh. Like the twists of the plot, which are still funny no matter how often you've seen Pirates – and I still think novices might be rather surprised by the leap-year gag, so I won't spoil it in any detail – many of the faces are familiar and yet newly engaging. Alan Richardson, soprano lead, is so singular, with a falsetto that you think is going to be a bit squeaky but which opens up amazingly at the top. His artistry and ornamentations in a waltz-song better than many of the operatic examples it spoofs, "Poor Wandering One", set an example any genuine prima donna would do well to emulate. The one true moment of pathos, "Ah, leave me not to pine", is also beautifully timed and phrased.
Samuel Nunn, her Frederic, doesn't yet have the same total confidence. He may not be the true lyric tenor who ought to grace the part, but his fresh face and goofy crooning are uniquely apt. Neil Moors' Pirate King and Miles Western's Major General deliver with crisp perfection, but this is one of those wonderful evenings where each and every one of the maidens, pirates and blue-shirted policemen with moustaches on sticks (pictured above) has the chance to make you laugh, and their musical timing is beautifully supported by lone pianist David Griffiths. Against the handsome economy of Robyn Wilson's designs – coat-hanger clouds and adaptable crates in Act 1, plenty of ill meeting by torchlight in the moonshine of Act 2 – there's never a slack moment. A show to see not once but again and again.
Alan Richardson's artistry and ornamentations set an example any genuine prima donna would do well to emulate
rating
Share this article