The Marriage of Figaro, English National Opera
The Marriage of Figaro, English National Opera
Clever, detailed but ultimately unsatisfying new Fiona Shaw production
Thursday, 06 October 2011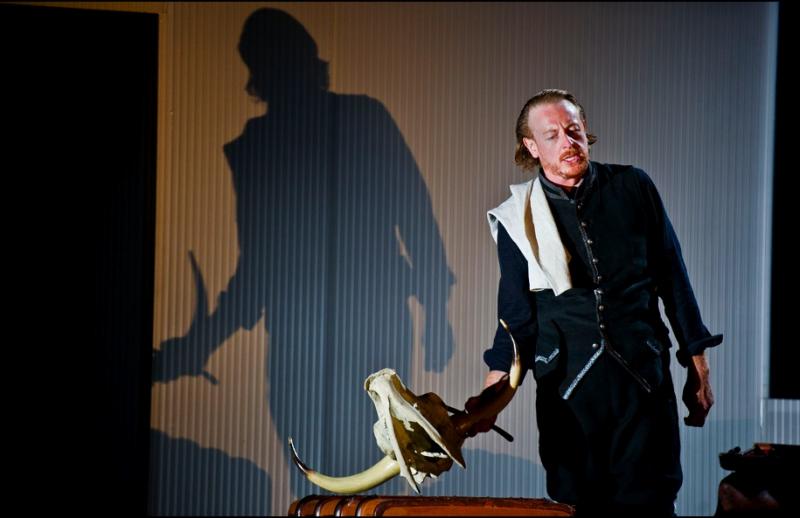 Iain Paterson's Figaro had menace
Fiona Shaw's new production of The Marriage of Figaro for the ENO focuses on the theme of entrapment. Her first victim? A noisy bee. Don Basilio finds himself so harassed by its buzzing, he confines it to the body of a harpsichord. Magically, a few seconds later, the low hum reappears - on strings and bassoons.
It's classic Shaw: a clever, symbolic, funny and possibly superfluous bit of theatrical punnery. She doesn't overdo the anomie. The political and class dimensions are but lightly touched upon. But there is certainly a nasty tension to the Almaviva household. Were they as upset about the tatty walls as I was? The striated, white, corrugated plastic sets might have been brilliant if one could see through them. You couldn't. So what was the point? I guess that I should have been grateful that at least they revolved. Opera sets need movement like cakes need buttercream.
Devon Guthrie's Susanna was a class act, able to transform her mood from sark to spite in a flash
It was a masterstroke. The intermittent, squally run-arounds - the dashing through servants quarters, kitchens, sculleries, past butchers blocks and clothes chests - were a lovely counterpart to the whirlwind orchestral accompaniment. If Shaw rather overloaded the place with dead bulls' skulls (hinting not so subtly at the possibility that this was a Casanova's graveyard), and lots of prosaic but no doubt meaningful projections, her ensemble work and eye for telling details more than made up for it.
We open on a Figaro, not measuring his bed, but counting the contents of his latest pay check. Susanna sarcastically admires her dowdy bridal hat. Not faithful, but so right. There's more social precision - head-slapping precision - later. Of course the paralytically shy teenager Cherubino would insist he sing his song with his audience's backs turned. How has no one thought of that? There's perhaps a little too much crotch activity on the whole. (Men really don't do as much of that as you think, Fiona.) And she obviously still hasn't got past the smashing-stuff-up school of how to portray anger.
The positives were aided by a singularly extraordinary group of actors. The women were especially fine. Devon Guthrie's Susanna was a class act, able to transform her mood from sark to spite in a flash. Her voice was a rich delight and worked beautifully in tandem with Lucy Schaufer's superb Marcellina. Kathryn Rudge's slightly tinny-toned Cherubino was more interesting from a theatrical perspective than from a vocal point of view.
They were all slightly eclipsed by young stand-in Elizabeth Llewellyn. As Countess Almaviva, she displayed an incredible phlegmatic calm stepping in at the last moment (yesterday to be precise) to cover for an indisposed Kate Valentine. Save an unexplored sotto voce, she sounded like she was made for the role. The sadness that she shows in her opening aria belied the brutishness of the man (Roland Wood) that she was married to. Her shock at being mounted from behind by the Count (because he thinks she's Susanna) was plain to see.
For the first time that I've ever watched this opera, I really wasn't sure she would take him back - her bags were packed. In a way I wished she hadn't. I wish Shaw had followed the argument of her production to its logical conclusion: divorce. The men were menacing. I was quite genuinely terrified of what Iain Paterson's Figaro might do following his threatening "Se vuol ballare". Roland Wood lacked presence as the Count.
Everyone and everything - very much the drab set (Peter McKintosh), the uninspired lighting (Jean Kalman) and Paul Daniels's smudgy conducting - needed more colour. Either that, or the stark route offered by the set might have been explored more thoroughly. Stuck in a halfway house, it was neither fish nor fowl. The garden scene was neither plastic and brutal nor fragrant and crepuscular, just a little awkward. The Countess's Act II bedroom scene was neither menacing nor farcical. Details had been sculpted but the general shape hadn't, which made for an interesting but ultimately not entirely satisfying night.
There's perhaps a little too much crotch activity on the whole. (Men really don't do as much of that as you think, Fiona)
Explore topics
Share this article