Maria Stuarda, Irish National Opera review – two queens sing for the crown, with spectacular results |

reviews, news & interviews
Maria Stuarda, Irish National Opera review – two queens sing for the crown, with spectacular results
Maria Stuarda, Irish National Opera review – two queens sing for the crown, with spectacular results
Anna Devin and Tara Erraught excel as English Elizabeth and Scottish Mary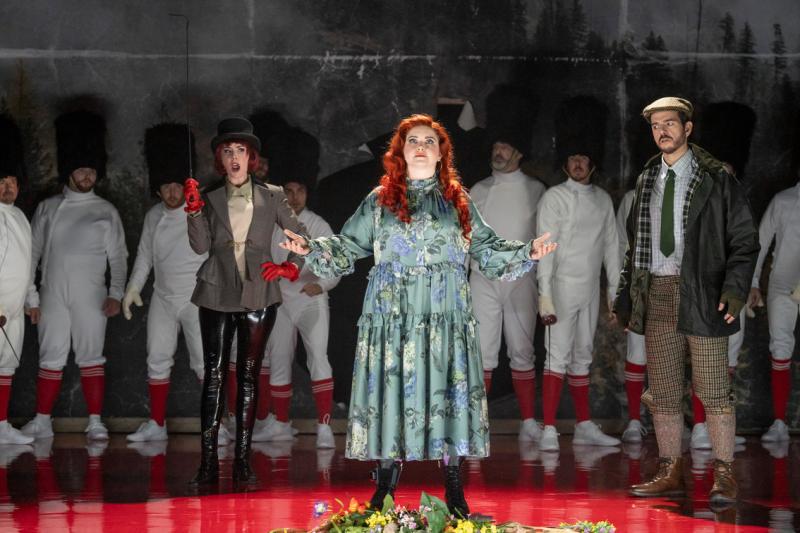 Tara Erraught's Maria Stuarda has her moment of triumph over Anna Devin's Elisabetta, while Giorigio Caduro's Cecil anticipates the Scottish Queen's imminent execution
You don't plan a production of a Donizetti opera without having top voices in mind. For what, after all, is his simplification of Schiller's Mary Stuart but bel canto business as usual with a bit of high drama attached? Internationally celebrated Irish singers Tara Erraught and Anna Devin (Amy Ní Fhearraigh at some performances) are the royal cousins at deadly loggerheads. They don't disappoint; nor do the rest of the cast, orchestra and chorus.
If director Tom Creed and designer Katie Davenport throw in more than a dash of camp around the central conflict, that's mostly par for the course. The contemporary look is only dress-deep, but then the opera is a litte bit shallow too; the main thing is that Creed doesn't clutter what will mostly be small stages with too much business; the look is clean, and in the later stages especially, well lit by Sinéad McKenna.
It's a bit over the top, shall we say, for the busbied guards in white onesies who accompany Elizabeth to Fotheringhay. But her anachronistic Union Jack outfit for the cameras in Act One (pictured above), and the turning-on of demagogic sympathy, seem just right, and Devin has poise and looks splendid whatever she wears. The bright lyric soprano can turn snarly at the flick of a switch, and you see her make mincemeat of hapless Leicester, the nominal love interest in the usual triangle on which Italian historical opera in the first half of the 19th century hangs its situations. Vocally, he's more than a match: Arthur Espiritu is the Italianate tenor to the life, and screws the tension up to fever pitch in his later, desperate pleas to his queen.
No doubt about it, though, the Queen of Scots gets the best music, from her dreamy idyll at the beginning of Donizetti's second act through to the Prayer she leads before her execution - the catchiest number in a score you can't always remember having heard before (my first acquaintance with it, incidentally, was with Joan Sutherland as La Stuarda). Tara Erraught's warm, humane mezzo is alert to every nuance, the coloratura is impressive and the explosion of suppressed rage in the big conflict when she turns on Gloriana and denounces her as "figlia impura di Bolena," peaking at "vil bastarda", fires on all cylinders.
Advisers good and bad Talbotl and Cecil can't hope to compete in interest, and Donizetti rarely gives them the full spotlight in what are nominally duets with the queens, but Giorgio Caduro's blood-lusting Treasurer is handsome of presence, and Callum Thorpe manages to keep the Earl of Shrewsbury's comfort rich of tone. Gemma Ní Bhriain also manages to make her presence felt as Mary's beloved Hannah Kennedy (pictured above with Erraught).
It has to be said that all these voices, and the orchestra, sound big in Dublin's Gaiety Theatre - the size of an intimate Italian regional theatre - but brashness doesn't go amiss, least of all in the rollicking but slightly comic Overture, which Fegus Sheil conducts, like all else, with tremendous panache, even if he doesn't always take the singers with him. I certainly don't remember the chorus before Mary's execution having such an impact, either; colourfullly dressed as multiple "I am Mary Stuart"s execution in a final scene which manages to look really striking and ever so slightly creepy, they contribute as much as anyone to the full-blooded enjoyment of the evening. Good to know that the excellent OperaVision will give everyone outside Ireland a chance to see it.