Lakmé, Opera Holland Park |

reviews, news & interviews
Lakmé, Opera Holland Park
Lakmé, Opera Holland Park
Inert staging weighs heavy, but a charming ensemble vindicates Delibes's melodic genius
Perfect lovers: Fflur Wyn as Lakmé and Robert Murray as Gérald
Operatic hit parades have always been subject to fashion. For people of my parents' generation, the famous number from Delibes's Lakmé was the heroine's coloratura Bell Song, immortalised at the movies by Lily Pons and Kathryn Grayson. Now it's the Flower Duet, courtesy of British Airways. But there are other numbers equally worthy of attention in a glorious score stockpiled with the kind of thing the French call la mélodie eternelle.
This is an opera that outside France has been in need of singers and a not too violent concept to do it justice.
At Holland Park second time around – the company's first production was in 2007 – it gets the singers, and at the very highest level, but not the concept, or at least one that has any impact. For a start, how can you ignore the floral connotations – jasmine and lotus referenced early on, the datura blossom as the poison that the poor Indian girl uses to finish herself off at the end (no spoiler notice really needed; it's 19th-century soprano-as-victim stuff as usual) – and not extend the gardens to the stage? The mind runs riot with wasted opportunities: a florist sponsor, scratch and sniff cards for the scents, perhaps, even a preliminary spliff or a foyer opium den to put you in the relaxed, go-with-the-flow mood this kind of entertainment requires.
All we have, though, in Aylin Bozok's production and Morgan Large's austere design, is a gilded cage for the heroine and her temple-dancer spirit guide, and lighting vaguely suggestive of the blue waters along which she and her maid are supposed to float (why not go further with peacock colours to reflect the creatures crying so evocatively beyond the house?) Costumes might have brought colour by the yard, and on the cheap from Southall or East Ham, but these are astonishingly dull and, for Lakmé herself, distinctly unflattering. As for the action, there's hardly any: the chorus, sounding good but looking zomboid, semaphores feebly from time to time, but not even the principals really interact so the movement rests entirely within the music.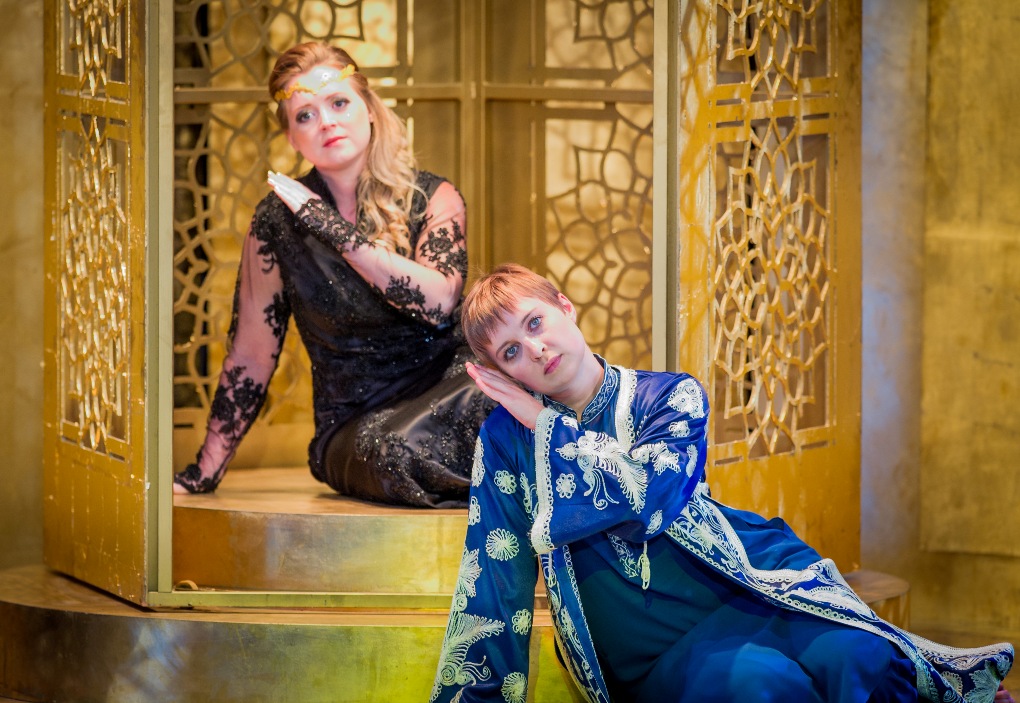 It could do with more drive from the otherwise expert baton of Matthew Waldren, conducting a very fine City of London Sinfonia with some first-rate wind solos and wacky timpani playing from Tristan Fry in the Act Two divertissement. This kind of audience especially is likely to get restless when the leisurely, Indian scene-setting first act runs straight into what feels like a long second (when would the interval arrive?). Delibes's genius is, as Tchaikovsky put it of Bizet, for le joli, the pretty, and he often paints it in instrumental colours of selective delicacy – this work, no less than the much better known Pearl Fishers, is ideally a Glyndebourne opera.
The singers set the bar high enough to suggest they'd grace that nonpareil of country-house opera. I'd mislabelled Fflur Wyn, so good in Handel and as Alice in Will Todd's site-specific opera for children returning to Holland Park later this month, as just a stylish light lyric; the voice now opens out gloriously whenever it goes up and over in Delibes's more ecstatic phrases. Lakmé is only really a coloratura role in the celebrated highlight; leading up to it, the unaccompanied vocalise is here a model of bel canto, and the Bell Song itself has plenty of stylish trills as well as more of that opening-out which sets the seal of distinction on this performance. Joan Sutherland spoilt us for a fullness in the top E at the end, but Wyn (pictured above with Katie Bray's Mallika) just about carries that off, too.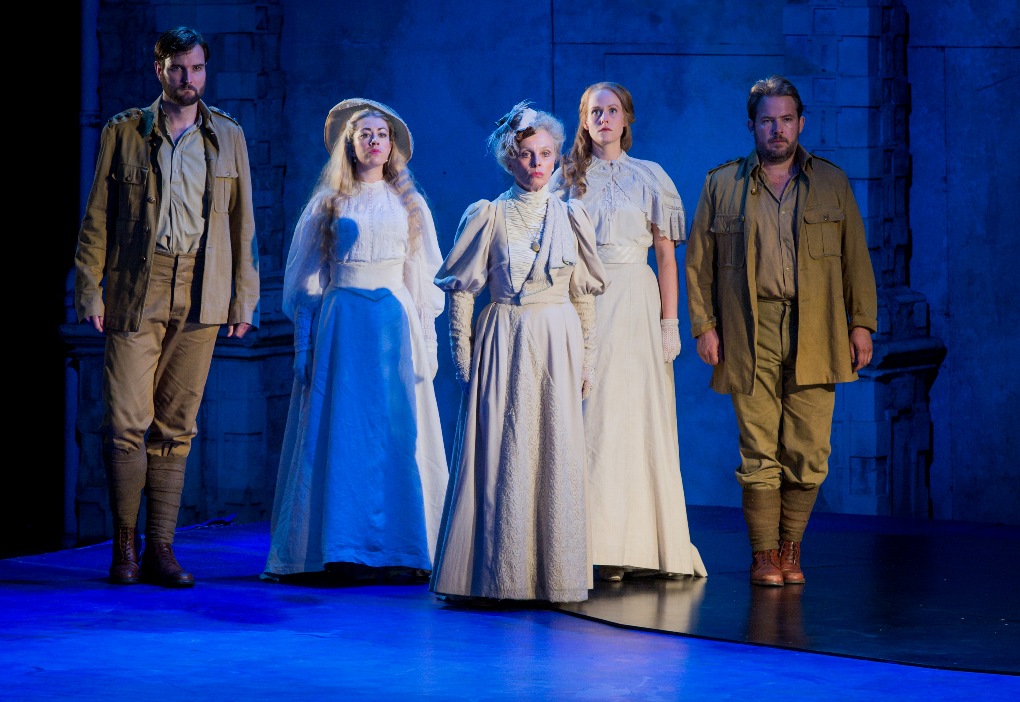 She is well matched with Robert Murray as her British army lover, Gérald. As with his excellent Frederick in the ENO Pirates of Penzance, the very top of his voice occasionally spreads a bit, but the middle range is absolutely golden, one of the loveliest tenor sounds around. It's he who initiates the great tunes of the first two love duets, inspired material by any standards, and if the pair aren't directed to interact much - unhunch those shoulders, too, Mr Murray - they still fire vocally on all cylinders in tandem with the orchestra. I wish there was more for baritone Nicholas Lester to do as Gérald's fellow officer Frédéric: the two men ought to have a decent duet in Act Three but Delibes, on less inspired form here, cops out.
Still, Lester is virile of voice and presence, a name to watch out for along with David Soar, a known quantity and the real bass article as Nilakantha, Brahmin vengeance seeker and Lakmé's father. Katie Bray and Andrew Dickinson are fine as Lakmé's servants, but why try to make them carry more of a subtext than their characters can take, and why does Hadji look like some kind of village idiot? Fiona Kimm makes what she can of an English governess with a terror of the "exotic", adopting the distinct tones of a redoubtable former exponent, Monica Sinclair, and as her charges Maud Millar and Fleur de Bray sing sweetly enough (the British quintet pictured above).
One last opportunity is thrown away by the production: we get the very flavoursome ballet music in Act Two, but you could hardly call what Lucy Starkey does to it choreography (her own, presumably). Perhaps it was wise not to make the Indian singing characters look Indian, but couldn't a native Kathak or Kuchipudi dancer have been brought in to lend some flavour? Instead this supposed soul of the piece was as anaemic and nebulous as everything else in the staging. The best of recently-established British singers deserve much, much better.
Fflur Wyn's voice now opens out gloriously whenever it goes up and over in Delibes's more ecstatic phrases
rating
Explore topics
Share this article